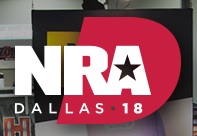 What a great weekend !  Almost 90 thousand attendees at the NRA show in Dallas!  That's a LOT of freedom loving individuals in one place.  I try to stay out of the political fray here (that's what Facebook is for 🙂 ) but I have to say a few things really stood out...
read more
Live to hunt and fish?
If you are like us, you spend every waking minute thinking about the next adventure…
Come join us !
Support the NRA
Stand and Fight
Be responsible
You are responsible for gun safety.  Be a good role model. Teach your children.