By: Cary Kieffer
At Christmas time I bought a 10.5 Bergara 300 Blackout barrel from Jestice Arms. I had seen some nice groups from a Bergara 5.56 rifle barrel so when I wanted to do a 300 Blackout pistol as economically as possible I decided to try the Bergara barrel. I bought it on sale and to my door it was $90, that is pretty "economical". Now that the weather has broken I've finally been getting outside to try it out.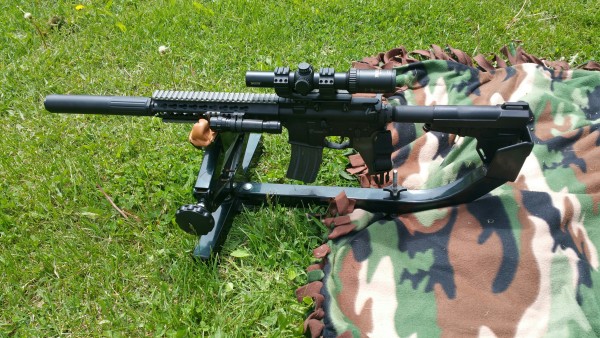 The Build Specs: In the lower we have a RRA 2 stage match trigger and all small parts are also RRA. Assembled on a stripped Anderson lower with a KAK Shockwave pistol blade, that contained the blade, buffer tube and spring/buffer. The upper was a Blitzkrieg Tactical upper, RRA upper parts kit, Blitzkrieg Tactical gas system and a Chinese slim Keymod rail that went on nicely and is quite solid. The Bergara barrel is made of 4140 chrome moly steel that is nitride coated, with 1/8 right hand twist. I used a Magpul Plus Grip and topped her off with a 1-4x Burris MTAC in a Burris PEPR mount. All in all a nice little gun that didn't cost a mint, I think I had about $650 in the gun when finished. (minus the optics/mount)
I've shot it several times with a total round count of about 200 rds now. I haven't noticed any "break in" period, it's shooting the same now as it did on shot #1. Basically, I just wanted to show you a few groups so you can see what is likely to happen if you decide on the Bergara Barrel.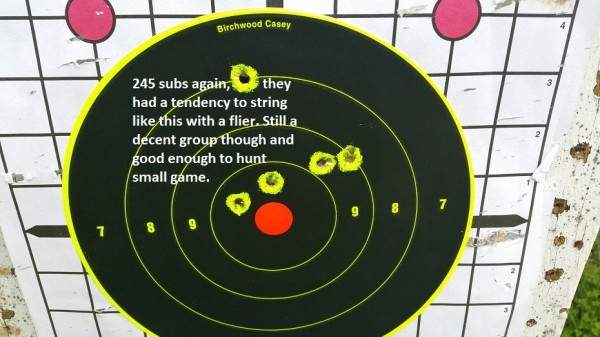 These groups are about average for all the ones I've fired, some have been a little better and some a little worse. Starting with the 245 grain subsonic, as you can see those like to string then finish with a flier…that's a normal looking subsonic group for this gun, I don't really know why but the group size is still pretty good. These are some of Bill C's reloads and I like them. In spite of the "odd" group only these do, they hit steel with authority and function flawlessly whether the Can is on or off. Nice and quiet when these are suppressed. I'm glad I got a good sized lot of them from him. They also have all the accuracy needed for hunting/defense uses.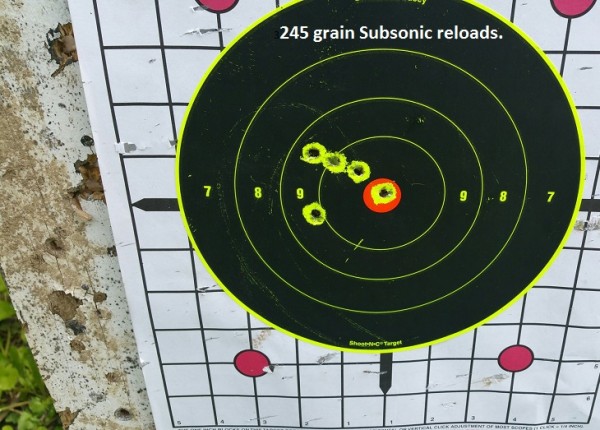 The Ozark Ordinance shoots OK…at 40 cents a round I don't expect the world, those are 147's doing 1700'ish FPS. I've never tried any of Ozarks other loads, just this one. They seem to make a decent product, never a problem and when 300 Blackout ammo was still ridiculously expensive these guys made the Blackout affordable to more people.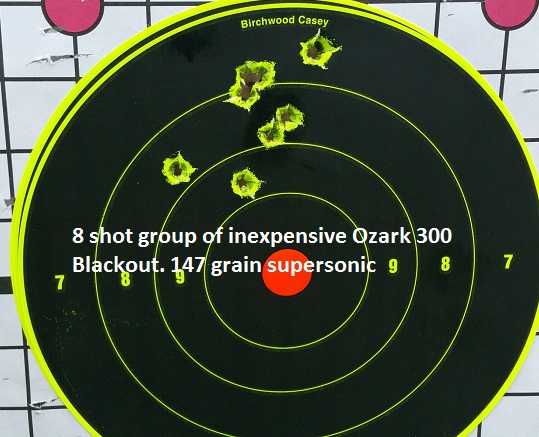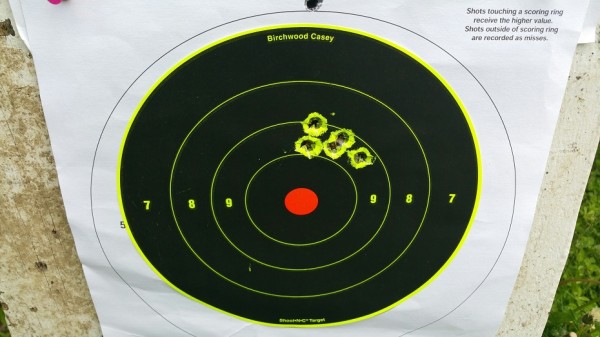 Finally, the Bergara Barrel seems to like Bill C's 110 grain at 2300 FPS reloads the most. The bullet is a 110 grain Nosler Varmageddon, these loads have produced the best groups of anything I've fired so far. I'll have to have ole' "J.B." load me some more of these.
Summary: I am completely satisfied with my $90 Bergara 300 Blackout Barrel. I have no aspirations of trying to shoot a "precision match" or something with this. I wanted a "utility" gun if you will, a truck gun it would be great for. The Bergara barrel will provide you with all the accuracy you need for hunting/defense, plinking and so on. It looked good out of the box and the threads are true. I will also say the Burris MTAC is not the most precise aiming scope in the world. The top dot in the reticle, which is the one I use at 100 for these load tests, is rather large and covers all of the bullseye and then some. I really do think with a finer reticle, like for example my Vortex Viper 1- 4x or Vortex Strikeagle, these groups could be shrunk I'm guessing a good 30%. Anyway, all in all I can't find a single thing to complain about for the money spent on this barrel. Thanks for reading and train often.
The following two tabs change content below.
Cary Kieffer
USMC Infantry/Combat Veteran/MUESOC/Sniper School - Med Retired LEO w/ 8yrs on job before Iraq wounds caught up with me.
Latest posts by Cary Kieffer (see all)