I've had a certain fascination with Russian culture and products ever since a Slavic buddy taught me to drink during my freshman year. This continued through my time in Israel (which is why I still speak Hebrew with a Russian accent) and to the present day.
I was an AK man long before I had an AR-15 and I've always been interested in the rather austere, functional equipment that the Motherland makes. So of course, I had to acquire a Russian uniform and LBV. Vladamir, the man behind Soviet Army Stuff, was kind enough to send me a Flora pattern suit, vest and cap.
Despite being a company that deals in Russian equipment, Soviet Army Stuff is actually based in the nearby (to Russia) Ukraine. I discovered this when a package covered in Ukrainian stamps arrived at my doorstep.
I didn't see the need for Russian patches on the uniform, and so got mine plain. If you choose this route, be sure to let them know, as it will knock a bit off your price.
The Pattern
Flora is not actually a Soviet Army camouflage pattern. It was introduced in 1998, well after the fall of the Soviet Union, though it is indeed a modification of a Soviet-era design, the VSR 3-TsV pattern. A relatively simple pattern, it's made up of brown and dark green over a light-green background. It's standard issue to Russian army and MVD units.
This is definitely a camo for lush spring and summer weather. The amount of light green in it makes this pattern less than ideal for fall or winter in the forests, where the brown of dead leaves and white of snow predominate. Unfortunately, I received this uniform at the end of November. Still, I was able to find both time to test it and weather that was conducive.
The Uniform
Unlike either the Flecktarn uniform I usually use or the Swiss Alpenflage uniform I've previously reviewed, the Russian Flora uniform does not use zippers at all. Nor does it use snap buttons (except on the vest, but more on that later). Before I begin to talk too much about the uniform itself, let me give you a word of caution on sizing. Soviet Army Stuff uses a European system of measurement. I would recommend that you measure yourself carefully and make sure you use a chart like this one that will help you convert your US size to European. Remember, this thing ships from the Ukraine. Returns are a pain in the posterior.
Let's start from the ground up. The cuffs of the pants have drawstrings for blousing your boots, if you so choose. There are two front pockets, one on each side. There are no rear pockets or cargo pockets on these pants. It is set up for a sturdy belt.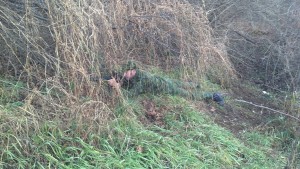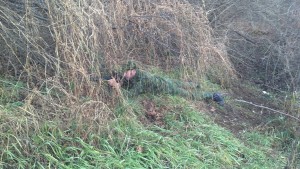 The shirt jacket is not quite as austere as the pants. There are two pockets on each side, one on the breast and one beneath, near the waistline. The breast pockets are approximately 5 inches wide and 5.5 inches deep. The lower pockets are larger; 7 inches wide and 6.5 inches deep. Each pocket is secured by a flap that closes via two buttons.
There is a pocket on the inside of the jacket, over the left breast that is closed by a single button. At the armpits, there is a small, triangular section of mesh fabric. This helps promote airflow and cooling, something you will appreciate if you're hiking, stalking through the woods, or paintballing. Finally, there's a small pocket on the bicep of each arm. Interestingly, these close with two small hook-and-loop tabs, the only places you'll find that on the uniform. On the shoulders, there are shoulder straps for attaching rank sleeves. These epaulettes are held down by a button.
The Vest 
It's a lightweight, versatile piece of gear. In the interest of simplicity, I broke down my findings into two parts: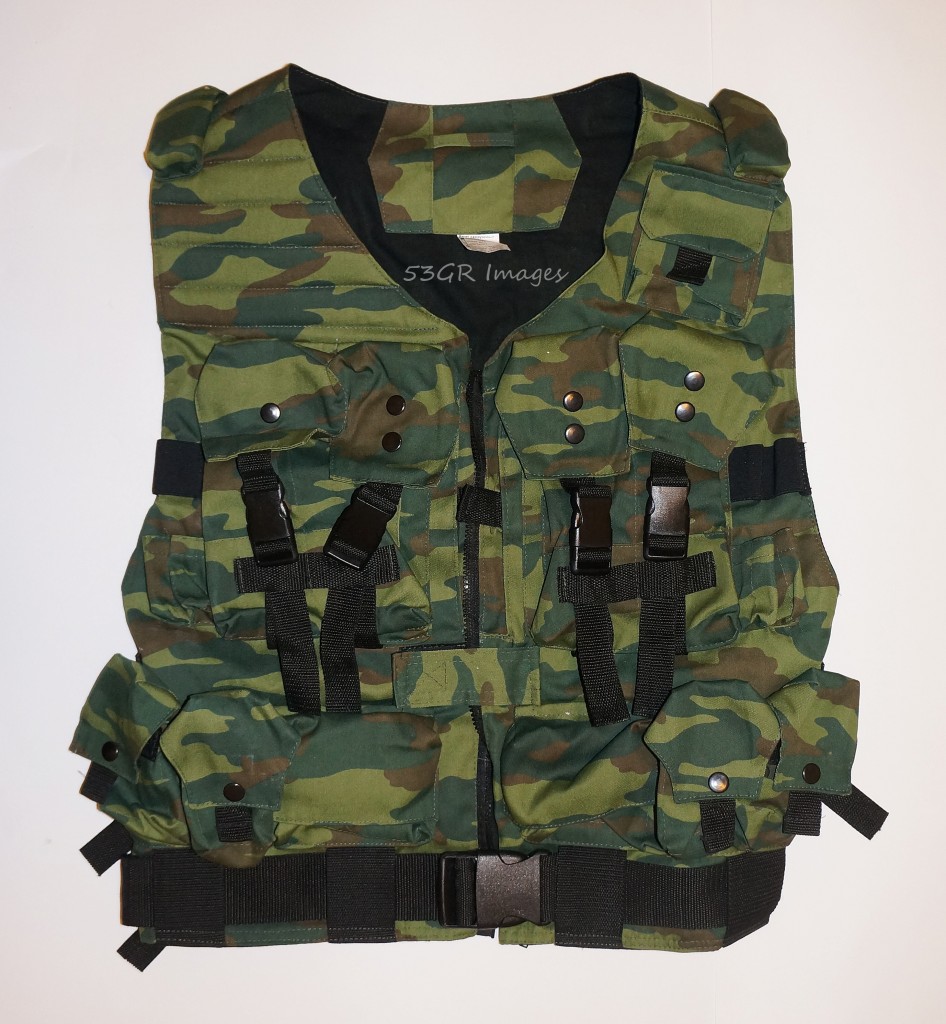 Vest Pros:
Plenty of ammunition-carrying capability. AK magazine pouches on the front of the vest buckle closed that buckle closed and hold a total of eight mags. These work best for AK-74 magazines. If using a 7.62x39mm AK, the banana mag will be too long to use the velcro closure. Instead, you will need to rely solely on the buckle to keep the pouch closed. This vest, being from the mid-90s, was designed for troops using the AKM-74.
Lots of pockets for storage. On the left shoulder, there is a small pouch, suitable for objects such as a packet of cigarettes. Below the magazine pouches there are three pouches on each side. The one closest to the zipper is large enough for a ___, while the other two are about right for a single grenade each. On the back, there are six pockets, three on top and three on bottom. The pockets on the side of the top row are sized well for a larger radio and the bottom side pockets can hold an additional two AK magazines each. The central pockets are large enough to store a canteen or two. In fact, I was able to fit my Ranger Jacket LT into one of these pockets, though just barely.
Weight. It's a thin, fabric vest, and weighs much less than nylon assault vests I've owned, while actually having more storage compartments.
Rifle padding – there is some light padding of the front of the right shoulder, which aids the shooter during fire of a rifle.
Closure Options – Many of the pockets have more than one way to close them. The rifle magazine pouches on the chest, for example, use three methods. They have velcro, snap buttons and adjustable buckles. Many of the other pockets have both velcro and snap buttons.
Vest Cons
Heat: Several of the heavier nylon assault vests I've owned and used have had better heat dissipation characteristics than the Flora vest. This was because the nylon vests incorporated mesh lining, aiding in airflow and the shedding of body heat. Unfortunately, the fabric lining and large surface area that it contacts the torso of the wearer means that body heat is trapped. Mesh lining could help mitigate this, but any load bearing vest is going to retain heat more than a belt-and-suspenders rig.
Shoulder padding. There are two small pads on top of the shoulders. Honestly, this vest would have been more comfortable if the padding had been on the inside. Of course, the lack of padding on the shoulders also makes the vest cooler. Padding would make the load a bit more comfortable, but retain the wearer's heat and increase the overall weight.
Lack of adjustability – the vest is made for those with long torsos and while you can easily adjust the vest for girth, there is no method of adjusting for height. This is honestly, the thing that that disappointed me most. Interestingly, this is somewhat mitigated by the fact that the vest can be used over top of body armor (such as a plate carrier). In this role, it actually fits quite well and camouflages the wearer.
Conclusion
If you run an AR-15, then this package isn't for you. However, if you rock an AK (especially in 5.45x39mm), then it's something to consider. It's a simple, well-made uniform set that will conceal you in highly-vegetated areas. The vest offers a plethora of storage space. If you can exercise some self control and avoid putting everything but the kitchen sink in this vest, it'll serve you well while not weighing you down.
– By Allen Cosby
The following two tabs change content below.
53GR is an avid shooter, hiker and tinkerer. Introduced to guns at an early age, the hobby became a passion in his early twenties. After two years in Iraq as a contractor for a defense company, he developed an unhealthy addiction to military surplus gear. Though he's currently in treatment, the prognosis is that the condition is chronic.