Accurate Sports has been in business since 2010 and specializes in precision bolt-action rifles and AR-pattern rifles. The owner, Kevin Neitzel, started doing machining work back in 1977. He began his gunsmithing experience by building Pennsylvania Long Rifles – black-powder flintlocks. It gave him his first taste for firearms customization.
It was a long time before he turned his attentions to the tactical gun market. The catalyst that lead to the creation of Accurate Sport was an encounter at a local gun range. While shooting, Kevin overheard a gun owner cursing his store-bought AR-15. The rifle was patterning poorly, a true disappointment to the man behind the trigger. Kevin remembered looking at the rifle and thinking, "I could make a better barrel, and a better gun."
So he did. Here is a link to an excellent video showing the process he uses.
He took his considerable machining skills, his experience in re-profiling and chambering barrels for bolt-action rifles and focused on making improving the accuracy of the Evil Black Rifle. His most innovative advancement is a specialized stock designed to give the shooter maximum adjustability while retaining the ability to attach to any AR-style rifle.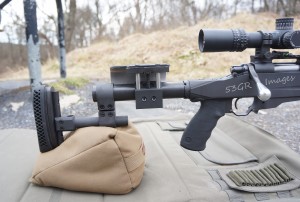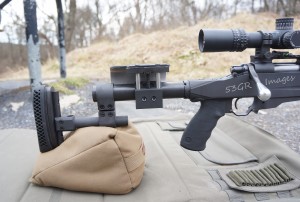 A LEAP forward in Shooting Comfort
The idea behind the LEAP (Lightweight Ergonomic Adjustable Precision) stock came after examining the Magpul PRS. At the time, it was the main stock for precision ARs. However, the PRS didn't offer the kind of adjustability that Kevin needed. He thought he could create a stock with enhanced adjustability, while keeping weight down. The result was the LEAP.
The total weight of this aluminum, ambidextrous, six point adjustable stock is only 1 lb. 12 oz. including the buffer tube and the highly shock absorbent butt pad. The LEAP runs on your standard carbine buffer and spring, requiring only the removal of your existing stock.
Made from 6061 T6 aluminum, it features an adjustable padded cheek piece, adjustable length of pull and a rotating butt plate to fit the individual shooter's body in any position. Whereas stocks like the Magpul PRS adjust cheek piece height in clicks, the LEAP utilizes a continuous-turn system, all while giving the user nearly unlimited adjustment heights.
Not only can the butt pad be rotated, but it can be canted. This is particularly useful for female shooters who may have to take bust size into account when shooting. For user comfort and felt recoil reduction, this version utilizes an ultra-soft shotgun butt pad.
According to Neitzel, "I took notice that many other chassis for different companies (for the Remington, Mossberg) were meant to take Magpul stocks. For people who were shooting precision rifles and wanted adjustability, folks were using the Tubb gun. I thought I could create something with enhanced adjustability, while still remaining lightweight."
Positive Lock Chassis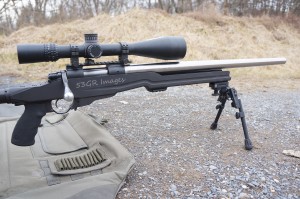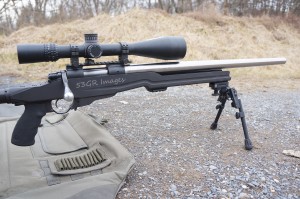 The Accurate Sports Positive Lock Chassis is designed from the ground-up for stability and adaptability. Made for bolt actions, it can accept the LEAP stock or any AR-15 stock. In fact, it's customizable with AR-15 trigger guards and pistol grips.
The body of the chassis incorporates two integral Picatinny rail sections. The one at the muzzle-end of the chassis is obviously intended for a bipod, though you could attach a sling swivel there as well. Further back on the chassis is another rail section, designed specifically for use with a tripod. This stock also features an integrated mag, well that excepts A.I. magazines, and also Accurate Mags, both of which are military issue.
The Positive Lock Chassis is definitely gunsmith friendly for anyone who is having an action trued. There's plenty of room for the recoil lug to make a positive lock against the lug wall. But the true innovation lies in the name:
Says Kevin, "I wanted to do an aluminum chassis. Everyone is doing aluminum inserts, but they're against wood. By doing an aluminum chassis, you eliminate that weak point of the wooden stock. Whether you are using wood or synthetic, there is some bending when you tighten the action down."
He went on to explain the advantage of a lightweight (3 pounds, 1 ounce) aluminum chassis versus an aluminum insert.
"Even when using an aluminum insert, when tightening down the bolts, you get movement when compressing a wooden or synthetic stock. With an aluminum chassis, you get a crisp, positive lock when tightening the bolts down. It's a difference you can feel."
Kevin insists that his reputation is "no better than the last gun that's left our shop."
Looking at the 0.19 inch spread (5-shot grouping) patterned by one of his .260 Ackley rifles at 100 yards, I can see why his reputation is so good.
– By Allen Cosby
Groupings were measured with a Brown and Sharpe caliper.
The following two tabs change content below.
53GR is an avid shooter, hiker and tinkerer. Introduced to guns at an early age, the hobby became a passion in his early twenties. After two years in Iraq as a contractor for a defense company, he developed an unhealthy addiction to military surplus gear. Though he's currently in treatment, the prognosis is that the condition is chronic.