The Dead Air Mask 22 suppressor is brought to you by the talented team at Dead Air Armament out of Lawrenceville, GA.  Constructed with a titanium tube and stainless steel baffles, the Mask is direct thread, 5.1 inches in length, and 6.6 ounces.  This silencer is rated from .17 HMR up to .22 Mag and Dead Air lists no minimum barrel length restrictions.  Full Auto.
The finish is tough Cerakote.  As with most rimfire suppressors it is user serviceable so the owner can clean out that nasty rimfire gunk.  The disassembly tool is included in the box along with a soft fabric carrying case.  But ditch the dainty carrying case – this should be no safe queen.
Almost any rimfire silencer performs reasonably well.  So what you start looking for is the cartridge rating (if you intend to shoot anything hotter than .22 LR), weight, length, mounting system, reliability, and reputation of the company who built it.  I am personally leery of aluminum builds (which is not the case here).  The Mask checks off all of the right boxes.
The Dead Air warranty states, "We provide a lifetime warranty against all manufacturing defects and damages caused by the normal use of this product. The manufacturer will repair or replace free of charge any suppressor manufactured by, or at the direction of, Sound Moderation Technologies."
A buddy of mine has the Dead Air Mask and has been very pleased.  I was anxious to run this can and see how it performed.
Host weapons included a Browning Buck Mark 22 pistol and a Savage bolt rifle.  Ammo was a hodgepodge of different brands, both supersonic and subsonic.  Subs through the Savage bolt was stupid fun, like shooting a BB gun but with a bit more "thump" at impact.  The pistol cycled just fine although towards the end I did have two failure to cycle with subs but then again the pistol was pretty dirty.  Certainly not the Mask's fault.
As many have reported, there is minimal "first round pop."
The baffle stack is what they term a "compressed-K" configuration.  Each baffle is indexed so they click together as intended.  The blast baffle and end baffle are a unique design.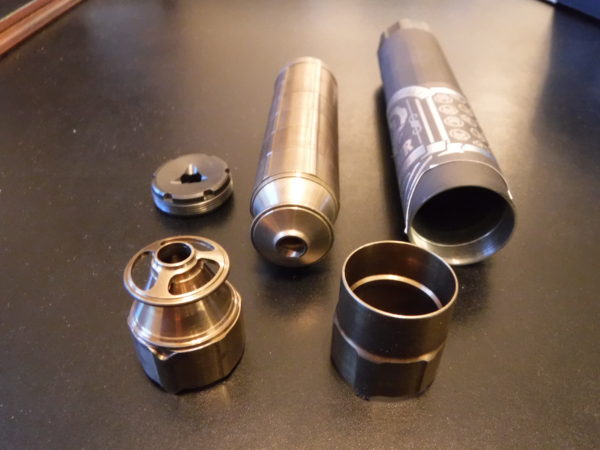 As my time was limited, I did not get around to performing any comprehensive accuracy testing to validate any point of impact shift.  As stated earlier, I was shooting a variety of ammo and it was more play-time than serious bench time.  I had a resetting target set up at 50 yards and banged away.
Dead Air Armament MSRP $449.
The following two tabs change content below.
Publisher of Tactical Gun Review. Managing partner of Coker Tactical. I love hunting for Texas whitetail deer, wild hogs, and high-volume Argentina dove. When not hunting you can find me fishing along the Texas Coast or on a wild Colorado river.
Latest posts by Mike Coker (see all)