Making precision shots with a magnified optic has its limitations as the light fades.  When it comes to shooting and hunting, there comes a time when the night simply gets in the way.  Whether you are unable to see the target due to darkness or your prey only comes out at night, target identification is critical.  Owning the night has historically been an expensive endeavor and we would all love to have tens of thousands of dollars wrapped up in Night Vision. Clip on weapon sights are complex optics often well out of the reach of most civilian shooters in terms of price and availability. There is now a high quality alternative from Adams Industries called the Legionnaire.
The Legionnaire is a clip on weapon sight that is .308 rated and Gen III.  After some conversation with Chris Adams he sent me a Legionnaire and I've had the opportunity to use this optic on my MicroMOA/Texas AR .223 equipped with a Bushnell 3-12×44 LRS and my LaRue Tactical 7.62 OBR equipped with a Bushnell 3-12×44 LRHS.   The Legionnaire works by clipping onto a rail in front of your day optic, and with the use of a rubber "hood" that is supplied, attaches to the objective lens of the day optic and the rear lens of the Legionnaire.
The Legionnaire is powered by a single CR123 battery and has a focus, gain control and power switch.  The unit is autogated which will keep the optic from getting damaged in excessive light (simply put).  Without instructions this optic was super simple to connect to the rifle and start shooting. It's simplicity is refreshing and while night vision can be intimidating for first time users,  the Legionnaire is easy to use.
Something to note, is the distance of the controls to the user are real long.  This isn't a fault of the optic but a function of the type of system.  A shorter day optic should make that better but it will not effect performance.  To help with this, a cable was provided with the unit I have.  When set to standby the optic is turned off but when the pressure switch is activated it turns the unit on.  This is a clever power save feature that can be useful if you are moving and using helmet mounted night vision in conjunction with the weapon.  I believe the Legionnaire can be used with most any optic that's placed behind it including a red dot if desired.
Using the Legionnaire I have been successfully and easily able to engage targets out to 200 yards without the assistance of IR light.  If used in conjunction with IR I believe the Legionnaire would be good to much longer distances up to 600 or more yards depending on conditions.   The clarity of the optic is stunning.  By far the clearest night vision sight I've had the privilege of using and the images I provide will not do it justice.
The Legionnaire has a retail price of $4, 550.00 which is not a small amount of money.  However, for a sight that you can take on and off your rifle, flexibility, and ease of use it is a good deal.  Many of the PVS-22 type of weapon sights have a much higher cost.
This will be a long term review and will definitely be the focus of more articles and our favorite,  video!
(Comments below from Charles Coker)
I had the opportunity to do some backyard testing with this mounted to my 6.8 AR with a S&B 1.5-6×42.
In a word "outstanding"  I have ran PVS22s, D740 and 760s.  The clarity and image quality of this NV is outstanding.
Now, granted, the image was coming through an S&B but I also tried it with a Trijicon Accupoint 3-9×40 and it was still exceptional. I don't think you need alpha glass to make it work right.  I will however say that I think being able to turn the magnification down to 1.5 was awesome as it gave a HUGE field of view and I could see 30 yards in front of me and all the way out to 200 yards (where the field behind my house stops)  And I could cover the whole field easily.  I don't think you need much magnification with this and above 6 by all accounts the image starts to lose quality.  In fact, a 200 yards I preferred it at 4x vs6 and I would have had no problem taking a clean shot..  Even at low power setting of like 2X it would be no problem for 100 yard shots and still provide a big field of view.  That is a definite advantage over a fixed 4 or 6x like the D740 or 760.
I watched a deer in the field out at 100 – 150 yard and could make out lots of detail on it.
Very cool unit.
Can't wait to spend some time hunting with it and testing in the field.
Here are a few pics I took on a dark night..  they don't do it justice ..
Want to buy one?
http://coker-tactical.myshopify.com/products/adams-industries-legionnaire-gen-3-clip-on-night-vision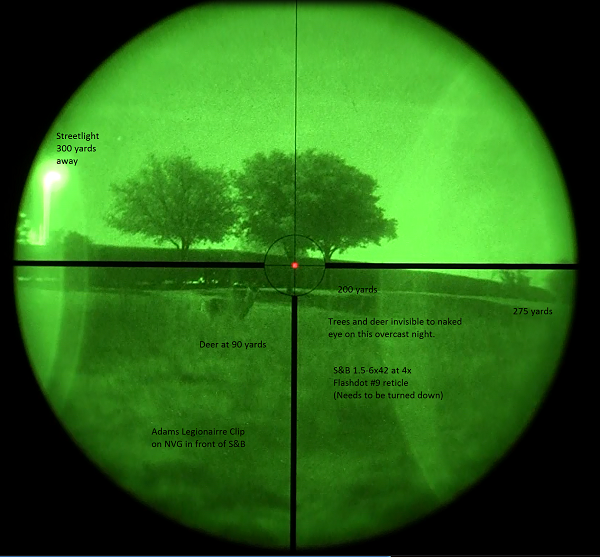 Expect to see more from Adam Industries and Armasight on TGR in the near future.
The following two tabs change content below.
Jason's love of shooting sports started at an early age hunting with his father in the pastures of West Texas. Jason is now Full Time Law Enforcement and shoots competitively when he can.
Latest posts by Jason Hallmark (see all)