By: Cary Kieffer
Recently I had a reader ask me about the Voodoo Tactical Shotgun Sheath and how it had worked out. I actually had forgotten about it and never bought it. So after a quick search on Ebay I had one on it's way for $24. Here it is.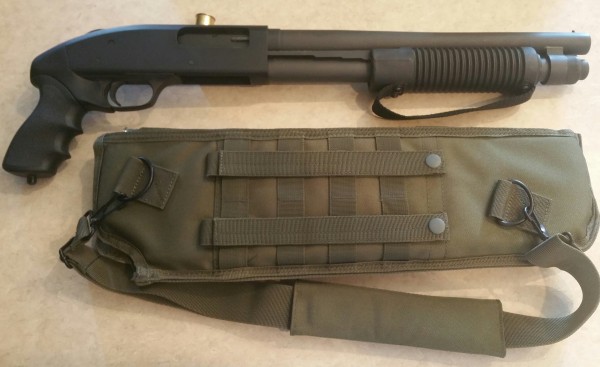 Pro's: It looks nice, I'll give it that. The stitching seems to be strong enough to withstand considerable time in the field before it's in tatters. The sheath has enough tension to hold the shotgun in place as long as it was vertical or probably horizontally mounted on your pack or gear somewhere too. I could imagine 50 million ways to mount it…pack, vest, slung, horse, atv, boat, truck, closet….you could find a way to mount the sheath just about anywhere you wanted too I think. The price was right as well, $24 to your door.
Con's: The MOLLE straps, which are on both sides, that's good but the snaps are weak. No way I'd trust them to stay snapped under harsher field use. I would definitely duct tape them down once I had the thing where I wanted it.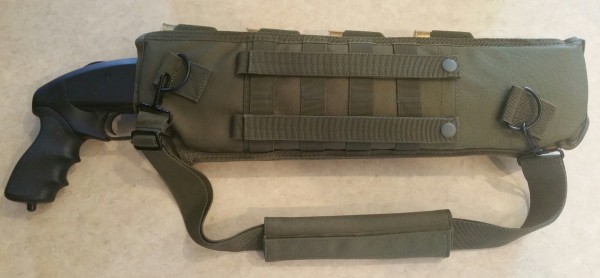 The shoulder strap is durable enough but the clips that attach it to the sheath rings are cheap and thin. I could see them bending or breaking and you dropping it at the most inopportune time. Solution to this would be to find a USGI strap from something else and replace it. The old 2 quart bladder style canteens we were issued in the early 90's comes to mind. That was a solid strap.
You can see there is 4 stretchy single shell holders on the side. In the house or maybe truck mounted they might stay put. Out bouncing around or crawling around the bush I think the only thing your going to do is lose 4 shells that day. I wouldn't use them carrying it on my person.
I don't think it would have killed them to put a strap and snap on the open end so you could lock the shotgun in the sheath. Of course if the snap was the same as the mounting straps then I doubt it would be much use. Last thing and maybe it is or isn't a "con" depending on what you wanted but there is no way a light or anything else is going on the gun, no side shell carrier, no nothing. It fits the shotgun, that's it. Personally that was fine with me but may not be too a lot of people.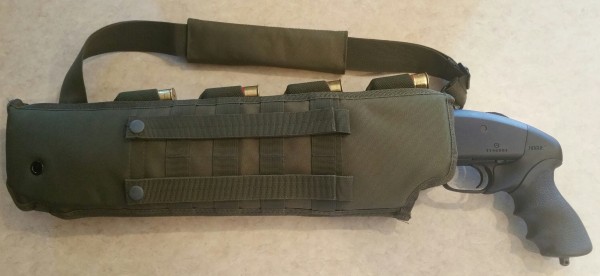 No need to get windy on this thing, that's the long and the short of it. A little duct tape and maybe a replacement strap and I think this thing would serve most people pretty well for years to come. I think your imagination is the only limit on ways to mount it somewhere and it holds the weapon securely enough without having a death grip on it so you can't hardly get it out. Last thing to remember is this is an NFA shotgun, an AOW. It is considerably shorter than any shotgun you're going to go buy at your local gunstore or WallyWorld. Unless you too paid your stamp and waited too long your gun will stick out a lot farther. In the end though I got my $24 worth I think. Thanks for reading and train often.
The following two tabs change content below.
Cary Kieffer
USMC Infantry/Combat Veteran/MUESOC/Sniper School - Med Retired LEO w/ 8yrs on job before Iraq wounds caught up with me.
Latest posts by Cary Kieffer (see all)