Today this will be short and sweet. I picked up something I always wanted, a Tops Grim Ripper. I have a good sized knife collection and always wanted to add one of these to it. Let's take a look at this thing.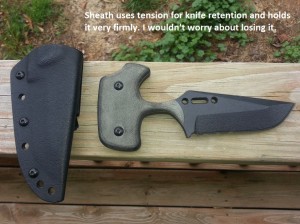 Obviously it is a push dagger/knife. I carried different knives on my Deuce gear over the years but never this style. I don't really want to get into the whole "usefulness" thing to much but some think a push knife is a gimmick. It might be, I don't know or care. I read the style came from frontiersmen as self protection knives and that they were a civil war era gamblers knife. I also read "Doc" Holiday carried one. I don't know that anybody really knows where they originated from. I just remember the movie Platoon when I was a teenager in high school and Sgt. Barnes (Tom Berringer) had a bad ass push knife on his gear and I thought the thing was pretty neat as a kid. So I always kind of liked them.
So many years went by and I eventually realized knives were utility tools for 99.999999999% of us. Is this a good utility knife?? Probably not but I still wanted it and when I saw one up for sale on eBay for $49.99 used in mint condition I had to have it as they are usually $150 on up.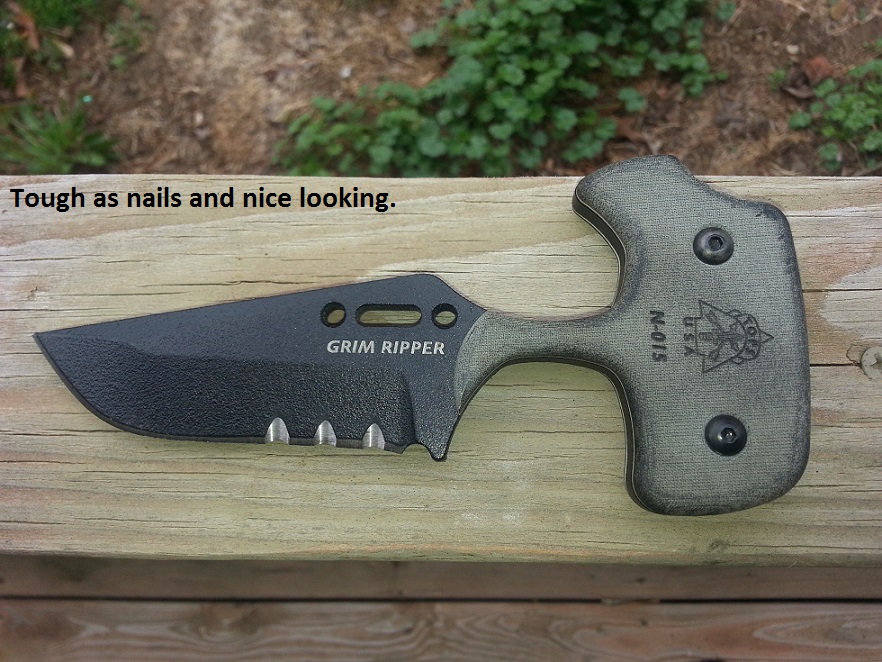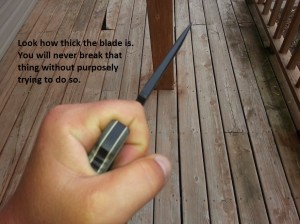 The thing is a tank! It is sharp, thick (1/4 inch) and seemingly indestructible. The finish is tough on the blade too, Tops calls it "Black Traction Coating". There are three serrations on the 3 3/4 inch blade and the black Kydex sheath locks the knife in very securely. I really doubt your going to lose it even carrying it inverted. The grip, made from Black Linen Micarta, is well fit to the full tang knife and doesn't leave any rough spots to tear up your hand. With an overall length of 6 1/2 inches it is much bigger than I had pictured in my mind. I was thrilled when I got it. For all you metal-urologists out there the blade is made from 1095 High Carbon Alloy with a Rockwell hardness of 58. I understand that means it's pretty tough, I just don't see you destroying a knife this heavily built. I think you could be as rough on this thing as you want and it will take it. I own several (4 or 5) Cold Steel push knives and this Tops Grim Ripper seems by far the toughest one.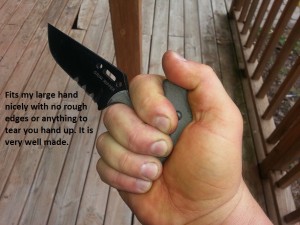 Summing up: I bought this as a collector. Tops Knives though are very well made knives and meant for the modern battlefield and other tough jobs like fire, police and self protection/survival/hunting. They have a solid reputation for sure. Check out their site and see for yourself. http://www.topsknives.com/  They have a high quality tool for virtually every niche you can dream up. I will never use my Grim Ripper for anything but a conversation piece but I sure am glad I finally got one. If I were inclined to carry/use a push style knife for real world duty it would be this one.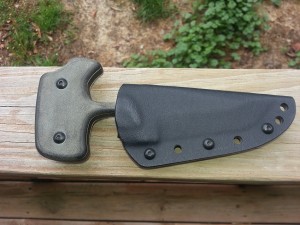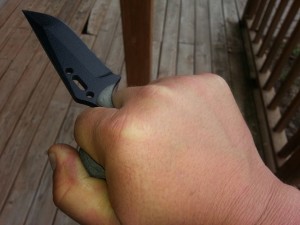 As always thanks for reading and train often.
By: Cary Kieffer
The following two tabs change content below.
Cary Kieffer
USMC Infantry/Combat Veteran/MUESOC/Sniper School - Med Retired LEO w/ 8yrs on job before Iraq wounds caught up with me.
Latest posts by Cary Kieffer (see all)