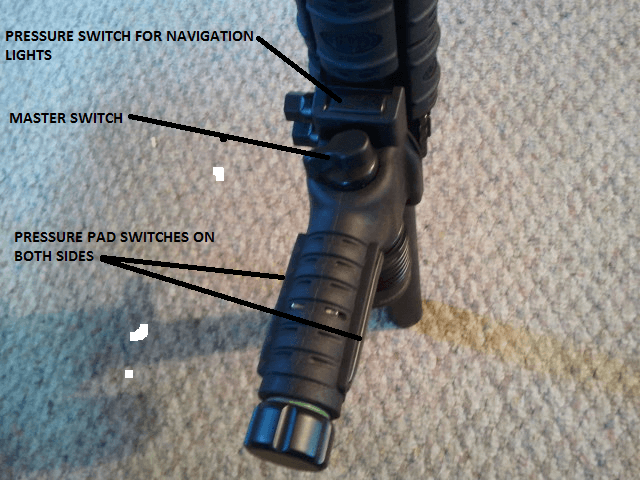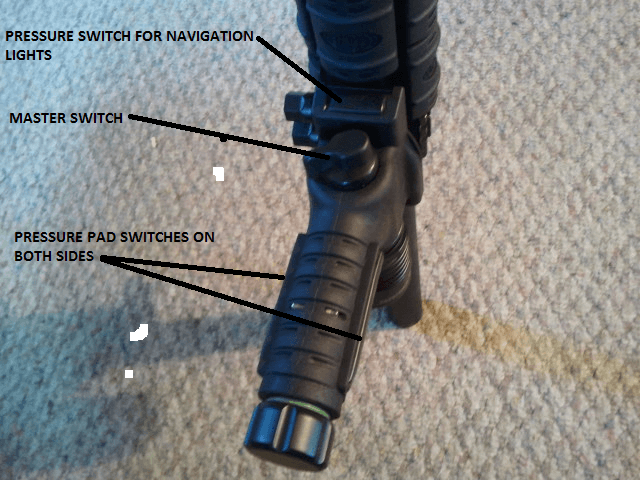 I obviously have a flashlight problem. I can't pass up a good flashlight. I must be afraid of the dark and just didn't know it. Here's the latest, the Rico EVO 2. It's a 3rd gen light from these guys and it's tough to find one. There was the RICO Alpha gen 1 (xenon bulb) and gen 2 (led bulb) then this one. Essentially it's a compact version of the Gen 2 Alpha LED. It uses one less battery, still has 225 lumen. It's shorter and lighter obviously too.
So this baby was made to be a high quality but lower priced alternative to the Surefire 900 vertical grip lights. It is being used by a number of US swat teams around the country. That's saying something to the quality of the unit. It can be found for sale on some air soft websites but don't let that throw you off! This is a real live, real gun, real world use piece of equipment and NOT a toy. I got this one on a air soft site for 163$ to my door. WAY WAY less than a comparable Surefire. It came in a hard case and not some cheesy box which was nice.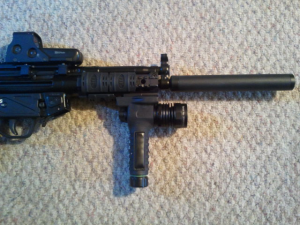 The body is a seemingly tough polymer of some kind, I don't mean plastic. Plastic sounds cheap and flimsy, this isn't. It seems to be a fiberglass reinforced polymer and feels solid as a rock. The pressure switches are good too. Not so light you will turn it on accidentally but at the same time when you push the button the light comes on. No trying to squeeze it just right. I was impressed by the threads and the machine work too. Everything is as it should be. Nice machine work and very solid overall feel. It has an 8 meter drop rating, that's a long fall for anything! I never dropped a weapon even in combat farther than a few feet. So roughly a 25 foot drop rating is pretty damn impressive.
I like the 2 small white LED's it has for navigation lights. Just like its Surefire counterpart you have 2 little bulbs that light up just a few feet in front of you for navigation, reading, whatever task you don't want the whole world to see you doing by firing up the main light. Really cool thing to have.
It attaches to any standard rail by 2 bolts. I think they were 14mm if I remember right. Anyway they grab solidly and didn't feel like they were going to strip out. Like I said I can't find one thing I don't like about it quality wise.
The unit runs on 2 standard 123 batteries like most every other good tactical light in the world. I left her burn for 30 min's to see if it would over heat and it did not. It was warm but not overly so at all. I was pleased. Leading me into the beam. There's no real "hotspot" to it. It's an area bulb which is to not to say it doesn't have range. It does, all the range you should probably need, just that with no hot-spot it will not serve as an aiming tool like say a TRL-1 HP will.(see my review on those)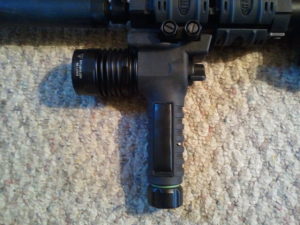 Last it has a good solid feeling master switch. I can't see it being bumped off without you doing it yourself. It has constant on, off and then standby, where most will keep it. In this position the pressure pads are active and that's how you instant on/instant off the thing.
So what's wrong with it?? Well nothing except that it isn't a Streamlight TRL-1 HP. That new Streamlight is the most kick-ass thing I've seen in awhile! I would have been A LOT more excited about this RICO if I had not just reviewed the new Streamlights. I prefer a hot-spot which it does not have. At the same time it has the vertical grip and the navigation LED's which the Streamlight doesn't have, maybe comparing apples and oranges. Let's leave it at this. The light is surely the high quality unit I heard it was. It is a viable alternative to the overpriced Surefire. For a 1/3 of the $$ you can have this on your rifle and have a great, reliable vertical grip LED light. I really think this was a good buy.
As always thanks for reading and happy shooting.
By: Cary Kieffer
The following two tabs change content below.
Cary Kieffer
USMC Infantry/Combat Veteran/MUESOC/Sniper School - Med Retired LEO w/ 8yrs on job before Iraq wounds caught up with me.
Latest posts by Cary Kieffer (see all)