Looking for a light and compact silencer for your 9mm pistol or carbine?  Want a versatile one that you can also run on a 22lr or 300 Blackout?  Check out the Liberty Centurion.
We spent a day at the range with the Liberty Centurion on a few different 9mm pistols including the Smith and Wesson M&P Core which comes from the factory with a threaded barrel and elevated sights to get them above the top of the silencer which gives you a good sight picture.
The Liberty Centurion is a nice unit, I like the fact that it is compact, sorry, but a 9″ silencer on a pistol just seems wrong to me though of course, the longer the can the more internal volume and of course increased noise suppression.  A longer, heavier can will also make the front of the pistol heavier which effects the balance and how fast you can transition the gun.  Counter point is that it will also help tame recoil and reduce muzzle flip.  Everything in the gun world is a trade off and there is a balancing act. You just need to be honest with yourself and what is important and let the use case(s) dictate what the right approach is for you.
The Liberty Centurion has a titanium outer tube and stainless steel monocore baffle.  The end of the titanium tube is notched and so it indexes to the baffle, basically, it's idiot proof when you are reassembling it after cleaning.
It uses the same piston boosters as the other Liberty pistol silencers making it very versatile for different platforms.
You can run this silencer on a 22 LR or even a 300 Blackout rifle, or even an HK with the correct mounts.
We ran this on several different pistols and were impressed with the performance, it actually surprised us a bit, I thought it was going to a bit louder than some of the longer ones and while I didn't have a DB meter or another pistol can to do a direct A/B comparison it impressed us all with how quiet it was shooting a variety of 9mm ammo.  There was negligible POI shift and group sizes shrunk a bit from shooting un-suppressed.  Claimed DB reduction is 24 dry and 32 wet.  We only ran it dry and it was comfortable to shoot a pistol outdoors without ear pro.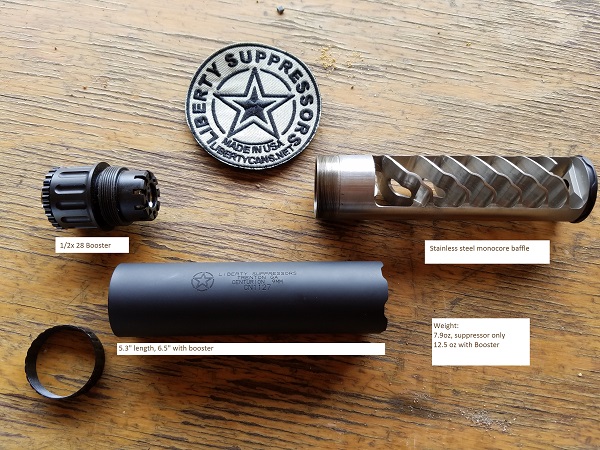 Bottom line:
So, we get asked all the time for silencer recommendations.  And truthfully, it's getting harder to distinguish between comparable units from different manufacturers.  Granted, we are testing the best of the best with our partnership with the Silencer Shop and we aren't testing any low end products.  As I mentioned earlier, you need to really assess your wants, needs and budget.  Prioritize what is most important to you.  You can trust that the guys at the Silencer Shop won't steer you wrong.
I would be happy to own the Liberty Centurion and would definitely recommend it.  I think it would be an ideal unit for somone wanting to go between a 9mm pistol/carbine and a 300 blackout.
Price at the Silencer Shop is $769.00
http://www.silencershop.com/silencers/pistol/liberty-centurion.html
Here is a link to an article on the SilencerShop that covers pistol pistons very well.
http://blog.silencershop.com/mounting-pistolcaliber-suppressors/
The following two tabs change content below.
ccoker
Founding staff member, avid shooter, hunter, reloader and all around gun geek with an obsession for perfection