By: Cary Kieffer
Long since out of production, I finally brought home an LAR MK IV Grizzly 44 Magnum! I've wanted one of these so bad..I've written letters to LAR twice with no reply, my "texter" went off at work a few weeks ago and here she is, my Grizzly 44!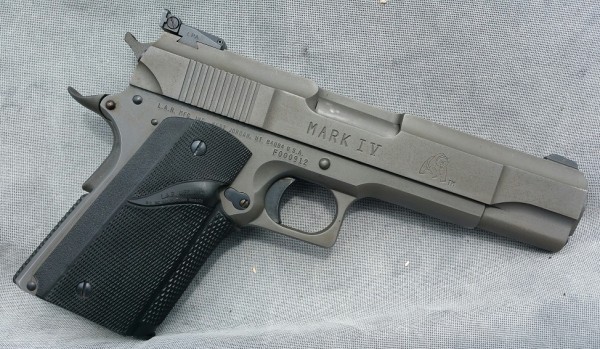 I've wanted one of these things forever, I haven't seen MK IV 44 magnum for sale online in about 4 years and that one went almost 2 G's. There is only ever a handful of 45 Win mags online at any given time, so the LAR Grizzly 44 for me is a "Holy Grail" find. My good friend Mark Smith at the local Johnson's Gun store saw it come in on consignment and knew it had my name written all over it. He text me and I couldn't reply fast enough! As soon as we established it was in fact a 44 Mag, I said sold! No need to see it, when I went over there, I was even more impressed. So I left work at finish time, went to the store and put $300 down on it, went home and took a nap. At 430pm I woke up looked at the clock and said hell with it, that's what plastic is for. I went back and picked up my LAR Grizzly 44. I was back 2.5 hours after the time I layed it away, I had to have her. Mark was laughing when I came back in the store "ya lasted almost 3 hours" he said. I can't thank him enough for that text, what an impressive weapon.
This Grizzly looked brand new, it was bone dry but spotless. There aren't any scratches and the parkerizing wasn't worn even on the rails. It might be now because I've been shooting it as often as I get out to shoot (weekly) but I didn't get it that way. So I got the original box, original factory holster, the gun of course and 3 mags. Two of which were brand new in the box. At $150 a piece I was thankful I got 3 magazines. The Grizzly came from the original owner who was an Alaska resident and spent a lot of time in the boonies. He said he had it loaded on his pack on all those trips to the bush. If he shot it much though, you couldn't tell it. The thing is awesome, I paid $1200 and I would have paid a lot more. As far as I'm concerned, I stole this gun.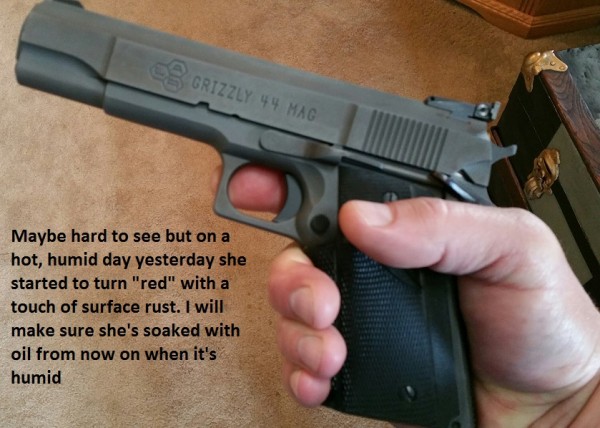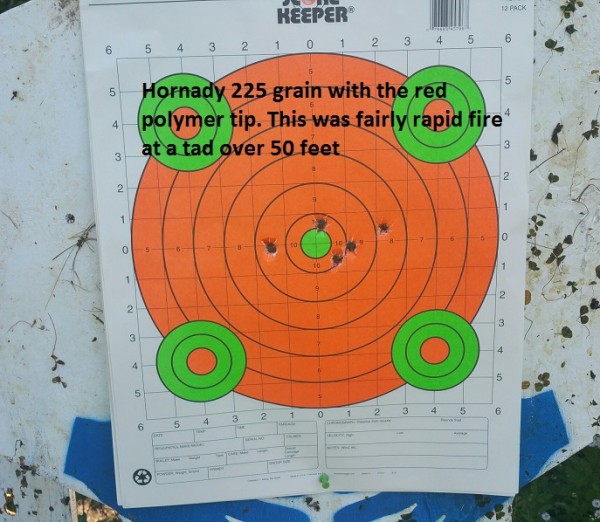 Shooting: This thing is a dream! The recoil isn't anything, it's a smooth shooter even with full power loads, definitely friendlier than my Smith 29 with the same loads. I have fired a bunch of PMC 180's, which are pretty mellow, function was perfect. Winchester white box which is a tame 240 grain load were about the same, very smooth and perfectly reliable. I have also gone through a lot of Hornady 180, 200, 240 and 300 grain XTP's. All have been accurate and flawless feeders. The old Grizzly 44 hasn't in anyway hiccupped at all, functions flawlessly with anything you feed her. I have some Underwood hot stuff coming. I'm looking forward to seeing if the 305 grain HCFP function and shoot as well as everything else has. That one should kill most anything you ever come across.

The LAR Grizzly MK IV 44 mag is a joy to shoot, the only thing you have to do is send out a search party for your brass, she really throws em'. The first 6 in the gun will fly behind you about 35 to 40 feet and land about 4 o'clock. The last one when the slide locks flies straight back over your head and lands 6 o'clock 40 feet back. I'm just glad it keeps missing my head, they are really coming out of there. Everyone who shoots it remarks at how surprised they are at the LACK of recoil, it's just user friendly. I've put 300 rounds through it and then some by 2 big dudes who are friends of mine on the local Police SWAT Team. On the flip side my girl Kelly, who is a tiny little thing with "miniature" hands, has no problem controlling the Grizzly 44 either. Kelly proves you do not have to be big, she is exceptionally strong though to be perfectly straight. Anyone I think with enough arm/hand strength to work the slide with it's 27lb recoil spring ought to be able to handle the Grizzly 44.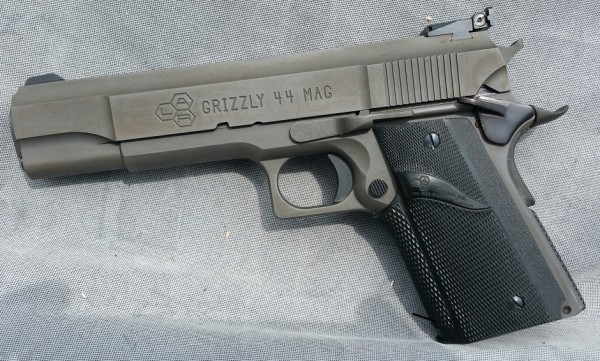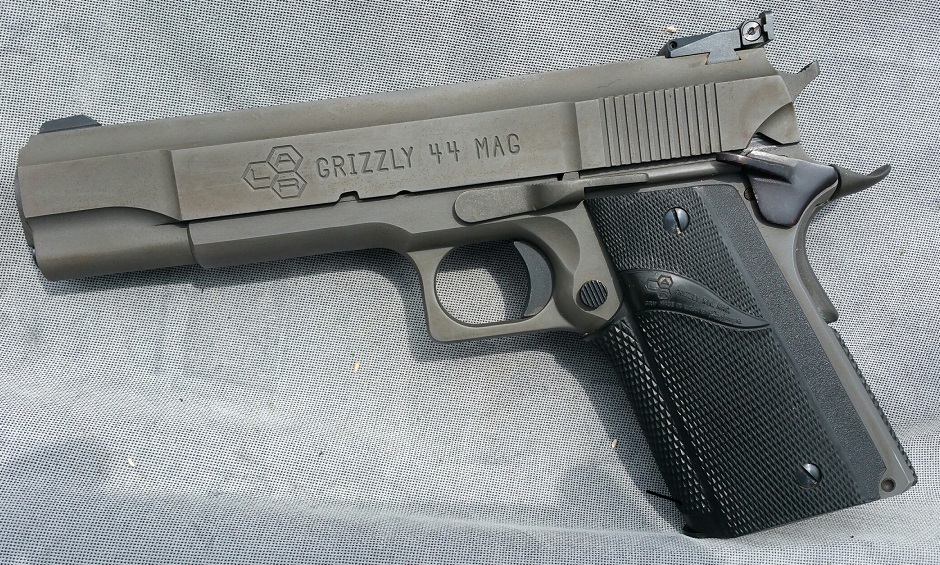 Final thoughts: The trigger is great, the whole Grizzly 44 pistol just radiates quality workmanship. Of the 49 parts of the gun 39 are interchangeable with standard 1911 parts, so that's a plus if something ever needs replaced. I SOOO wish these would go back into production, L.A.R. was just the licensed manufacturer from what I have been able to gather. The sole rights of the gun belong to a Mr. PJ Arnett, well Mr. A you built one of the coolest things I have ever owned. I hope someday someone decides to take your design into production again and does as good a job as L.A.R. did with this one. From what I understand there were only 1000 of these Grizzly MK IV 44 mags made…if you're really lucky maybe you can be one of the other 999 to own one someday. Do not pass on it, you will regret it! Now I'm going to get greedy, the next "Holy Grail" on my list is a Grizzly MK V in 50AE.  As always thanks for reading and train often.
7-3-16 Update: The Grizzly loves the 305 grain long HCFP Underwood Ammo load just as much as any smaller hollowpoint. Ran 2 boxes today. Flawless feeding and good groups. With a load like that there isn't much alive that can't be handled.
1-11-17 UPDATE: NEW GRIZZLY ARTICLE HERE!!! CUT AND PASTE LINK. https://tacticalgunreview.com/two-lar-grizzly-pistols-a-comparison/
10-23-16 Update:
Load Data: 300 gr XTP Bullet, 19 gr H110, CCI 350. OAL 1.6
Average Velocity 1187 fps. /938 lbs muzzle energy.
53 degree day, Caldwell G2 chrono, distance 14 feet from muzzle.
Good solid load, accurate. I feel like it could go up as max was listed as 22.5 gr H110. I might try 20 but 22.5 seems a bit extreme to me. Pretty much I was happy at 19 gr powder. As with any load data please use caution and whatever you do is on you. No liability here from misuse. Remember that the guy with online data might be the dumbest bastard you ever met….so use caution and work up.
---
240 gr Winchester Hollowpoint, 25 gr H110, CCI 350. OAL 1.6
AVG VEL: 1375 FPS/ 1007 LBS M.E.
---
180 gr Hornady XTP, 28.5 gr H110, CCI 350. OAL 1.585.
AVG VEL: 1406/785 LBS M.E.
29.5 gr = 1515 fps/917 lbs ME
30 gr = 1540 fps/947 lbs ME
30.5 gr = 1551 fps/961 lbs ME
31 gr = 1604 fps/1029 lbs ME
---
Light practice load: 240 gr Extreme bullet, 18-20 grains of H110, CCI 350. OAL 1.53.
Did not chrono as I didn't care. It's light and everybody likes it. It's an "all day long" load. A bonus is no search party for your brass. 12 feet, 3'oclock…there they are.
---
A nice convo I had with a TGR reader, thanks CD! Here's his guns and some good info!
Hello Cary.
After finding your review of the Mk4 on TGR and posting in the comments, I wanted to send you a pic and info on my rig. I'm not much of a writer or photographer but I will give some basic info.
If you choose to do so, you can show others another finish option on your review.
As I mentioned, my LAR is a hard chromed Mk1 WinMag that has been threaded and fitted with an Ed Brown Four Star comp. Purchased for $850 plus tax as shown.
I use StarLine brass and 240 gr. JHC Sierras (OAL= 1.555) over 17.3 gr. of Blue Dot  when looking for my max accuracy load. I also use a lot of Nosler projectiles since they are less expensive in bulk..
I am also adding a pic of the now departed 445 for your personal amusement. The Dans were always seriously overbuilt for the caliber and this one was especially beefy.
Thanks for the review and the conversation.
Take care.
CD.
---
The following two tabs change content below.
Cary Kieffer
USMC Infantry/Combat Veteran/MUESOC/Sniper School - Med Retired LEO w/ 8yrs on job before Iraq wounds caught up with me.
Latest posts by Cary Kieffer (see all)