Hello again, continuing with my knife topics I've been doing lately, today I want to go over a few "survival" knives. The hollow handled jobs with the waterproof cap. I have 3 different ones to discuss ranging from $50 to over $400 for the Randall Model 18. There are a ton of bad ones out there for sure. Cheap, weak Chinese junk a lot of times or knives that are not all one piece. Personally I think a fixed blade should be a full tang knife, not a blade somehow attached to a separate handle. The Schrade Extreme Survival knives are nice.
These Schrade survival knives are all one piece. They are reasonably priced and for the money I think very good. I don't really see a need in my life to carry around some fishing line, hooks, an animal snare and some matches in my knife handle but that doesn't mean I didn't want to add that style of knife to my collection. If you have a need for these things then here are some solid pieces of gear.
Real quick let's talk about the Randall Model 18. It's a very high-end knife as all of his blades are. It retails for $405 and is a solid, heavy knife.  The knife is nice. Is it $405 nice? Well, to the discerning collector yes, to me? NO. I picked the thing up very used but still plenty serviceable for $60 from a gun-show years and years ago. It's still available today so if this is your thing have at one. This knife is personalized with the guys name on it. Story went he used it in Vietnam. It looks it. Like I said though, this knife will still be useful long after I'm not. It is a very well made knife.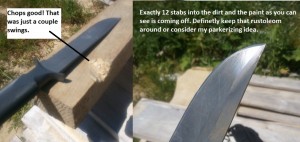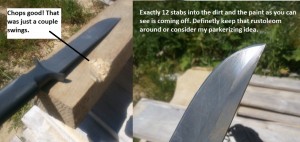 If you want a hollow handle survival type knife though I suggest you look at the Schrade Extreme Series knives. The first and number one thing I like about these knives is they are made from one solid piece of 1070 high carbon steel. No weak spot where the blade meets the handle. The only drawback is that 1070 may rust easily so watch that. Anyway what you end up with is one heavy duty, solid knife. It weighs over a pound and the whole thing radiates strength. I have two blade styles, a spear point and what I guess you'd call a Bowie or K-bar style blade. They both have a gray finish and come sharp enough but will sharpen up even more. The knife is fairly well balanced and large. It is big enough for chopping jobs. The handles have O-rings for keeping water out of the handle and I will put one in the sink tonight and let you know how it works. The cap is a heavy piece of steel and suitable for pounding tasks. There are serrations in part of the blade as well. The handles are knurled and provide a firm grip.
Let's talk a bit more about the handles. Inside is a tool kit. It has 10 bits, a driver and a steel bar that can be inserted and tightened down in the cap to provide you with something more to hold onto while you're working. The chrome rod in the picture will allow you to torque on the tool quite a bit more. That was a good idea. The piece also secures into the cap by a little Allen screw and the bit is inside to tighten that. All in all a pretty nifty thing. I have needed tools many more times in the field than I ever have fish hooks or lifeboat matches. So I like it, if you want to remove them and fill the handle with other stuff then you can do that too. Personally I would fill the bit holder with bits specific to my gear. The 1/4 inch bits come in inexpensive kits of them in any hardware. I'd fish out the ones specific to my optics, rings, weapon and any other gear and replace the ones I didn't think I'd need in the handle. Then you can tighten up or disassemble whatever you want in the field.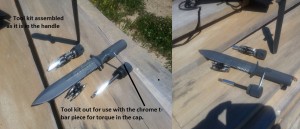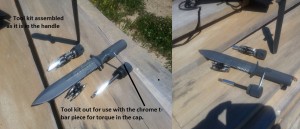 Moving on to the sheaths, they are pretty decent considering the $50 tag. They are some kind of nylon with plenty of loops and Velcro for attaching to your gear. The main belt loop is also a quick release by Velcro. The sheath has a plastic lining to protect the sheath from the knife and you from falling and stabbing yourself. Personally I'd like to see the plastic insert fit the knife a bit tighter as there is some rattling noise from it. I won't ever need it for anything but a collector standpoint but if I did I'd fish out that insert and put a layer or two of good sticky tape inside of it. Quiet it down and snug up the fit to the blade some. Not a big deal. I think that is pretty easily fixable. The sheath has a nice large pocket on the outside. Big enough for a Leatherman tool or larger folder knife, really whatever you wanted to stuff it with. Personally I'd put a disposable cell phone in it. So if I found myself so bad off I needed my survival fish hooks then I could just call and order a pizza or just call a cab and go home. 🙂
Last, let's go over the finish. It seems to me to be a fairly fragile, easily scratched gray paint. It's the one thing on this knife I really don't care for. It's really a minor point though. Who cares if it gets scratched up if it's your field knife? I wouldn't. It can always be repainted with any old rustoleum spray too. That would help with corrosion resistance. On another note if it were me I'd take and have the knife magnesium or zinc parkerized if I were going to use it. Then I would use a bake on finish from Brownells. Then you'd have two layers between your steel and the rust. That Brownells stuff bakes onto parkerizing very well. That would make a tough, rustproof combination for a new finish on this otherwise nice knife. Just a thought.
So wrapping up, the handle is in fact waterproof! This is a nice, rugged knife at a very reasonable cost. The tools are a really nice addition and there's nothing wrong with the whole thing that can't be fixed up with a little tape and time and maybe some refinishing down the road. For the money spent if you need/want a hollow handle survival knife I highly recommend the Schrade Extreme Survival model "SCHF1" (spear point) or "SCHF2" which is the k-bar style blade. I don't see where you can go wrong here. This would make somebody an excellent, heavy duty camp/field knife and all for $50.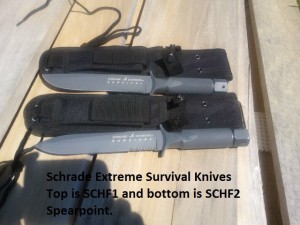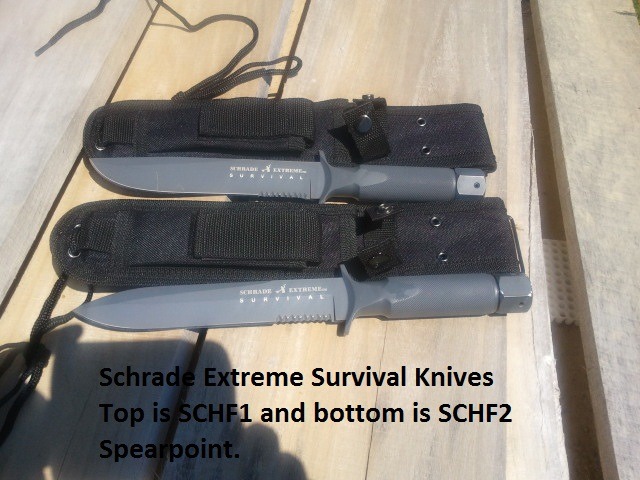 As always thanks for reading and train often.
By: Cary Kieffer
The following two tabs change content below.
Cary Kieffer
USMC Infantry/Combat Veteran/MUESOC/Sniper School - Med Retired LEO w/ 8yrs on job before Iraq wounds caught up with me.
Latest posts by Cary Kieffer (see all)