By: Cary Kieffer
I have built several AR pistols up with the Shockwave Pistol Blade kits, I feel they look nicer than the Sig Brace, they are cheaper and are more easily adjustable with dimples in the buffer tube it comes with for a set screw. So, when I saw this kit for a Glock full size pistol I had to give it a try. I have been thrilled, so if something like this interests you read on.
Glock 17: This weapon needs no introduction or review, the pistols are pretty much legendary. I saw the kit for this thing first and didn't have a Glock 17 as I am generally an XD guy. I do have a Glock 20 SF but the kit does not fit the short frame so I went over to Johnsons Sporting Goods in Adrian MI and picked up a new 17. The weapon set me back 530$ I found right away the magazine and slide release were not going to work for me so I ordered an OEM extended set of controls. That was about 16$. Next was a set of GusGrips MAX-R rubber grip enhancements. They are laser cut stick ons and I think really improved not only my grip but the comfort of the pistol. At $22 off of Ebay I am very pleased with them, so the bill so far is 568$.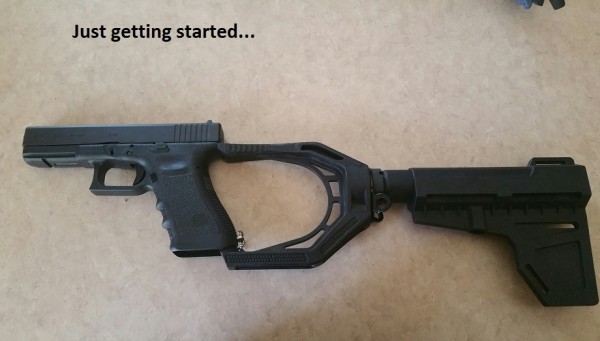 The Kit: You get the Shockwave adapter which is made by a company called Endo Tactical. It is very light and seemingly indestructible. The adapter fits TIGHT into the hole behind the magwell, you have to tap it pretty hard to get it seated, so a good solid fit. The adapter then pins in with what looks to be a stainless pin on a little chain. Rest assured that baby is not shooting loose, they designed it well. The top part of it fit perfectly up against the top of the frame. The piece was spot on and as far as I'm concerned it's perfect, sturdy and definitely rock solid. Kudos to Endo Tactical, I can't see how this adapter could possibly be improved. You also get a buffer tube, backplate and castle nut just like any AR stock kit. So at this point it's as simple as assembling any AR stock or wrist brace. I did replace the backplate with one I had already that has single point sling attachments. The kit set me back 114$ bringing the total to $682 so far.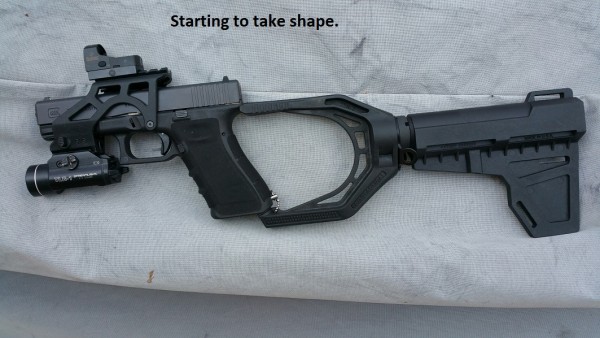 Now the thing is starting to take shape but still needed a few odds and ends to be just right for me. Next I went with a MAKO Fab mount so I could put a red dot on it. This part ended up setting me back 35$ and was easy enough to put on once I figured out to wiggle the slide release when pushing out the factory trigger pin which is replaced by the new MAKO pin. I was pushing for awhile and getting nowhere till I got that tip from a YouTube video. While I like the fit of this part it did need some cleaning up excess plastic on some edges and the rail itself needed a bit of filing to get the locking lug of the sight properly seated on it. Not that big of deal and I did it with a Gerber tool, used the knife and the file, no problem. At this point I mounted a Burris FastFire 3, just about ready to shoot and the price tag is now up to $717 not counting the Fastfire which I already had laying around.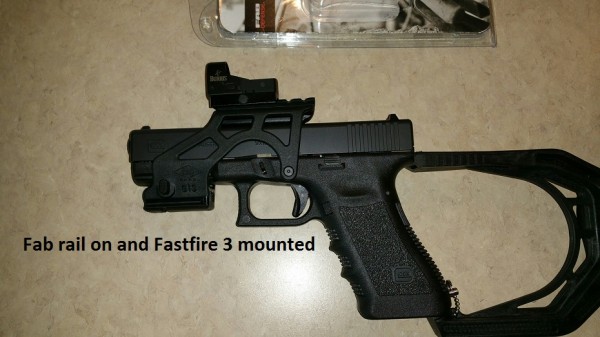 Time to Shoot: I went out with 150 rounds, 50 Federal 147 grain flat points, 50 American Eagle 124 grain "Suppressor" loads and 50 rounds of good ole steel cased Wolf at 115 grains. I fired the Russian stuff first to sight in, I had the Fastfire bottomed out and could not get it down far enough to hit POA/POI, with the elevation bottomed out I was still hitting 18 inches high at 60 yards. I could see in the dirt and it appeared to be grouping great, just too high. The same thing happened with the 124 grain AE load. I went to the 147 grain Federal load and it was spot on, so I experienced a considerable elevation difference, 18 inches seemed like a lot to me at 60 yards but whatever, I was on the target. I fired 40 rds of the 147 Federal at a 8 inch plate at 60 yards and was rewarded with "ping" every single shot. The thing will shoot well. I then walked toward the plate and fired one round every few steps, all the way up to point blank range it was a hit. End of range day 1.
A Different Red Dot: In spite of perfect performance from the Federal 147 I don't like that the Fastfire had to be bottomed out. I want a sight that I can adjust for any weight load and not just be limited to the 147's. Next up is the Sig Sauer STS-081, let's see how that does, hopefully it has a wider range of elevation adjustment.
Sig STS-081 Shoot: I've had this thing for some time. I stole it off a Ruger 10/22 and put the FastFire back on that. It did in fact have enough adjustment, so we are good to go for a red dot. In the end I would like to find a higher quality site but for now this is doing just fine.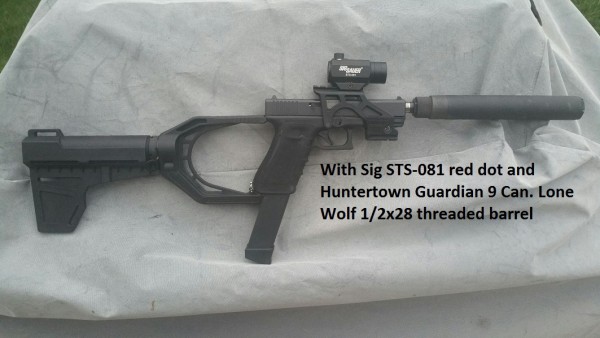 What's Next: Well, I think the only thing missing here is a suppressor…So I ordered a Lone Wolf threaded barrel and put in the final piece of this puzzle. I also have a buddy, Bill, who is an impressive machinist and avid shooter. The dude does some sweet work on guns, he made me this face smashing/flesh tearing directional brake out of a standard KAK flash can ($22). Imagine this sharp, nasty thing on the end of your new HD gun, this flash can is a weapon in itself, very serious wounds and pain can be inflicted on your trouble maker with this on the end. I have these on most of my weapons with threads now, not only do they provide an extra weapon if need be but they look nice and send the noise away from the shooter.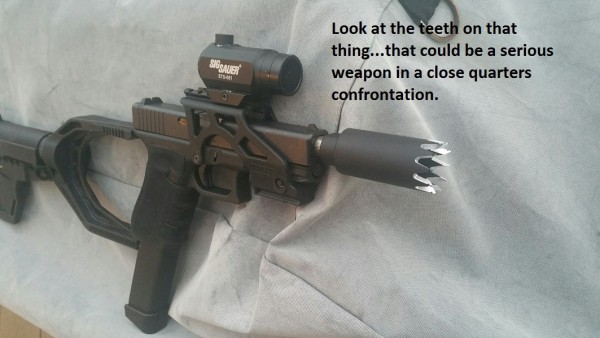 New Barrel and 33 rd Mags: I ordered from Midway, which most of us know, is a great place to shop. My order was here fast and at excellent prices. I bought 4 mags and the Lone Wolf 1/2×28 threaded barrel. If I recall the order came to $232, bringing the current total of this beast up to $971.
More Shooting: I've had this girl out several times now and here's what I've discovered so far. A. The extended OEM mag release still isn't doing it for me, so back to the drawing board on that piece. B. The Endo Tactical adapter needs a tad bit of smoothing out as it starts to tear up my thumb webbing on the left side of my right hand. This will be an easy fix. C. The new barrel shoots more than well enough to satisfy me, coming soon are pics of groups with my usual loads, Critical defense 115's, 147 grain American eagles and Russian 115 steelcase. D. With subsonic ammo like the AE 147's the pistol is very quiet, I love this thing. E. I also would like a left hand charging handle for the slide.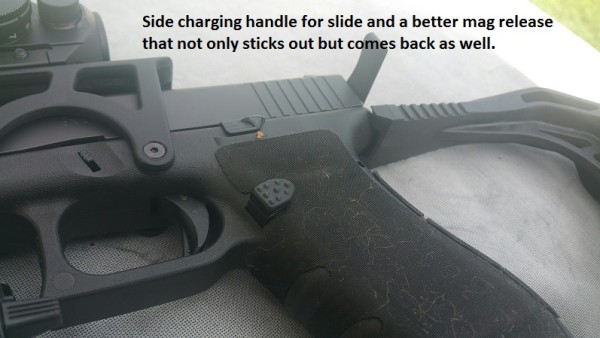 Last Money Spent: I went to my local smith, Jim Garrison at Johnsons sporting goods in Adrian, Michigan. Great shop with a good staff and Jim showed me several options of mag releases and charging handles. I picked these two, he ordered them and installed them. The total on that was about $50. So finally, $1021.00 later this thing is done as far as I'm concerned.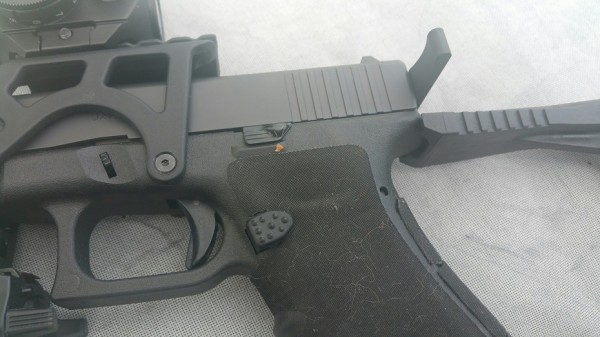 Summary: The price tag added up fast, when I started this I never dreamed I'd be up over $1000 invested. When you think about it though you really do still have all the performance of a well done 9mm AR pistol and your doing it at considerably less weight and with mags that you may be able to use in your regular pistol. This whole rig loaded, with suppressor only weighs 4lbs 13.4 ounces and that's with 147 grain ammo!! Coming in under 5lbs fully loaded it really is a feather. The kit also does add a lot of versatility to this Glock 17 and it definitely extended my effective range and hit probability with said weapon by a long shot. I really like this thing, it is an absolute beast…plinker, small pest control, truck gun, home defense, this weapon can fill a lot of roles well. All that and the legendary reliability of  a Glock. Just pick the correct load for the task and I think this is one of the coolest, most versatile weapons I own. You could plink with anything, 147's and 158's for really quiet shooting, a good hollow point for HD and with hardcast +P+ flatpoints you've got most creatures in the woods covered….I feel there is limitless possibilities with a rig like this one.
What I see in the future is the very same set up I have here done with a Glock 40 long slide 10mm or maybe a longer slide 45acp converted over to 460 Rowland. Then you would have serious back woods killing power in an accurate, lightweight package. To me, either of those, would be awesome. Thanks for reading and train often.
The following two tabs change content below.
Cary Kieffer
USMC Infantry/Combat Veteran - Med Retired LEO/8yrs.
Latest posts by Cary Kieffer (see all)