I've had a problem in the last year most people would like to have, I'm glad I have it anyway. I have bought more black, evil, high-capacity firearms than I have been able to afford to accessorize with expensive stuff. I've done some budget item reviews in the past, rather than review all these things one at a time, lets just knock it out short and sweet all in one review. I recently bought 7 different optics and 1 style of light and mount to get these weapons shooting, I figure I can outfit them better in the future when the money tree fills back up. All cheap, some good, some not so much, let's take a look.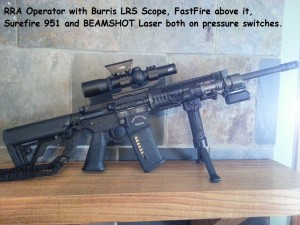 Burris Tac30 with FastFire red dot: Definitely my favorite here today. $437 to my door and I like it a lot. It's been written up here before very well. So check it out. http://tacticalgunreview.com/blog/2012/01/burris-tac30-1-4×24-scope/  I agree whole heartedly with this review. Aside from the whole eye piece turning and the brightness button being as bit of a pain this thing is great. It was by far the most expensive "cheap" scope I bought and well worth the cash. I have no intentions of replacing this. 5 stars.
Vortex StrikeFire: Again reviewed here before but I'll say it again. http://tacticalgunreview.com/blog/2012/05/scope-review-vortex-strikefire-red-dot/  For the money this red/green dot is tough to beat. This is a new one but have another I have had for years. Good battery life, plenty bright enough, holds the zero…no problems. If the price of an Aimpoint is keeping you off the firing line then 148$ from the Sportsmans Guide will have you shooting. Again no intentions to replace this sight. 5 Stars.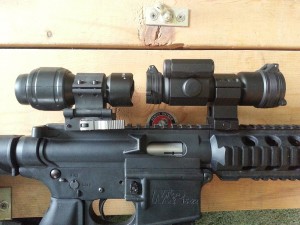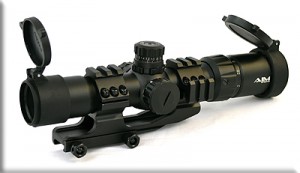 Aim Sports 1.5-4×30 Tactical scope with Mount: I would avoid this. It has a fine reticle which I liked. That's where it ended. The mount was junk and would not tighten enough to satisfy me. The turrets feel like crap, elevation had no positive clicks, just mush, windage felt ok. In spite of having leveled the scope with levels I still think the reticle was cocked to one side but I have glasses coming in the mail too. The turrets locked like a Millet LRS scope does but wouldn't stay tight. The reticle has 3 color choices, red, green and blue. Blue is worthless and the other 2 were not far behind. You can't see any of them except when it's too dark to shoot anyway. Save your $104.99 from the Guide. I sent this thing back. Even if this thing had worked I would have eventually replaced it with a better scope. 1 star.
Aim Sports 8-32×50 Mil Dot Illuminated Bubble Reticle Scope: Aim Sports redeemed themselves with this. I was pretty impressed. Turrets tracked and the glass is clear enough to use. Is it Leupold or Vortex clear of course not, not for 104.99. Just saying it is totally usable though. I think the bubble level inside the scope is kinda neat. They put a blue illuminated reticle in this too. I don't know who's bright idea that was but it's not bright at all. You can hardly tell it's lit up. Needs to be green or red. I fired a sighter and measured how far it was off, made the proper adjustment and put the next 5 right through the X, same ragged hole. I was very pleased. If you can't afford anything else or just want a beater scope I like this thing. Would have been happy at double the price in spite of the fact it has 1/8 inch adjustments. Obviously not the best for a "tactical" scope. That's a lot of turret turning for long ranges. This will eventually end up replaced by another Vortex Viper PST, but is doing just fine for now. 4 Stars (because of blue reticle and 1/8 turrets)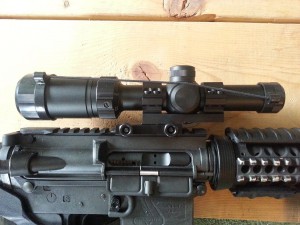 Hammers 1-4×20 Scope: I think for $87.49 these guys hit a home run. Nothing at all to complain about. Simple no frills short range scope. Reticle similar to the EoTech (only smaller), circle and a dot in the middle. Turrets felt fine, the mount is included and solid. Glass is clear enough to use. Would make an ok AR choice for the budget minded but makes a better choice for your "Tacti-cool" 22lr. While pictured on a Bushmaster, mine ended up on a Smith MP-15/22. I'm content to leave this on a 22lr, had I used it on an AR I would have replaced it though.  Very pleased. 5 stars.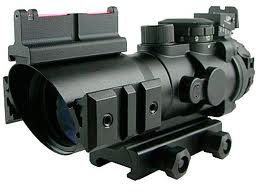 Aim Sports 4×32 Dual Tactical Scope: This thing almost went back. Strictly for 22's I would say, no eye relief what so ever for me. Reticle is ok I guess with an illuminated BDC. It has a set of iron sights on top that are fully adjustable. I can't complain about much except the eye relief but for some reason this thing just didn't impress me one bit. If it wasn't for the boy wanting it for his Ruger 22 it would have been returned. He's happy so I guess it wasn't a total waste of $88. I would recommend the Hammers over this thing any day. This scope is scheduled for replacement with a Nikon 22lr scope. 3 stars.
Aim Sports 10-40×56 Extreme Tactical Scope: That makes me laugh "extreme tactical"…whatever…it cost $87.49 and has 1/8 inch adjustments. In spite of the price though, just like the 8-32×50 it seems to work and track just fine. It almost irritates you that you can't really find an issue with it. It reminds me of this BSA Platinum I had back in the day when I was still broke. That scope was like 61$ and just worked wonderfully for years. This thing is worth 3 times it's price tag at least. Again it sighted in and has held a zero. No complaints…the only thing I noticed is that I started out on 8x..fired a round and turned up the magnification a bit and fired another…repeat, repeat. It held in the X ring up too 24x. The shot I fired at about 30x and all the way till 40x was 1 inch low and 1 inch right. When I turned it back down to 24 X it went right back in the X ring. I don't see that as anything to complain about for under a $100. Again if you need a high power scope cheap, check this thing out. It has a lifetime warranty so what the hell, you won't be out if you don't like it. This will eventually come off and be replaced by a Vortex Razor, for now though I'm happy to use it. 4.5 Stars. (again because it has 1/8 adjustments)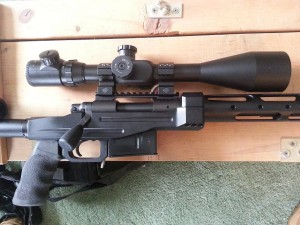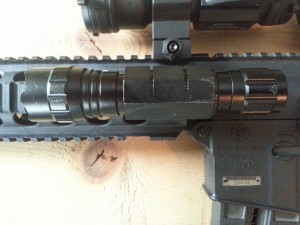 Ultrafire 501B: I'm telling you guys this is the best 13$ you can spend. I have been using this model for a number of years. Never fail…GREAT light and bright. It could use a momentary on but that's its only shortcoming. In this mount pictured it will mount up and serve you well. DX.com has them. http://dx.com/p/ultrafire-wf-501b-cree-r2-wc-250-lumen-led-flashlight-black-1-18650-2-cr123a-16240#.UuWG4rAo7IU  Order them by the half dozen and save. I do. 5 stars
So that's the rundown on the budget scopes. Now obviously my Star system isn't meant to compare these things to real scopes like a lot of the ones you see reviewed here. I might give the Steiner we had here 5 stars but that doesn't mean the 5 Stars on the Hammers scope means I think they are equal. So keep the review in perspective of the topic. We'd be comparing the Nutra-System "before" ladies to Victoria Secret models if we didn't. If you have any specific questions on any of the models please feel free to ask me, I will do my best to answer, this was just a brief buyers guide.
Thanks for reading and train often.
By: Cary Kieffer
The following two tabs change content below.
Cary Kieffer
USMC Infantry/Combat Veteran/MUESOC/Sniper School - Med Retired LEO w/ 8yrs on job before Iraq wounds caught up with me.
Latest posts by Cary Kieffer (see all)