STAFF REVIEW: Leupold Mark 4 ER/T 6.5-20x50mm (34mm) M5A2 vs the Schmidt & Bender 5-25×56 PM II/LP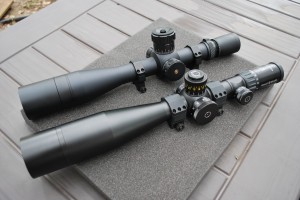 Beaverton takes on Biebertal: The scope review/comparison you've been waiting for!
The Leupold Mark 4 ER/T 6.5-20x50mm vs the Schmidt & Bender 5-25×56 PM II/LP!"
A dual review/shootout by Chad L. , Sr. Staff Writer
Thanks to Leupold's tactical optics division and my buddy "Chillin" on the hide, I was able to spend an afternoon comparing the new Leupold Mark 4 ER/T 6.5-20x50mm (34mm) M5A2 with the venerable S&B 5-25×56 PM II/LP. And although I didn't take a big entourage out along with some HD video equipment, I did take a fairly decent camera and an open mind. It's worth mentioning also that this was not originally intended as a head-to-head match-up when I got the scope from Leupold, however when telling my friend about how much I liked the new Mk4 (who knows how much I love his S&B 5-25) he said he'd love for me to take them both out for an afternoon and see what I thought. How could I not take him up on that?
First allow me to tell you that I have long considered the Schmidt and Bender 5-25×56 PM II/LP the holy grail of long range precision optics.. and was chomping at the bit to see these side by side in the field. The new Leupold, the one the US Army is putting on the XM2010, is shockingly good.. But the question is, "at $3K, is it S&B good?" And I think that's a question worth answering.. wouldn't you agree?
Needless to say, it was a very exciting late afternoon and I'm happy to share my first impressions with both after sending some rounds down range. The S&B was on my 7mm mag shooting black hills loaded with the 162 a-max, and the Leupold was on my .308 pushing 175 SMK's in front of 44.5 grains of varget.
The conditions were ideal late in the afternoon last weekend at Best of the West in Liberty Hill,TX.. About 89 degrees with a light 5 mph headwind and the barometric pressure was high and there wasn't a cloud in the beautiful bright blue North Mexico sky. It took a while before I started shooting to really spend some time just looking at the different scopes, noticing the way the reticle appeared at different power settings and how the focus affected the image sharpness, along with how good the side focus knob worked and how much the eye-relief and field of view changed. Both were fantastic and I noticed something subtle but consistent with the two scopes, the S&B seemed to have a way to transfer color better, and that helped with the image detail a bit, but it was not as bright as the new FFP 34mm Leupold, and that seemed consistent through the day.
Here are two pictures taken at practically the exact same time, setting them both on 20x magnification and adjusting the focus until it looked best. If you look carefully, you will see that the sky looks darker on both sides of the top of the Leupold picture. I attribute this to the image being a bit brighter and the cameras imager automatically adjusting to compensate, but I'm not a photography expert so please forgive me if that is not accurate. (Click the thumbnails to see the whole enchilada)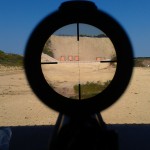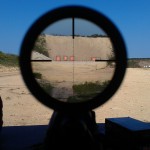 Let's also talk about the adjustments. I have always loved the way S&B has a soft smooth hard rubber feel for the magnification and where the illumination knob is, but I preferred the Leupold's capped windage turret as I mostly do wind holds now and I feel that the locking elevation turret would keep its zero in a stressful situation. I also liked the rotation indicator that you could feel via a small metal pole rising gradually while it was rotated. The zero stop is fantastic and very easy to set with the Leupold as well, once you get used to how big the knob is.
Here are the links to the manufactures webpage for each… if you are interested in the speeds and feeds..
http://www.schmidtundbender.de/en/products/police-and-military-forces/5-25×56-pm-iilp.html
http://www.leupold.com/tactical/scopes/mark-4-ert-riflescopes/mark-4-ert-6-5-20x50mm-34mm-m5a2-locking-adj/
.. and while I understand that that matters to some, The point of this comparison is not to debate things such as how many manometers of light in a certain spectrum that each passes through, and fiddle over tenths of an inch for eye-relief and a foot of FOV at a distance… I'm more simply concerned with how well they function, the size/weight, ease of use, and most importantly, how good the manufacturer will stand behind me – or MOST importantly – our troops should a problem arise; and let's be honest.. what kind of pricing we can get!
Speaking of pricing, while I can't comment on what you can find the glass for on the street new/used, etc… the S&B lists for $3,599.00, and the Mk4 ER/T for $2,999.99. So for $600 and change less you can have something domestically produced/engineered/designed/supported, that has locking turrets and appears to my eye to be a bit brighter, which is also slightly smaller, and that's just fine by me.
To use a car analogy it's just in my nature to root for the Boss 302 Mustang/ZL1 Camaro on the track against an M3 or a Porsche; recognizing and appreciating the form and function and precision of German engineering.. but I just cant help salute the flag when something is made here with a price advantage, and not the other way around like we are used to seeing with outsourced jobs, Chinese goods, etc. But I digress, this was a REALLY great time for me and I hope you read, enjoy, comment, and share with your friends looking for high end optics.
Feel free to join us on facebook as well…
https://www.facebook.com/TacticalGunReview 
Thanks again for your time,
Chad
The following two tabs change content below.
Latest posts by GlockandRoll (see all)