In the hot summer of 2002, I became the owner of a Yugoslavian M48A Mauser rifle from what was then Moyer's Gun Shop. Throughout the blazing months of July and August, I fed stripper clip after stripper clip into my rifle and constantly found myself wiping cosmoline off of my rifle's stock. Having been in storage for decades, the grease had worked its way deep into the wood. Unfortunately, the grease seemed to have damaged the wood in some way, making it spongy and soft. Eventually, the stock started to show signs of splitting, the recoil proving too much for the old wood.
After some searching, I settled on an ATI Mauser 98 stock, which I liked the looks of. I'm sure that the visual resemblance to the Steyr Scout rifle is intentional, and quite frankly, it works. Both lightweight and sturdy, this synthetic stock fit my needs. The rubberized buttstock decreases the impact felt by the shooter from the 7.92mm cartridge, which is nothing to sneeze at. Though I missed the original wood stock with its steel butt plate, it had a tendency to hurt my shoulder after a while.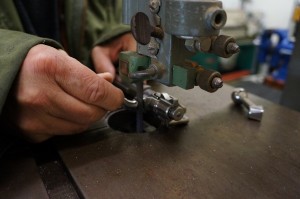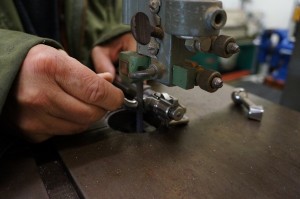 The ATI Mauser stock comes with a built-in Weaver scope rail. Though this is handy, I rely on Picatinny rails when mounting my optics. Therefore, I discarded the Weaver rail in favor of an Evolution Gun Works Mauser 98 Picatinny Rail Scope Mount. Let me make something clear, if you are doing all your work from your basement, it would be a good idea to keep the Weaver scope rail. It requires no modification to your Mauser, whereas the EGW rail requires you to drill and tap your receiver. If you're trying to do it all yourself, then stick to the Weaver mount. If, you have access to an excellent gunsmith like Kevin Neitzel of Accurate Sports, then by all means, go for the EGW mount.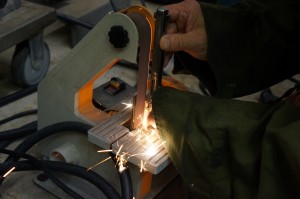 If you're going to mount a scope on your rifle, you'll probably need to modify the bolt handle. Most Mausers have either a straight or a partially bent bolt handle, which leads to you smacking it into your scope when you try to operate the action. Enter the ATI Mauser Bolt Handle. In order to install this on your rifle, you'll have to do some minor gunsmithing work. Again, I went to Kevin at Accurate Sports, because I'm lazy and don't want to slice my thumb off when operating machinery.
He cut the original handle off of my bolt, drilled into the stub, and then threaded it. Along the way, he filed and sanded down the sides of the stub so that it would accept the new turned-down bolt handle. Finally, he affixed the new handle and I was in business.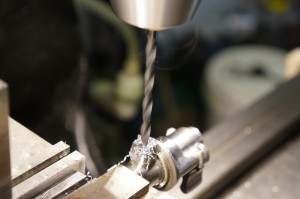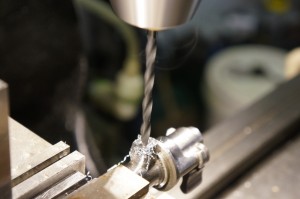 At the same time, he inlet the stock in order to accommodate a Timney Mauser Featherweight Deluxe trigger, which is a thing of beauty. With my Vortex Viper PST 4-16x50mm FFP scope affixed with an American Defense Recon mount, I headed to the range.
Almost immediately, I found that my scope mount was much too high, which was no surprise, as the AD Recon mount is designed for use with the AR-15. In order to correct this problem, I added the cheek riser that is included with the ATI Mauser stock kit. This raises the shooter's cheek up by about .75 inches.
I didn't want to drill the stock, as I plan on replacing the AD mount with more appropriate low-profile rings. So I did what any good American would do: use duct tape.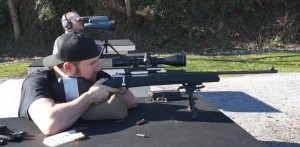 The result is rather strange looking, but effective. The ATI products have helped turn my M48A into an accurate scoped bolt rifle. Thanks to ATI, the gun is now lightweight, accurate and rugged. If  you are planning to sporterize your old Mauser, I highly recommend looking at the products Advanced Technology International has to offer.
Finally, I will be using one of their other products, a Mauser 98 Scope Mount in an upcoming project. I recently acquired an old Gewehr 98 and will be modifying it quite heavily. Stay tuned for the results:
By Allen Cosby
The following two tabs change content below.
53GR is an avid shooter, hiker and tinkerer. Introduced to guns at an early age, the hobby became a passion in his early twenties. After two years in Iraq as a contractor for a defense company, he developed an unhealthy addiction to military surplus gear. Though he's currently in treatment, the prognosis is that the condition is chronic.