Flecktarn is an excellent camouflage pattern for temperate climates such as the one I live in. As stated in a previous article, I highly recommend surplus German gear in this pattern for its utility and low cost. However, there aren't a lot of armor options for the Flecktarn pattern. So what do you do if you want to wear body armor and Flecktarn?
RAP4 is a paintball and airsoft company. I know right there that quite a few readers will want to disregard their products because they're not for "real" use. Don't be so hasty. Quality manufacturing is quality manufacturing, whether it's for sport or tactical use.
Combat Shirt
In hotter environments (like Iraq), it's very uncomfortable to wear heavy body armor over a standard uniform shirt. The US Army (and others such as British forces) adopted a shirt that incorporates highly breathable fabrics for the torso, keeping the wearer cool, even while armored. Our military calls this the Army Combat Shirt.
RAP4 offers a similar piece of clothing, the Under Vests and Body Armor BDU. This shirt, available in Flecktarn camo, has several advantages over the traditional shirts available from other retailers. The Flecktarn ACS incorporates breathable, slick fabric for the torso portion while keeping the arms covered in thicker Flecktarn-patterned fabric. This shirt by RAP4 is very close to the standard. In fact, I have compared it side by side with the British UBACS I picked up in Basrah in 2009 from UK forces there. Both have slanted pockets on the shoulders.
The Flecktarn shirt has a triple pen pocket on the lower left arm, a feature that the UBACS lacks. Though it does not incorporate elbow padding like the UBACS, the Flecktarn combat shirt does have Velcro pockets in the forearms. Personally, I like the option better than integral padding. It's not often that I low-crawl on hard terrain, and I'd rather keep the weight (and temperature of my arms) to a minimum while retaining the option of extra padding.
If you're in a more arid climate, you may want to look at this UBACS shirt.
Pouches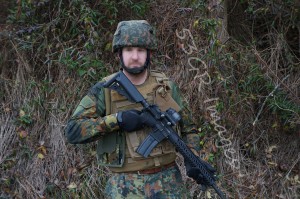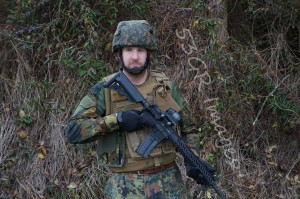 RAP4 also sells an M4/M16 Magazine Pouch that in Flecktarn. This pouch will hold 4 magazines for your AR-15. It's MOLLE compatible and quite sturdy. Unfortunately, the flaps are a solid OD green instead of Flecktarn. This means that with the flaps closed, the Flecktarn pattern is almost entirely covered.
The Georgia-based company Hessen Antique offers a large Flecktarn radio pouch, which I use to store my bare-bones medical kit. Interestingly, this pouch can also fit two AR-15 magazines (although they are very snug).
They also sell a Gas Mask pouch in Flecktarn, which is perfect as a butt pouch. This pouch (which is by TACGEAR) has a small outer pocket and comes with a removable shoulder strap. Despite the description on the Hessen Antique website, this pouch does not come with a name tape.
Helmet Cover
Before I went back to Iraq on my second contract, I purchased my own armor. The helmet I bought was painted tan and blended in well with the desert colors of the environment I worked in. In the forests of Pennsylvania, it sticks out like a sore thumb, so the obvious solution was to cover it with a surplus German helmet cover. While this is a perfectly acceptable solution, the old PASGT helmet cover is not quite optimal for my MICH helmet.
Flecktarn Worldwide, a company based in Australia, offers an excellent cover for your ballistic helmet. The MICH Helmet Cover Type 2 is made from ripstop fabric and is quite durable. It incorporates a pocket in the rear, particularly useful for storing counterweight if you run night vision on the front. Furthermore, the front of helmet has reinforced stitching, which prevents tearing if you choose to cut away part of the fabric in order to use an NVG mount on your helmet.
The cover secures to the helmet via a bungee drawstring, and if you wear goggles, there are retention straps on the side of this cover as well. Velcro on the sides and rear for blood group patches, name tapes or your favorite morale patch. If you want to ghillie up your helmet, this cover incorporates 20 eyelets which allow you to insert natural camouflage (leaves and such) or canvass strips. This alone offers a huge advantage over the traditional PASGT helmet cover.
Best of all this helmet is made of Ripstop fabric. This is particularly important to me, as I cut a small section away so that I could mount a Contour Roam camera to the side of my helmet. This cover is a must-have for anyone using a MICH helmet and wanting to standardize in Flecktarn.
Summary
Flecktarn is not the most popular camo pattern out there, but it's extremely effective in wooded environments. With a little bit of hunting (okay, so I did that for you), you can find quality options for your load-out, even if you use a MOLLE vest.
-By Allen Cosby
The following two tabs change content below.
53GR is an avid shooter, hiker and tinkerer. Introduced to guns at an early age, the hobby became a passion in his early twenties. After two years in Iraq as a contractor for a defense company, he developed an unhealthy addiction to military surplus gear. Though he's currently in treatment, the prognosis is that the condition is chronic.