A battle belt is the modern equivalent of a soldier's webbing. It's a great platform for mounting your gear. You can carry water, rations, a first aid kit, magazines and a sidearm on this wonderful piece of kit. It can be light or heavy. Battle Belts can be worn with or without suspenders. The suspenders could be low-profile ones that go easily under body armor, or heavily padded – even with a yoke.
I like to wear my gear on my waist, carrying the weight on my hips rather than my shoulders. This is why I have my belt loaded with a plethora of gear on my Battle Belt. But my belt can take it, because it's an HSGI SureGrip.
1. HSGI SureGrip – The Workhorse
I freaking love my HSGI SureGrip battle belt! It's heavy-duty, doesn't slip on my hips, and can handle all the crap I've put on it. How much stuff do I have on it? Here's a list, starting from the belt buckle and working left:
Two G36 PMAG/M4 Double Magazine Pouches, in German Flecktarn. These use Helium Whisper backing, licensed to them by Blue Force Gear. Vincent of Stratagem very graciously donated these.
A MOLLE II Canteen pouch in ACU pattern, spray-painted with Olive Drab Krylon. It holds my canteen, canteen cup and water purification pills in the pockets on the side
Condor 3-Fold Mag Recovery Pouch (attached to the inner belt)
IFAK (also ACU spray-painted OD). In the IFAK, I have a H&H H-Bandage, shears, medic tape, sterile gloves, A CAT tourniquet, an additional field dressing, ACE bandage, and an oral airway. A H&H Medical Bolin Chest Seal rounds it out, being much more advanced than the wrapper-and-tape method taught to me in Ft. Benning in 2007.
A 200-rnd mag pouch sits directly to my rear, holding a jar of peanut butter, some crackers an Esbit folding stove, and a bag of rice. Also, my camp spoon.
In a surplus USMC First Aid Pouch, I have my utilities: Elzetta flashlight, length of 550 paracord, glowsticks (for late-night tactical raves), fire-starting kit, a couple of SIG P226 mags, a pair of gloves, and foot powder.
My SIG P226 in a low-ride Blackhawk! Serpa CQC holster
Double Mag pouch (in MTP – British Multicam)
Swedish Mora knife and then a Leatherman multi-tool
An interesting fact is that because of the thinness of the Helium whisper backing (that is also what you thread through the PALS webbing, you can actually thread two strips through the same column of PALS. While it's probably not the best idea, I wanted to get the most use of my webbing, and the convex nature of the belt when worn means that pouches don't bunch up like they would if applied in this manner to a plate carrier.
The SureGrip allows me to mount pretty much everything but the kitchen sink onto it, which is good, because it's my primary load-carry platform. I really do consider it to be the standard by which I evaluate all other battle belts. With that being said, let's look at some other brands out there.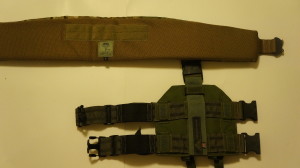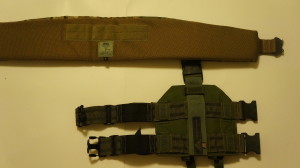 2. S.O. Tech Viper – The Integrated
I bought a Multicam Viper padded belt, which for some reason, isn't on their site anymore. I bought the Viper belt because it had a riggers belt with a Cobra Belt Buckle, which I really wanted to try out. The belt was on sale, probably because it had Coyote Brown PALS webbing (instead of matching Multicam).
I've enjoyed S.O. Tech's products.  I have used and enjoyed a Hellcat FLC in the past (a buddy bought it off of me). So I wanted to see how the Viper belt stacked up to my beloved HSGI SureGrip.
While the SureGrip belt has three access ports for subloads, the Viper belt has only two, abandoning the rear port entirely. In addition, the left port of the Viper is closed with Velcro, an arrangement very different to the HSGI model. This is no accident. Since the right side of the belt is where the Velcro of the riggers belt threads through, they decided to leave that port free of Velcro (to ease adjustment of the belt).
Whereas the SureGrip is made to be worn with suspenders, the Viper is not. In fact, the Viper does not have any method to attach suspenders, such as common D-rings. The Viper was made to be used in conjunction with S.O. Tech's Viper plate carrier. As you see in the link to their video, it integrates into a single system. While very Tactical, I'm not such a fan of it. I don't want to complicate it with a plate carrier, which is something I feel is a more situation-specific piece of gear.
A nice little tidbit about the Viper belt: I noticed that the vertical stitching on the MOLLE/PALS webbing doesn't run the full height of the webbing. The company states that they use Bar Tack sewing machine that adds stitches in a much faster rate than normal. Bar Tack stitches are the same type you see in stress points on clothing. Unfortunately, this attention to detail doesn't extend to other areas of the belt's construction. While the HSGI belt uses a plastic stiffiner, the Viper belt uses a foam pad. When my Viper came in the mail, it was folded in half and has retained its crease. Not a huge deal, but rather annoying for something that would have cost $175 if not on sale. 
The Viper belt uses a mesh interior that breathes well, doing a good job of shedding heat. The flip-side to this is that it does not really grip your hips, certainly not like the SureGrip's Neoprene padding.  I find myself wondering if the Viper will slip around if I load it down with too much.
3. ALICE – Your Dad's Battle Belt
So you want to rock it like it's the 1980s. Or maybe you've picked up a lot of ALICE gear on the cheap and you're thinking, "I like this battle belt setup, but I've already got all I need." You've got a couple magazine pouches for your AR mags, a couple of 1-quart canteens in their covers and an ALICE butt pack. Maybe you've even got a pistol holster for your 1911 (rockin' it Old School). Well, you should probably look at adding an ALICE pistol belt pad to make carrying the load a bit more comfortable.
4. USMC Sub Belt – Shoestring Battle Belt
If you're looking for a basic battle belt and suspenders for less than $20, look no further than the USMC Sub Belt. While very simple, this is surplus belt is a full-package deal. It has a built-in duty belt, which is really just a 2-inch strab that has a stout belt buckle on the end. The Excess belt strap can be rolled up and has a Velcro strap-keeper that prevents it from flapping around. The included Y-suspenders are incredibly basic. They're really just some 1-inch webbing (where it attaches to the belt) sewn to the 2-inch webbing (which goes over the shoulders). The 2-inch webbing is a single piece, folded and stitched at the intersection of the Y. This is not necessarily a bad thing at all – they go well underneath body armor.
The belt has 5 suspender attachment points: one on each side of the front and three in the back. This means that you could take the provided suspenders off and put either H or X-type suspenders onto the belt. The belt itself has 20 columns by 3 rows of PALS webbing. This is roughly analogous to the HSGI 35" SureGrip belt. There is an interior space that goes the full length of the belt. If you wanted, you could put a stiff rigger's belt through the interior, though you would probably have to cut off the built-in duty belt. I would greatly recommend this, as the belt is not very stiff. Unlike the HSGI SureGrip, it does not have a plastic insert to help it keep its form. Along with being less stiff, the Sub Belt feels a little less sturdy than the HSGI. I load a lot of gear on my belt (as seen above), and I'm not sure how well the Sub Belt will handle this weight without an internal stiffener.
There are no access ports for sub-loads. However, since the interior belt is stitched in, you would need to buy a duty or rigger's belt and install it for this to even be a viable option. In that case, you could cut a small port using a sharp blade and perhaps a lighter to sear the edges. Additionally, the interior is breathable mesh, similar to the S.O. Tech Viper Belt.
All-in-all, this is an incredible deal. If you're looking for a starter belt and suspenders that you can buy together, you can't go wrong with the Sub Belt
5. Eagle Industries – Not Just Your Wife's Battle Belt
If you're looking for a great entry level battle belt for someone of a smaller stature (like a wife), look no further than the Eagle Industries Padded Operators Belt. I bought one for my wife, who is tiny, from Uncle Sam's Retail Outlet. Normally, a scant $20, this battle belt was featured as their Deal of the Day, which mean I picked it up for $10 plus shipping. It was an excellent purchase.
This is not a belt for full-sized men. The padded portion has only 16 columns of PALS webbing, whereas my Medium SureGrip has 19 (SKD website states it should have 20, but it really has 19 with a partial MOLLE column on each end – not too useful). Whereas the SureGrip has three rows of PALS, the Eagle Industries has two with a space in between. Functionally, there's not much lost by the omission of that interior row of webbing.
The make and quality of this belt is excellent. The outside is well-stitched and clean in appearance. The foam interior is covered with Monster Mesh, which is surprisingly grippy and comfortable. The Belt in front attaches is composed of a side-release buckle, attached to the padded belt sleeve via rather flimsy 2″ webbing. There are large triglides on the webbing, which actually attaches to the padded sleeve by running through metal D-rings on the inside of the padded sleeve. It's actually quite easy to run a riggers or duty belt through the interior of this padded belt sleeve.
There are two ports for adding sub-loads, one on each side. These close with Velcro, making them very strong attachment points. Overall, it's an excellent belt and I'm very surprised at the rock-bottom cost of it.
One warning I will put out there: do not confuse the Eagle Industries Padded OPERATORS Belt with the Eagle Industries Padded WAR Belt. The War Belt does not have Monster Mesh. Pass on it and go straight to the Operator's Belt.
In fact, I just ordered a XL version from MD Arms Ltd. and am impressed. It has a full 22 columns of PALS webbing, fits a 34 inch waist quite comfortably (though is designed for a bit larger). Keep in mind that really any battle belt I get is going to eventually have a riggers belt with a Cobra buckle on it. Therefore, I must have at least 3 inches free in front of my hips for the buckle. This size is perfect for me, though it may be a bit too big if I lose a few pounds (which I need to do).
So far, it's holding up well. I will update this article as things progress.
Conclusion
Each of these belts has something to offer, whether it is compatibility with older ALICE gear, incredible cheapness, or  sheer carrying ability. Give them a look, pick one up and give it a try.
-By Allen Cosby and TJ
The following two tabs change content below.
53GR is an avid shooter, hiker and tinkerer. Introduced to guns at an early age, the hobby became a passion in his early twenties. After two years in Iraq as a contractor for a defense company, he developed an unhealthy addiction to military surplus gear. Though he's currently in treatment, the prognosis is that the condition is chronic.