The venerable 1911 has been around forever….well, nearly forever.  It's been through rough times and good times and there's no better time to be a 1911 than now.  With its 100 year anniversary just over, we've seen a slew of new 1911 models introduced.  While I don't think that anyone has come up with anything better than John Browning's original design, everyone is still trying to better it.  Sig Sauer has not fallen short of this goal with the introduction of its Tactical Operations 1911.
I spent the better part of an entire weekend just running this pistol through its paces and it did not disappoint.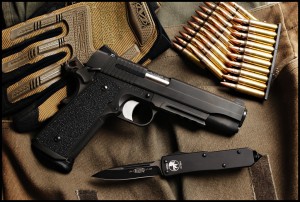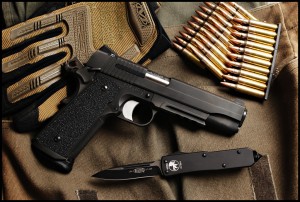 The trigger pull is typical of a well-made 1911, crisp and light.  I found that double-taps were seemingly easy due to the great trigger and the weight of the gun itself.  I'd been accustomed to shooting a Commander length 1911 and found that the extra inch or so in the full size really helped to tame some of the .45's recoil and keep my front sight post where I needed it.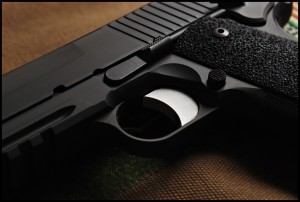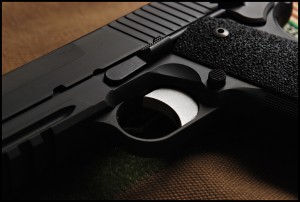 It came from Sig equipped with Trijicon night sights, which are essential in a fighting weapon such as this.  Finding the sights in low-light/darkness is much faster than standard irons that aren't illuminated.  While I liked the size of the Meprolight sights that were on my old 1911, I found these to be brighter and easier to pick up than the ones I had previously been using.  Even when they were new, they did not shine like these Trijicon sights do.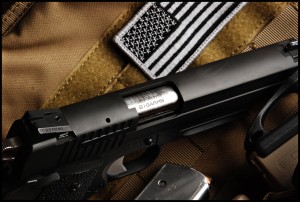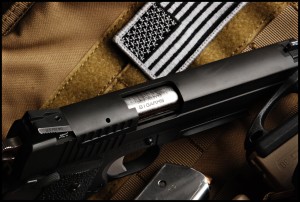 The one thing that worried me when I bought this gun was the ambi safety on the right-hand side of the gun.  I only had a single-sided safety on my previous 1911 and worried that the southpaw was going to get in the way.  It does not.  It's so unobtrusive that I didn't even remember it was there when I was doing some weak-hand shooting.  I did find that my weak hand is called such because well, it's weaker.  I found that I couldn't reliably flick the safety on/off with my left hand.  I am sure this partially due to less hand strength but also in part to the tightness of this new gun and the safety.  I would hazard a guess that after a few more range trips that the safety will wear a little and be easier to manipulate.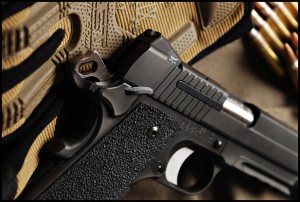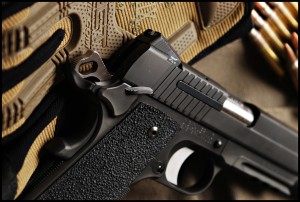 The gun also comes from Sig with a throated and polished barrel/feedramp.  In researching this purchase I had read that the gun would actually feed spent casings almost as smoothly as a new round.  I found this to be true in my experience.  I loaded a mag with a few rounds and also included a spent and it did feed it just as the rest.  While I don't know if this is something that should be done on a regular basis, it might come in handy for some malfunction drills occasionally.
The other thing I had read about was the slide profile of the Sig 1911.  This is not one of their "traditional" models and has a slightly more square slide profile than a typical 1911.  When you look down on the gun from the top you almost feel as if you are holding another model Sig in your hands.  It really does remind me of the slide on my P226.  This is a nice wink to their other gun designs but does make holster selection a little harder.  I found that the Tac Ops will not fit into a standard Blackhawk CQC holster because of the slide profile.  The leather holsters I had seem to fit fine with a little extra break-in as you would a new leather holster.  I also have several other holsters made of Kydex and while the gun will fit in them, they are a little tighter fit than usual.  I am sure the gun will wear on the holster and become smoother over time but if compatibility of this gun with your current holster is paramount, it might be best to take your favorite carry rig to your local gun shop and try their gun out first before deciding to purchase.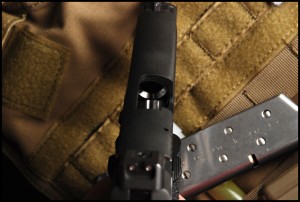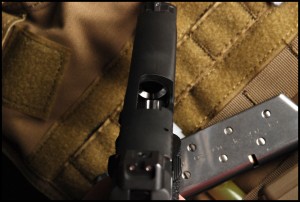 The beavertail safety is slightly raised so that even a non-optimal grip will deactivate it.  While I have never had any problems with that fact on the range, I can see that in a "life or death" situation you might not be able to draw your gun and get the best grip on it before needing to fire.  The added "bump" is not obtrusive but merely adds another level of redundancy to ensure that this particular pistol is ready to fire should you ever need it.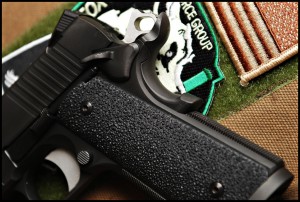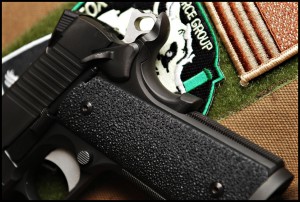 All in all, I am really digging this gun.  It's my new daily carry and I'm pleased with its performance.  I haven't yet been able to do any accuracy testing but it handles well enough to put all 8 shots in the "A" zone at 25 yards and closer.  I wouldn't hesitate buying one if you are in need of a reliable sidearm for whatever may come your way.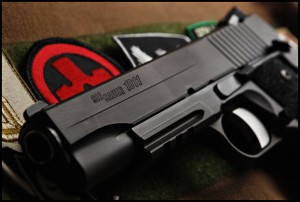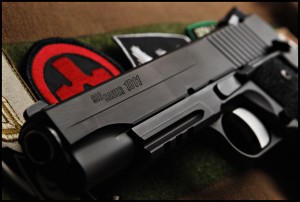 As a side note: I only recently noticed that the hex screw that secures the flared magwell to the base of the gun had gone missing.  I called Sig about this on Wednesday and received a replacement by Friday.  It seems that their customer service is almost as legendary as their firearms.  Almost.  🙂
Dieterich out.
The following two tabs change content below.
Dieterich
3-gunner, outdoorsman, photographer, tech nerd - yep, that's me.
Latest posts by Dieterich (see all)