What's better than being good on a trigger?  Being good on a trigger and looking good while doing it.  That's where Scalpel Arms comes in.  They can take just about any idea you may have and turn it into a one-of-a-kind creation on your favorite rifle, pistol, shotgun, knife or toaster.  "Wait a minute.  Did he say toaster?"  Well, I don't know if that's actually true but I wouldn't put it past the guys at Scalpel to give it a try if they thought it possible.
It all started innocently enough when I was at a local 3-gun match.  I looked around and thought "Man, everyone here has a black gun.  That's kinda boring." so I went home and got busy with Photoshop.  What I came up with was this: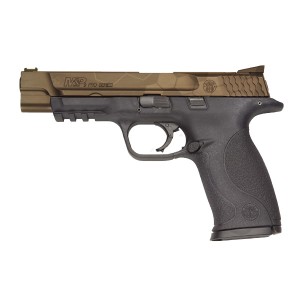 It was just a simple hexagon pattern that I wanted put on the slide in a subdued manner.  In my mind I wanted my pistol to look like any other FDE colored slide at a distance but when you got up close, you could see the pattern.  Anyway, I sent my roughly done sketch over to Christian and asked him if he thought it was possible.  About a week later I found out.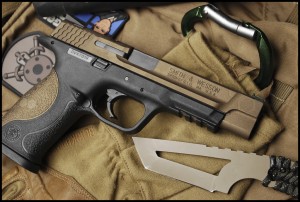 What he sent me blew away any of my modest expectations.  Christian really is an artist in what he does.  I'm not sure if he sleeps with his paint gun or what but whatever he's doing, it works.  At about a foot away, the pattern just vanishes.  You really have to catch it just right in the light in order to see it.  However, if you're admiring the gun in your hands, you can clearly see the pattern and I've heard nothing but compliments when guys finally see it.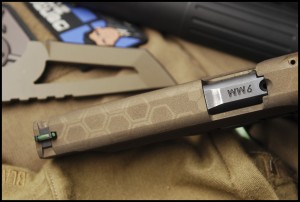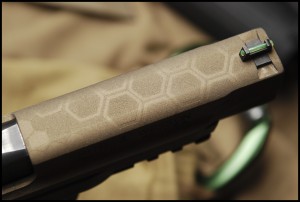 I've also had a chance to admire some of Christian's other work.  The pistol below belongs to a great friend of mine.  He (obviously) has a thing for The Punisher so he had one of his Glocks done in a Punisher theme in Scalpel Arm's "Galaxy" finish.  There's lots of "man lust" around the range when this pistol comes out to do work.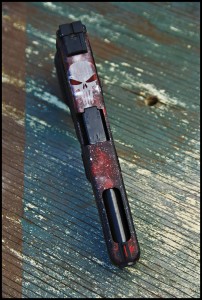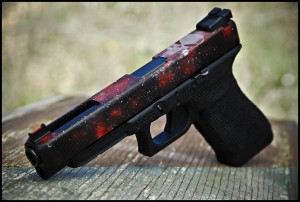 Besides doing full custom jobs, Scalpel Arms can also do many camo patterns(like Kryptek) that were previously reserved to a hydro-dipping process.  Let me repeat that.  They're doing Kryptek with Cerakote!  I'd love to have my hands on some of his Kryptek painted guns to photograph but that hasn't been worked out just yet.  For all of you on Facebook(should work for everyone else as well), here's a link to one of the pistols they've done.  If you're on Facebook, be sure to head over to their page and check out the photos of past work.  I'm always amazed at what I've seen them come up with.
In addition to the custom paint, they are a Class III dealer and can help you with your SBR, suppressor, and full-auto needs.  <Cue cheesey TV voice-over> But wait, there's more!  They also recently began selling some nice looking knives so, of course, I had to get my hands on one.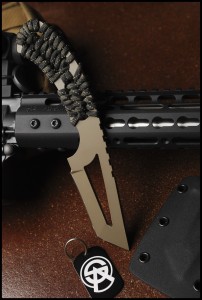 They haven't yet "named" any of their blades but they offer three different versions(tanto, cleaver, and one that I'd call a spay point).  The one I chose was a tanto style blade.  The blades are hand made in the USA, 3/16″ 52100 high carbon steel differentially hardened and come with a custom one of a kind Cerakote finish and Kydex sheath.  They also come razor sharp out of the box.  I have not yet had a chance to torture mine but it's already had its fair share of cutting tasks at the ranch.  Slicing open feed bags, cutting rope, and even some hog skinning has been relatively easy with the blade.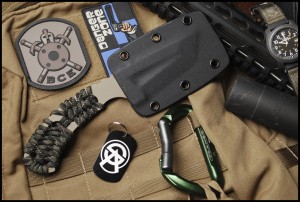 The notches along the spine give you a nice place to put your thumb while working and the handle has plenty of options for wrapping some paracord(as I have done).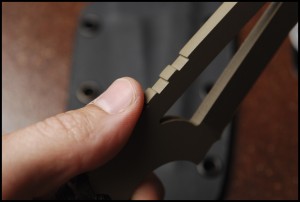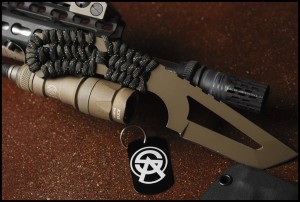 And the last thing I want to talk about is Scalpel Arms' customer service.  They really believe that the client is king and I got to experience this first hand when my slide came back to me damaged.  Apparently my package was handled by gorillas during the shipping process and the freshly Cerakoted slide had several smalls nicks and dings in it when I received it.  I immediately emailed Christian a couple of photos and asked him what I should do.  He told me to box it up and send it back.  I think it was two days later and I had the slide back in my hands with a fresh coat of paint.  He didn't just touch-up the small nicks(which is what I thought would happen) but instead, worked his magic again and re-coated the entire slide.
I have been ecstatic with the service that Scalpel Arms puts out and will go nowhere else for my Cerakote needs.  Many people can spray some paint on a gun and call it custom but to truly get a work of art on your gun, go to Christian at Scalpel Arms.  Take him whatever wacky, odd, or interesting thought you may have and he will work with you to bring your idea to life and give you a true one-of-a-kind creation that will inspire "oohs" and "ahhs" at your next visit to the range.
Dieterich out.
The following two tabs change content below.
Dieterich
3-gunner, outdoorsman, photographer, tech nerd - yep, that's me.
Latest posts by Dieterich (see all)