This gun comes with a 20″ fluted heavy barrel in a 1 in 12 twist.
The stock is from HS Precision.
I first got my LTR a few years ago after shooting my buddies and hearing nothing but
I liked the idea of the 20″ barrel as by all accounts you lose very, very little FPS compared to a longer barrel and have a nice compact and lighter rig.
I bought a lightly used one from my FFL that had been upgraded with a Jewell trigger.
It shot numerous factory loads all under an inch and with a little development work with Varget, Lapau brass and a few bullets I found 1 ragged hole groups at 100 yards.
I have used 165g Nosler Accubonds to shoot .5″ at 300 yards and cleanly taken deer out to 400.
I ran it for sometime with as Kahles CL 3-10×50 Multizero with 4a reticle.
A fantastic hunting rig,  I camo painted with Krylon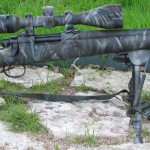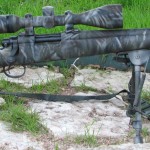 About a year ago I decided to make this a dedicated LR rifle now that there is  1K range in Central Texas called Best of the West
I have upgraded the stock to a Manners MCS-T in 4 color digital.
I am running EGW's heavy duty +20 MOA aluminum bases and 30mm medium rings.
Scope is a USO 3.2-17×44 Ergo with the GAP mil reticle, EREK elevation knob and capped windage.
Running 175s, both the Federal match load and Silver State Armory, as well as handloads I shoot this rifle out to 1K
In short, the LTR is a fantastic rifle out of the box and can only be made better that will run with full house customs.
www.Remington.com
The following two tabs change content below.
Tactical Gun Review welcomes Guest Posts from Consumers, Media Members, Gun Writers, and Bloggers. You can add your review through the "Join In" link at the top of the page or through the Contact form. Share your passion today!!!
Latest posts by Guest Post (see all)