Everyone wants an ACOG, but if you're not able to drop $1,300 on a fixed, four-power optic, are you relegated to crappy imitations? Well, imitations, yes. But crappy? Not anymore. Enter the Primary Arms 4x Compact scope. It's affordable, accurate, durable and innovative. The quality of this scope far exceeds its price point.
The multi-caliber reticle allows you to use this sight on an AK-74, an AR-15 or a FN FAL, in 5.45mm, 5.56mm and 7.62 NATO, respectively. It's roughly the same weight as an ACOG or Leupold HAMR and is a fraction of the cost.

Imitation is Flattery – But Some Flatter Better Than Others.
In my youth and inexperience, I purchased several "bargain" optics that were not bargains at all. Do NOT purchase a NcStar ACOG knock-off. You'll regret it, as the thing won't hold zero, won't adjust properly, and is generally useless. It's a 14.7 oz polished turd. I sold mine to a guy who wanted to use it for airsoft. That's really all that it's good for.
ACSS Reticle – for 5.56mm, 5.45mm and 7.62x51mm
The Primary Arms compact scope is a whole different class of optic. To begin with, the ACSS (Advanced Combat Sighting System) reticle is a thing of beauty. The large donut allows for quick sight aquisiton, while the center dot lets you take accurate shots at range. The range-finding nature of the reticle is extremely useful and intuitive without being too busy or cluttering up your sight picture.
The scope is made to be zeroed for 100 yards. The center dot is used for that range. If you are engaging targets at 200 yards, you use the bottom of the center dot. For 300, you use the top of the sight post, and there are marks for 400, 600 and 800 yards.
The reticle incorporates a very natural range estimating system. The width of the large horseshoe is roughly 18 inches at 100 yards (with 18 inches being the average width of a man's chest). The opening at the bottom of the horseshoe corresponds to this width at 300 yards, and there are horizontal lines that are the same width at their corresponding ranges on down the sight post.
If you want to estimate range based on target height rather than target width, you're in luck. To the right of the reticle is an autoranging box. Based on a target height of 5'10", you simply place the box over the target so that he is "standing" on the bottom line. If the top of his head reaches the top of the box, he's roughly 400 yards away. Additionally, there are horizontal range estimating markings, identical to the width markings on the sight post.
There are windage dots to the left and right of the reticle, allowing for easy calculation, based off of a 5 mph wind speed. All this together makes a very intuitive and versatile system. If you're engaging near targets, settle the large horseshoe on them and squeeze. Engaging at range? Use the reticle to its fullest extent.
As a side note, I have to say that I actually prefer the PA4xC to the Leupold Mark 4 HAMR. Even though the HAMR's glass is of better quality, I find its reticle to be less useful for estimating range and windage.
Compared to an ACOG?
Of course, all fixed four-power optics are trying to be the Trijicon ACOG, Recently, I managed to get my hands on a TA31RCO and have been very pleased. Though it has seen a bit of use, the illumination is still strong. This is one of the old models which came out before the infamous Bible Verse Controversy in 2010 and therefore still has the John 8:12 verse abbreviation inscribed on the side.
The optical clarity is beautiful, the reticle crisp and sharp, and the eye relief very forgiving, much more so than the PAC4X. Of course, this is not surprising, as we're talking roughly a thousand dollar difference in retail price.
If you're an old-school warrior and have a fixed carrying handle, never fear. Like the ACOG, the PA4xC allows you to mount directly to the carry handle via a thumb-screw. It also incorporates a gap in the mount so that you can use your iron sights. While this is certainly not a big deal for me, it is a nice feature to have on the scope. Furthermore, It will allow you to retain the use of your iron sights on a Kalashnikov, as long as you mount the PA4xC properly.
Illumination
This on the PA4xC is provided by a single CR2023 battery and has 11 brightness settings. Honestly, it's not nearly as bright as I'd like. While it's fine for overcast conditions and twilight, even the highest setting isn't really visible in clear daylight. The reticle just stays black, which is less than ideal. I much prefer the dual illumination of a Trijicon TA31, with the red chevron glowing even in bright sunlight (thanks to the fiber optic pipe on top). That chevron hovers, superimposed over my target ike a crimson death pyramid.
Sorry, I got a little carried away there.
The point is that in bright sunlight, the fiber optic nature of the Trijicon's dual-illumination system means that it takes the cake. However, the tritium that illuminates the ACOG at night does have a half-life. It fades over time and can be hard to see in very low light. In the woods of Pennsylvania on a moonless night, I find that the PAC4X really comes into its own. The lowest illumination setting, number 11, allows you to see your reticle in the inky blackness without being too bright or distracting.
Conclusion
The Primary Arms 4x Compact scope is affordable, innovative, and robust. Its glass isn't as clear as a Trijocn ACOG, but that's hardly surprising. The eye relief is good, though again, not as good as an optic that costs four times as much. Again, shocking. What is surprising is that this sight actually gives the ACOG a decent challenge, and for roughly 25% of the cost.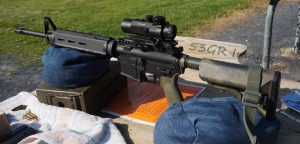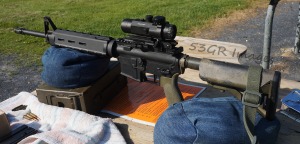 I would make only three changes to the PA4XC
Change the Battery! I want to be able to see reticle glow in bright sunlight. It's what I love about my ACOG. This probably isn't going to happen with a puny little CR2023 watch battery. Upgrade to a CR123 so I can have battery compatibility with my Surefire weapon light and my handheld Elzetta flashlight. This will give you more than enough juice to be able to change the brightness settings so that I can illuminate the reticle in daytime. Keep the lowest illumination setting just like it is (or a hair weaker), because it is excellent for night use. You could stick the battery compartment on the right side, since there's nothing there now anyway.
Mount – This may be just me, but I like the fact that the ACOG sticks back further to the rear. I wish the Primary Arms did that.
Name – It's an cool enough scope that it should have a proper, tactically awesome acronym of its own.
I continue to be impressed by the quality of Primary Arms' products and I highly encourage anyone looking for a budget 4x optic to consider the PA4xC with ACSS Reticle.
I'll leave you with a graph comparing some vital statistics of the three fixed four-power optics I've tested recently.

-By Allen Cosby
The following two tabs change content below.
53GR is an avid shooter, hiker and tinkerer. Introduced to guns at an early age, the hobby became a passion in his early twenties. After two years in Iraq as a contractor for a defense company, he developed an unhealthy addiction to military surplus gear. Though he's currently in treatment, the prognosis is that the condition is chronic.