The Smith & Wesson M&P (Military and Police) product line has a well-deserved reputation for quality and reliability. First introduced in 2005, it has proven to be extremely popular across the LE and Civilian markets. This is a review of the Performance Center Pro Series C.O.R.E. featuring a threaded barrel and tactical (tall) sights.
I prefer shooting with a suppressor when I can. It is certainly a more enjoyable experience. When I got the itch for a new pistol, this particular Smith & Wesson M&P caught my eye. I was looking for:
9mm.
Ideally with a factory threaded barrel (to save time and money purchasing an aftermarket threaded barrel). This Pro Series came with both threaded and standard barrels.
Tactical tall sights to see over the silencer.
Adjustable grip sizes (if necessary).
Excellent reputation for quality and reliability.
Something a bit above mainstream but still reasonably priced.
Although I sent quite a few rounds downrange when I first acquired it, the pistol has not seen much action lately. Time to change that! One of the "problems" with writing reviews is that we tend to move from gun to gun and often don't really settle in with a particular weapon. For instance, if I go deer hunting five times I may take five different rifles. However, this is one of my personal pistols, not just a writer's Test & Evaluation piece, so I intend to spend more time with it.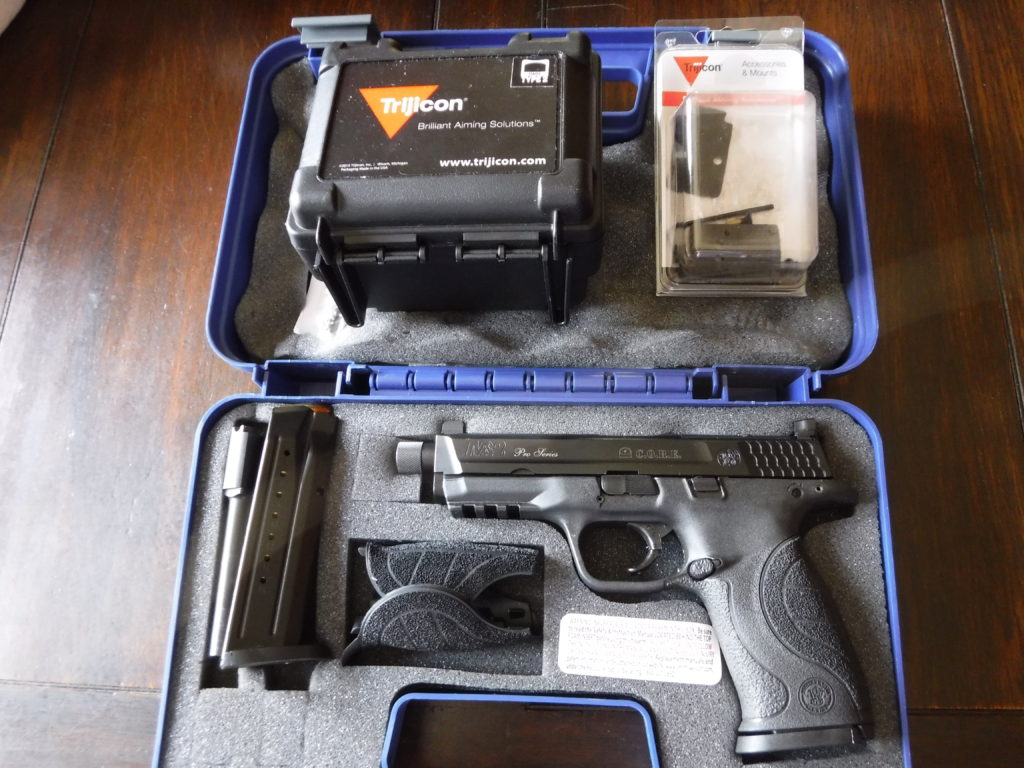 The M&P9 is a polymer frame, striker fire pistol. Stainless steel slide and stainless 4.25″ barrel. It comes with two 17 round magazines.
The pistol is naturally comfortable in hand for me using the largest of the three interchangeable Palmswell grips. The beavertail adds a sense of balance and all controls are easily manipulated. No thumb safety.
I recently joined Athena Gun Club in Houston. I shot there a number of times when they first opened for business but had forgotten just how nice it is. Truly a first class facility and they treat you right. For the purposes of this article, I made three trips to Athena and fired 500 rounds or so.
Silencer used was an AAC TiRant 45 with a 9mm piston. The barbarians on either side of me were shooting un-suppressed. The pistol cycles fine with or without the can. I have also previously run a Dead Air Sandman which also operated flawlessly.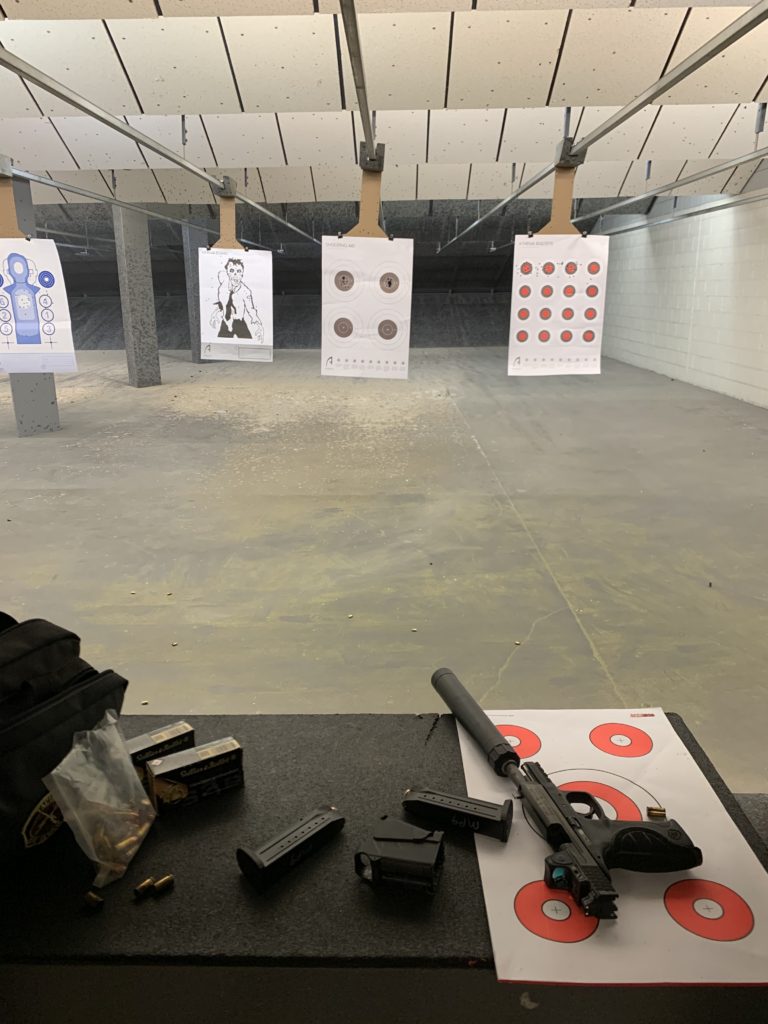 Shooting was done with a variety of brass FMJ I had in inventory. Majority of mags were 124gr MBI remanufactured ammo along with some 124gr Sellier & Bellot. I have previously run 135gr JHP Hornady Critical Duty through it for functionality testing. All ran clean with no problems.
For the most part, my shooting was "rapid fire but in control." This was not intended to be an accuracy drill to evaluate the competitive capabilities of the Smith & Wesson M&P. This was about me sending some lead downrange while evaluating my overall impressions of the pistol. My goal was to clear the 17 rounds in less than 15 seconds – basically a shot per second. Not a mag dump but also not an accuracy drill. Most mags were cleared in the 15 second range with a few creeping towards 18-20 seconds.
Part of the reason I joined Athena was to motivate me to shoot pistols more often. My pistol skills are off and I need the practice. Quite frankly, we have been mostly focused on rifles the last couple of years. That is going to change. That said, I was pleasantly surprised with my groups given how rusty I am. Maybe it was because the guys on each side of me were shooting 15″ groups at 5 yards, I don't know…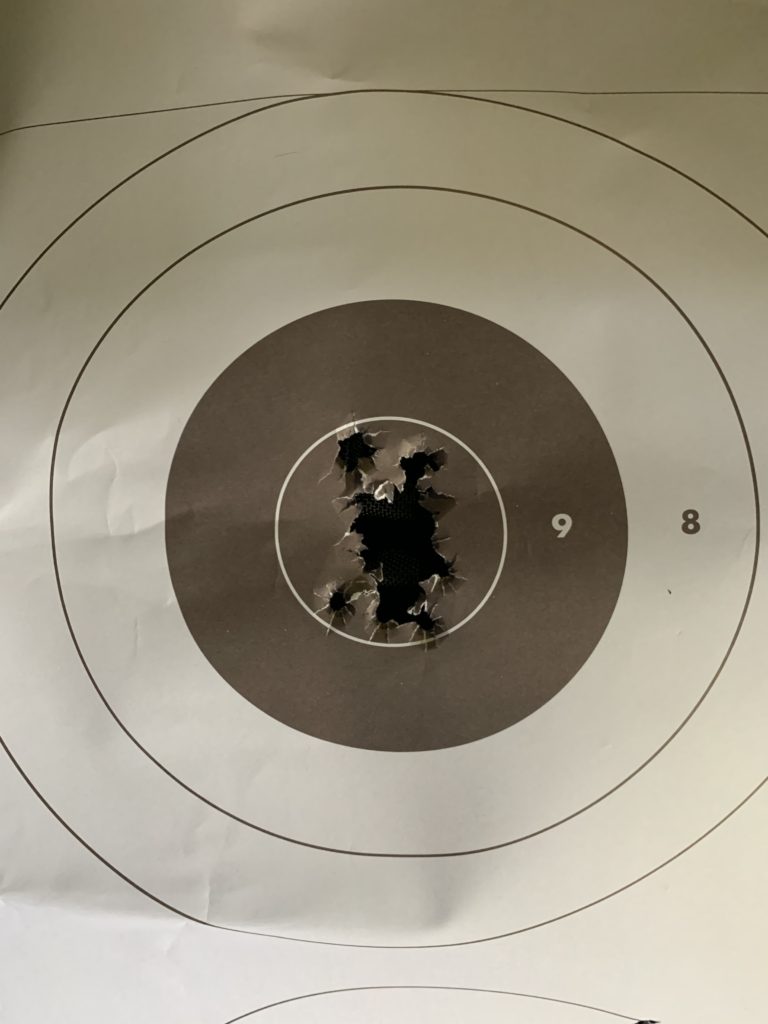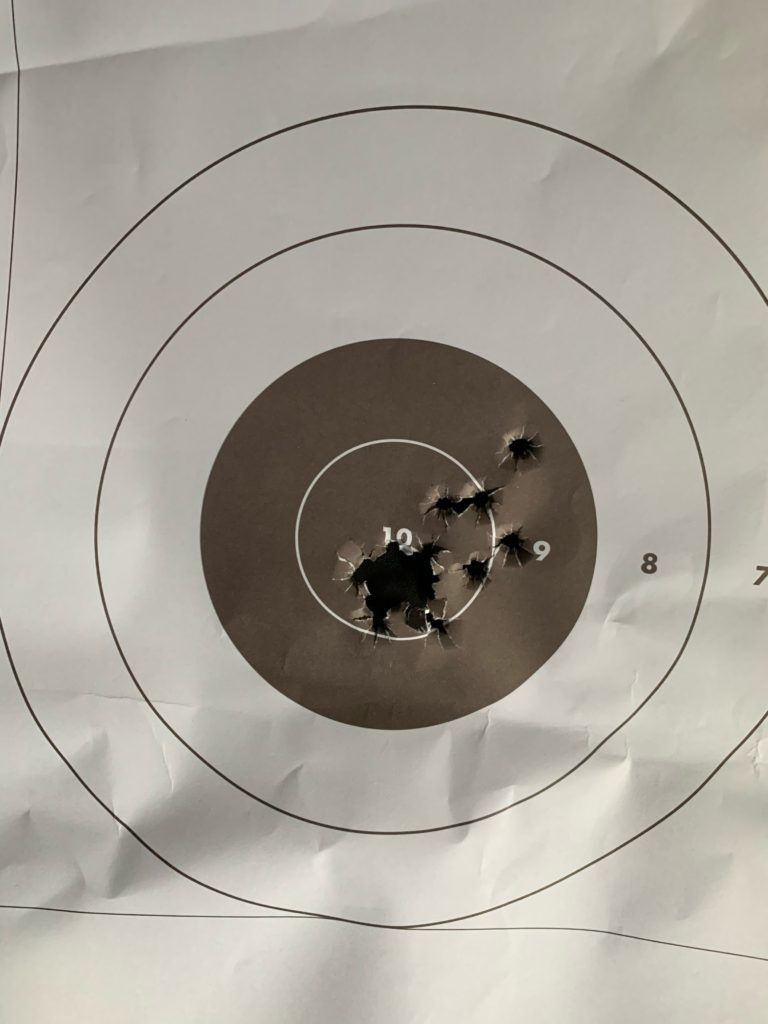 The Pro Series is the next step up from the standard production line. It has an "enhanced trigger pull" compared to the standard M&P of the day. I would like to compare it side by side with the new 2.0 M&P9. The initial take-up is about what you would expect on a typical polymer striker fired modern pistol while the reset seems above average. According to my old-fashioned RCBS trigger scale, it breaks at a bit less than 6lbs.