There is a misconception with some folks that gun owners only have guns for self-defense or hunting. But that is not true!
A lot of folks who own guns, have them because they like to compete in shooting sports. These sports might not have the same media exposure as golf, baseball or football, but it is still extremely popular and has a lot of benefits for competitors.
There are various types of shooting sports you can compete in, depending on what kind of weapon you want to use. You can decide to compete in rifle shooting sports, shotgun shooting sports, air rifle shooting sports or pistol shooting sports. You can even use multiple guns in shooting sports such as 3-gun shooting, where you typically use a rifle, a pistol and a shotgun.
As pistols are the most common weapon of choice and likely to be the easiest shooting sport to get involved in, we will look into how you can get started in competitive pistol shooting.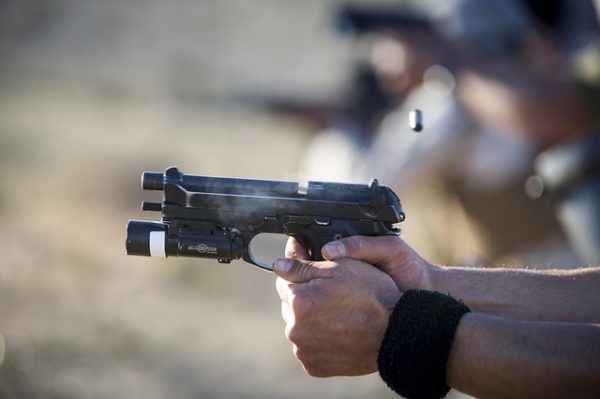 Why Shoot Competitively?
Getting involved in competition shooting has some great benefits, which is why a lot of folks are attracted to it. Some benefits include:
It is a great way to learn how to expertly handle a firearm under controlled and supervised conditions.
You get to meet other likeminded people who enjoy the same type of activities that you do.
It allows you to test your own capabilities and gauge how good your skills really are.
Anyone can compete. It does not matter if you are male, female, old or young.
You do not have to be athletic or have special talents. Shooting is a skill that can be developed and practiced.
What Equipment Do You Need?
As with most sports, you will need some equipment. Fortunately, for competition pistol shooting you won't need anything too specialized or high priced. The pieces you will typically need when you are starting out is
A pistol
A safe holster
Ammunition magazines
Magazine carriers
Besides the above items, you should also consider getting protective equipment for your eyes and ears.
For beginners just starting out, it might be wise to visit your local gun dealer to get advice on selecting the right pistol for your needs. If you do not want to spend too much money just yet, think about looking at a second-hand pistol that is in good condition. Ask your gun dealer to certify the condition of the firearm and/or guarantee it.
When you do start going to the range to shoot your gun, make sure you have the appropriate glasses for eye-protection, as well as earplugs and earmuffs to help protect your hearing.
Join A Club
If you want to compete in pistol shooting competitions, you should consider joining your local gun club where there are other folks who also compete in competitive pistol shooting. This will help you to gain knowledge from more experienced shooters, as well as help you to improve your marksmanship.
Try to look for a club that has a range where you can practise and have experienced staff to give you advice if you need it.
To help you find a club, the NRA maintains a list of local clubs and ranges.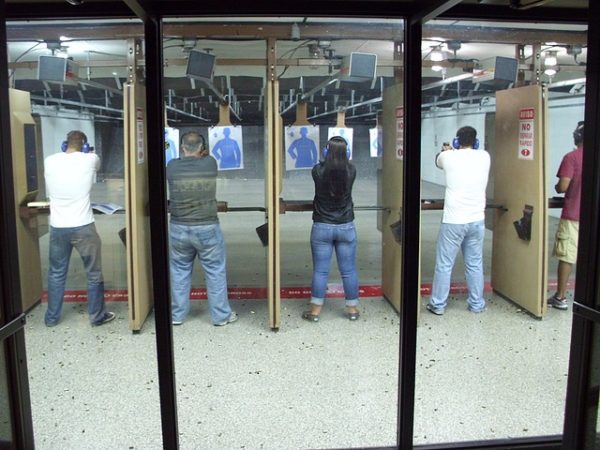 Competition Options
So if you have all the equipment and are a member of a club, what kind of pistol shooting competitions are there for you to get involved in? Quite a few, it seems! The main ones include:
Bulls-eye – This is the more conventional type of competition where you fire at a fixed target. There are also fixed distances from the target, as well as fixed time limits. With this type of competition, accuracy and precision is the name of the game. The three classes of pistol that is allowed for these competitions include .22 caliber rimfire, a centerfire handgun of .32 caliber or greater; and a .45 caliber pistol.  If you decide to compete in these types of competition, check out this video from the National Shooting Sports Foundation (NSSF) that gives some great tips to help you out:
Metallic silhouette
– Here the targets are metallic targets that are shaped like animals, which have to be knocked over to score. The size and distance of the targets are determined by the weapon class used. Ruger made a nice video that explains this competition and its benefits:
ISSF Shooting events
– If you ever want to compete in the Olympics, then you should look at one of the International Shooting Sport Federation (ISSF) shooting events. To see which events have Olympic status, check out this
list here
.
If you are in the US, the NRA maintains a calendar of shooting championships and tournaments. You can look it up here to see which competitions you could get involved in.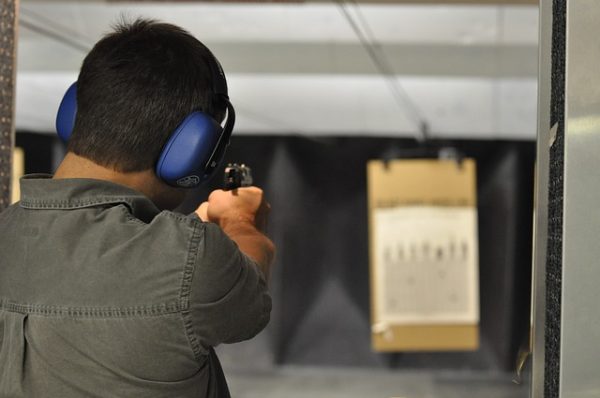 Wrapping Up
Getting involved in shooting sports is an excellent way not only to improve your shooting skills, but also a great way to meet like-minded people. And if you ever want to be an Olympian, but cannot run as fast as Usain Bolt, competitive shooting might be your best bet!
Do you participate in competitive pistol shooting? If so, what tips would you give from your own experience to others that are thinking of getting involved? We would love to hear from you!
Joe Bradley is a gun enthusiast that started his blog, SmokingBarrelUSA.com, specifically to not only learn more himself, but to also share what he learned with others in the community.
The following two tabs change content below.
Publisher of Tactical Gun Review. Managing partner of Coker Tactical. I love hunting for Texas whitetail deer, wild hogs, and high-volume Argentina dove. When not hunting you can find me fishing along the Texas Coast or on a wild Colorado river.
Latest posts by Mike Coker (see all)