DESERT TECH INTRODUCES THE MICRO DYNAMIC RIFLE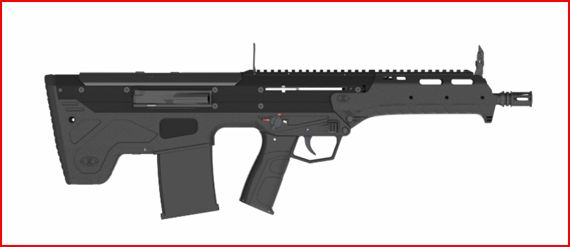 SHOT Show: Desert Tech is pleased to announce a new product for SHOT SHOW 2014 – the Micro Dynamic Rifle (MDR) – announced today by Nick Young, CEO of Desert Tech.
The MDR converts without tools between 5 calibers. Using innovative technology such as the patent pending forward ejection mechanism and 100% ambidextrous controls the MDR can be used by any operator in any position;
* Portability – The MDR has unrivaled porta bility because it is lightweight, com- pact, ergonomic, and balanced with an overall length of 26″ (or 20″ with 10.5″ barrel) and a weight of 7.12 – 7.5 lbs
* Adaptable – The MDR is adaptable in both size and caliber. It can quickly convert between five calibers, and its patent pending sighting system retains barrel zeros without the need to compensate for any impact shift.
* Ambidextrous – The MDR is fully ambidextrous with no modifications necessary. Our patent pending forward ejection mechanism and intuitive controls set a new bullpup standard for speed and precision.
About Desert Tech
Desert Tactical Arms was founded in 2007 and rebranded as Desert Tech in 2013. The company was created to provide the most compact, accurate and reliable precision weapon systems in the world. Desert Tech continues to provide the best firearms, ammunition and training possible for the military, law enforcement, and private gun owners. Desert Tech currently offers precision Bullpup rifle systems in calibers ranging from 260 Remington – 50 BMG. The Desert Tech Training Facility is the largest premiere training facility in the west, located on 25,000 acres in northeastern Utah. The Desert Tech Training Facility was created to provide a place for shooters and operators from around the world to obtain unparalleled firearms instruction with a curriculum designed to provide military, law enforcement, contractors, and armed citizen's real-life scenarios, which will produce a better a gunfighter.  Desert Tech Ammunitions was created to optimize the performance of the Desert Tech Rifle System. The goal is to control and harmonize all of the components in the firing sequence.  Desert Tech Ammunitions optimizes the firing system of Desert Tech rifles as well as numerous other commercially offered rifles to provide consistent match performance across the board.    www.deserttech.com