I searched long and hard for an Inside-the-Waistband concealed carry holster that would be comfortable enough for everyday carry. I finally found it the Crossbreed Supertuck holster.
The Crossbreed Supertuck runs about $70.  For those who balk at spending money on holsters, consider this.  We spend a lot of money on our guns but pennies on our holsters. If you get an uncomfortable holster and don't carry, then what good is your concealed permit?
The Crossbreed is a great, comfortable holster. I kid you not, sometimes while wearing it, I forget I have it on. The combination of leather and kydex works great! I carry a Beretta PX4 compact in it.  I never have to worry about it falling out – even while working on the farm.  It seems to fit perfectly. It has very strong metal clips that slide over your belt to hold the holster in place. It will take a few weeks for the leather to mold to your body but once it does it feels good.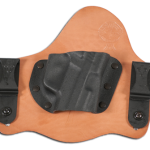 The following two tabs change content below.
Publisher of Tactical Gun Review. Managing partner of Coker Tactical. I love hunting for Texas whitetail deer, wild hogs, and high-volume Argentina dove. When not hunting you can find me fishing along the Texas Coast or on a wild Colorado river.
Latest posts by Mike Coker (see all)