Comp-Tac: World's Best Sig Sauer 1911 Holster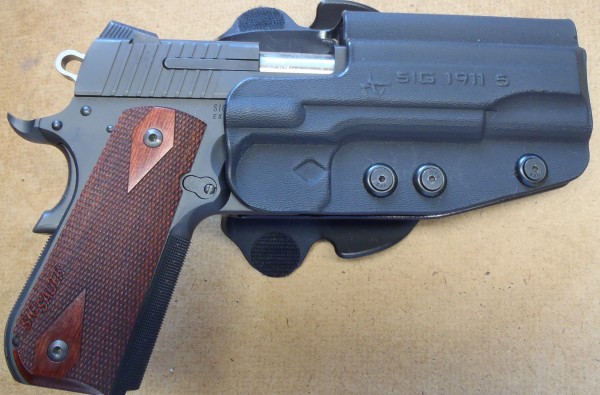 Sig Sauer 1911s are fantastic pistols.  The only downside is that good holsters are difficult to find due to the signature Sig square slide profile.  Well, my search is over thanks to the good guys at Comp-Tac.
Comp-Tac is an American success story.  About ten years ago I was shooting in a defensive pistol league in Houston and the guys were encouraging me to get a better holster.  They pointed out a fellow shooter named Gregg and said that he made quality holsters in his garage.  My thought, "Why would I buy a holster some guy made in his garage when I have this cool Israeli made holster?"  Since humble beginnings in one man's garage Comp-Tac has grown into a company producing outstanding Kydex holsters and accessories.
Each holster is custom molded in-house and the fit and finish is first-rate.  Tension adjustment screws allow the user to fine-tune the fit to their gun.  My pistols snap into place with a positive tactile feel.
Of course, Comp-Tac also manufacturers belts, magazine pouches, flashlight holsters, etc.  I'm especially fond of the Comp-Tac Kydex reinforced gun belts.  These superior belts feature a thin strip of Kydex sandwiched between the leather resulting in a strong belt that doesn't twist or sag under the weight of a gun.
For concealed carry, I trust my Glock 26 to the Comp-Tac Minotaur inside waistband holster.  This is a hybrid leather/Kydex holster worn in the 4:00 carry position.  It is comfortable and fits the gun perfectly.  The leather makes for a comfortable experience while the Kydex allows for easy presentation and re-holstering.
Comp-Tac is highly respected in the shooting community.
by Mike Coker
The following two tabs change content below.
Publisher of Tactical Gun Review. Managing partner of Coker Tactical. I love hunting for Texas whitetail deer, wild hogs, and high-volume Argentina dove. When not hunting you can find me fishing along the Texas Coast or on a wild Colorado river.
Latest posts by Mike Coker (see all)