Armytek Predator Pro Flashlight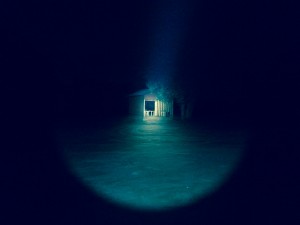 The Armytek Predator Pro is perhaps the "brightest" flashlight I have ever tested.  Sporting 640 LED lumens and a reflector tuned for focused long distance illumination it is flat-out amazing.  The Predator Pro features a Neutral White Cree XP-G2 "warm" LED.  The flat-black finish is unique and presents a tacky non-slip feel.  
Construction is of aviation grade T6061-T6.
As you can see from the night image, the Predator Pro has a tight, circular beam advertised to illuminate 350 meters.  The shooting range shed in the picture is at about 100 yards and is clearly visible.  I should mention that the photo was taken with just an iPhone with its poor low-light capability and not with a high-end SLR.  Driving around the ranch indicates that the flashlight is on par or superior to any that I own.
There are two modes of operation.  The First Line is 640 lumens in either persistent or tactical mode.  The Second Line is either strobe or Firefly mode.  The Firefly mode is kind of unique – 0.1 lumens running for 130 days on a fully charged battery.
Features include a crenellated combat bezel, rechargeable Li-Ion battery, and the ability to run on two CR123 batteries.  The flashlight is waterproof down to 50 meters.  A belt holster and lanyard are included in the box.
Available accessories include green, red, and blue filters as well as a remote switch.
Armytek Predator Pro $105.
www.armytek.com
The following two tabs change content below.
Publisher of Tactical Gun Review. Managing partner of Coker Tactical. I love hunting for Texas whitetail deer, wild hogs, and high-volume Argentina dove. When not hunting you can find me fishing along the Texas Coast or on a wild Colorado river.
Latest posts by Mike Coker (see all)