My search for a .45 caliber pistol suppressor had narrowed down to the SilencerCo Osprey or the AAC Ti-RANT.  I was certainly intrigued by the Osprey design mainly because it doesn't block the view of standard pistol sights.  After much deliberation I was still unsure so I asked my good buddies at the SilencerShop for their opinion.  They said "hands down the Ti-RANT" so I was sold.  Granted, this was one man's opinion and someone else in the shop might have sided with the Osprey but it was motivation enough for me.  It didn't harm the decision that AAC was running their Damn The Man promotion that gave a $200 rebate which I could use for additional pistons and thread patterns.
The AAC Ti-RANT .45 specs:
Weight:  11.5 oz
Length:  8.74 inches
Diameter:  1.38 inches
Finish:  Cerakote
Sound Reduction:  30db dry, 41db wet
My primary host was to be a Heckler & Koch .45 Compact.  Seeing as this was my first pistol suppressor and that none of my pistols were "suppressor-ready" I had to make a few choices regarding threaded barrel and higher tactical sights.
Threaded barrel.  I contacted Adam at HKParts for the best German HK45C tactical threaded barrel, o-ring, and thread protector.  This is the only barrel to consider and HKParts is the go-to provider for all things HK.  These guys are a pleasure to do business with and are highly recommended.
Tactical Sights.  The Heinie EZ-Lock Straight Eight Tactical are perfect!  The EZ-Lock system makes installation a breeze and yet they lock in tightly.  The taller "tactical" height allows for a clean sight picture above the suppressor.  The Straight Eight presents fast target acquisition.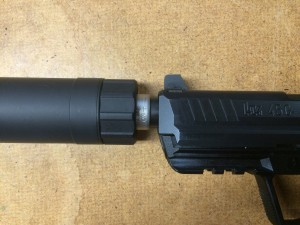 So far I am very satisfied with the AAC Ti-RANT.  Now I need to pick out additional pistons so I can use it on other host pistols.
The following two tabs change content below.
Publisher of Tactical Gun Review. Managing partner of Coker Tactical. I love hunting for Texas whitetail deer, wild hogs, and high-volume Argentina dove. When not hunting you can find me fishing along the Texas Coast or on a wild Colorado river.
Latest posts by Mike Coker (see all)