If you're going out to the square range for some super-cool tactical operator operations, you probably only need your rifle, handgun, plate carrier and sunglasses. However, if you're going to go hiking, zombie-hunting, or even do decent training, you'll need to carry along some basic necessities. How will you carry them? Backpacks are fine, but if you want to compartmentalize, a MOLLE utility pouch is a great way to go.
Pouches are relatively simple pieces of kit. Thankfully, this makes them quite easy to evaluate. For the purposes of this article, I looked at several criteria.
First, how much can the pouch hold? For a volume test, I used rice. It's small and gives a pretty good indication of how much a pouch will carry in volume. To perform this test, I covered the drainage holes from the inside with a small piece of duct tape to keep the rice from spilling out.
Second, how adaptable is the pouch? Does it have an interior divider that allows you to further compartmentalize and organize your gear? Can it only attach to MOLLE, or does it have the ability to hook onto older ALICE gear?
Finally, how easy is the pouch to use? If it takes a bunch of contortions to open it, you're probably going to want to look elsewhere.
Spec Ops Brand 
Spec Ops Brand X6 pouch – This pouch holds about 1.25 liters, which isn't bad, but not nearly what I want in a utility pouch.
Spec Ops S.A.W. Pouch – Though it's listed on the company website as 130 cubic inches (2.13 liters), it's actually significantly more. I found that it would hold 2.5 liters.
These two pouches share some common characteristics. Both of mine came in the much-hated Army digital pattern. If you don't like the ACU pattern (and who does?), you can spray it down with Krylon or Rust-Oleum spray paint. It's a simple solution and your buddies won't laugh at you anymore for having gear that looks ridiculous in the woods.
These pouches don't have interior dividers (which would be nice on the S.A.W. Pouch), but they're quite adaptable in other ways. The strap and snap attachment system on the back means that you can attach it to MOLLE or ALICE belts, which is a plus. Further, the pouches have multiple methods of closure. There is Velcro on the inside of the flap and the top of the front of the body of the pouch, allowing you to keep it closed easily, without needing to fumble with a buckle.
Of course, I prefer a buckle system, which is quieter, more robust, and more adjustable. Thankfully, there is a spare hook flap in the pouch which allows you to cover over the loop section on the front, negating the Velcro altogether. Each pouch has a female side-release buckle on the lid. The male part of the buckle is on a strap sewn onto the lower pouch body. This strap can be shortened or lengthened as needed, meaning that you can cinch down your pouch to keep it from jostling around.
USMC First Aid Pouch – Useful and Cheap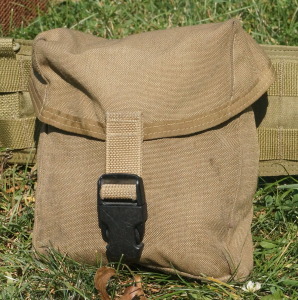 USMC First Aid Kit Pouch – The Marine pouch hold about about 2.2 liters. This is a screaming good utility pouch, since you can pick one up from Lee Surplus Outlet for under $5. There is an internal pocket divider, allowing you to separate your goods. I can put a US Poncho in the main compartment and an Elzetta flashlight and a small bottle of hot sauce.
There is no Velcro on this pouch, as it closes via buckle only. Unfortunately, the strap on which the buclke is attached is not adjustable at all, meaning that you can't cinch the pouch down. This is disappointing, but completely understandable, since the pouch is designed to carry a very specific load (The USMC first aid kit).
Honestly, I'll probably just end up cutting off the original strap, making a new adjustable one, and sewing it onto the lid myself. It's a pretty simple upgrade that will greatly increase the versatility of this pouch.
Flecktarn Mask Pouch – Not Quite MOLLE
The Flecktarn Gas Mask pouch that I've used in the past has a very large capacity, holding over 4.5 liters in the main pouch. Additionally, there is a small side pouch which is useful to put small utilities, such as your pill pack and Band-Aids in.
The attachment system is similar to MOLLE, but the straps are wider. It's some bizarre Bundewehr system that I'm not really fond of. However, it can be made to attach to PALS with some effort and cursing. I've used this on my BELTminus system and also on my armor carrier.
The attachment system is especially strange, as this is made by Tacgear and is not an actual military-use item.
As previously stated, this is a very large pouch, which is both good and bad. It allows you to carry a large amount of gear in it, but has no adjustment straps whatsoever. The lid secures via Velcro strips. Worse, the interior is lined with a waterproof material that cringles with movement. Any attempt to open this pouch results in a LOT of noise.
Blackhawk! S.T.R.I.K.E. L.R.R.P. Butt Pack – King of the Acronyms!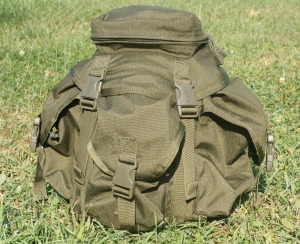 Besides having two acronyms in the name, the Blackhawk! L.R.R.P. butt pack has another claim to fame. Namely; it's freaking huge! This thing is a mini ALICE pack. Seriously, it's set up almost exactly like an ALICE pack. There's a main compartment and three smaller, exterior pockets. The pack lid has a map compartment. Unlike an ALICE pack, the lid is secured by side-release buckles and the top of the lid has an extra compartment for small utilities. The male buckle section is attached to strapping, allowing you to cinch down the exterior pockets. The same holds true with the strapping to the lid buckles, making this pack quite versatile.
The carrying-capacity is impressive. The main compartment held over six liters of rice, without overloading the compartment (more on that later). Each of the exterior pockets holds about 1.25 liters, giving this butt pack a total capacity of roughly 10 liters!
The downside to this is that the pack is practically too big to use on a US MOLLE belt. The LRRP pack attaches via 5 columns by 4 rows (n0t counting the spaces between rows) of PALS. That takes up a lot of room on a belt and hangs ridiculously low. When wearing it on my HSGI SureGrip belt, I always feel awkward.
A note on mounting options: you need to purchase MALICE clips if you are going to use this butt pack. The included speed clips are practically useless, as they require you to have a MOLLE mounting surface much larger than the back of the bag itself.
Canteen Pouches – Not Just for Water!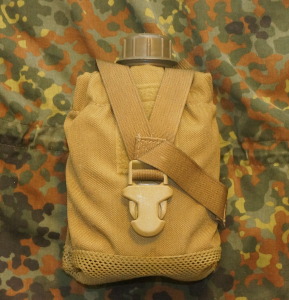 It's important to remember that canteen pouches can be used as utility pouches as well. I purchased a Specter Gear Canteen Pouch, though when I got it from Grunt Gear, it only cost $7.25 shipped to my door. This particular pouch is very lightweight. The lid can fold inside the pouch in order to more easily reach your canteen. The opening has an elastic band integrated, helping it to hold your canteen snugly, but also making it harder to return the canteen to the pouch one-handed. Furthermore, the MOLLE straps on the back can be moved laterally, meaning that you don't have to use three columns of PALS webbing to mount the thing. This is a real boon when you want to put a metric crap-ton of gear on your belt.
The downside to this pouch is that it has no side pouches for water filtration tabs. Also, because of the mesh bottom, it was a bit harder to measure capacity.
If you want a true surplus MOLLE II ACU Canteen Pouch, head on over to Lee Surplus Outlet on Ebay. If you're in the Central PA area, you can buy from him directly at his Harrisburg location.
Summary
Whether you're looking to just put some rations on your battle belt or load up everything but the kitchen sink, these pouches each offer something for the modern shooter/hiker.

-By Allen Cosby
The following two tabs change content below.
53GR is an avid shooter, hiker and tinkerer. Introduced to guns at an early age, the hobby became a passion in his early twenties. After two years in Iraq as a contractor for a defense company, he developed an unhealthy addiction to military surplus gear. Though he's currently in treatment, the prognosis is that the condition is chronic.