By staff writer: Charles Coker
Today I thought I would show you my 308 as it has evolved to it's current state:
This rifle started out as a base Remington 700 LTR and it was a great rifle in it's stock form and very, very accurate.

However, I can not leave well enough alone and it has grown into the following:
Jewell Trigger
Manners MCS-T Stock in 4 color digital cam, bedded by me with Marine Tex
EGW Heavy Duty Picatinny Rail
Talley 34mm rins
Kahles K312 II
Barrel threaded by Morgan at Dallas Shooting Supplies
Templar Tactical Archangel Suppressor
Wyatts DBM
KGR Bolt lift kit
Pet Load – SSA Brass, Fed Match primers, 44.2g Varget, 178 AMAX, 2.80 COAL
This is an extremely accurate rifle and works great as an all around rifle, Tactical, Long Range or Hunting.
Rem 700 308 in Manners MCS-T stock – Kahles K312 II – Templar Tactical Archangel Supressor – Sinclair Tatical Bipod
CLICK ON IMAGE BELOW FOR FULL SIZE PICTURE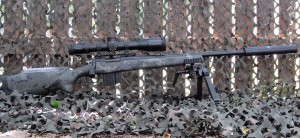 The following two tabs change content below.
ccoker
Founding staff member, avid shooter, hunter, reloader and all around gun geek with an obsession for perfection