Latest custom build from TGR staffer
Purpose built perfection
Use case:
Primary role is a defensive carbine.
Built with durability as goal one, but a gun should be enjoyable to shoot.
To me that means it has to feel right, be accurate, have a great trigger and look good!
Consits primarily of Wilson Combat parts:
Upper receiver in green
Upper receiver parts kit
12.5″ TRIM rail
NP3 BCG
Lower receiver in green
Lower parts kit
TTU single stage trigger
Other highlights:
Vltor A5 system
Magpul STR stock
BCM gunfighter mod 1 grip
Magpul BAD
Aimpoint Micro in ADM mount
Barrel:
I decided I wanted a 14.5 middy in a light profile that was melonite treated.
I have been extremely happy witht the Wilson Combat stainless barrels but wanted something I wouldnt feel bad about shooting all sorts of ammo thriugh it, even cheap bi metal bullets.
I ended up contacting the guys at Ballisticn Advantage and a few days later had one in hand.
I got what they refer to as their Hanson profile.
Not quite as light as a pencil barrel and stiff enough to run a can on.
Nice barrel workmanship.
Product Description
14.5″ Hanson Midlength 1″ $295
• 5.56 NATO Chamber
• 4150 CrMoV (Chrome Moly Vanadium per MIL-B-11595E)
• 1/7 Twist Six Groove
• 1/2-28 Threaded Muzzle
• Midlength Gas System
• Proprietary Hanson Profile
• 1.03″ Gas Block Seat for .750″ Low Profile Gas Blocks Only
• 24 Ounces
• QPQ Corrosion Resistant Finish
• FailZero Nib Coated Extended M4 Feed Ramp Extension
• HP and MPI Tested
What is the Hanson profile?
The Hanson Profile.  Just like the quality and accuracy you have come to expect from BA, the Hanson continues this pattern.  This barrel is essentially shoulder-less, symmetrically limiting barrel "whip".  The Hanson is designed to return to its home position sooner than other barrels which are beneficial for follow up shots at a high rate of fire or full auto fire.  It has lightweight feel without the lightweight limitations.  It is truly ideal for what an AR-15 is meant to do.
Attached is a welded Templar Tactical flash hider / suppressor mount.
The gun has a very light and flickable feel.
Stay tuned for shooting impressions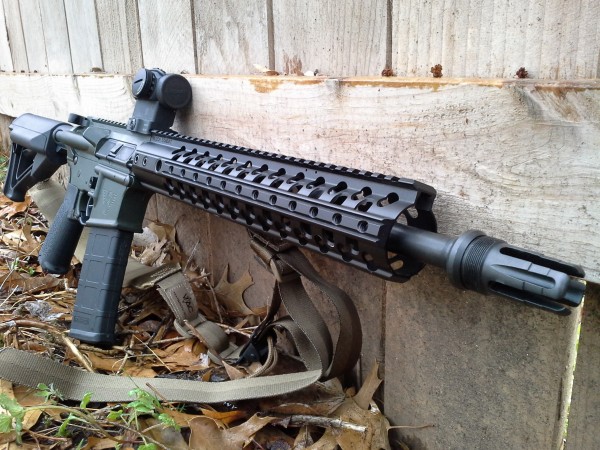 The following two tabs change content below.
ccoker
Founding staff member, avid shooter, hunter, reloader and all around gun geek with an obsession for perfection