By staff writer: Charles Coker
Trijicon TARS just arrived!  Yeah, these have been out for and we have been on the waiting list to get one of the very few available for T&E.
Remember the old Wendy's commercial?
Where's the beef?  Well.. UPS just dropped it off.  Clearly this scope was designed for hard military use where durability is king.  This scope is made with thick walled aluminum and could undoubtedly take a severe beating and keep on working..
Check back for our thoughts after we have some time on the Trijicon TARS.
Scope overview:
3-15 x 50

FFP
Mil reticle
Mil turrets
Illuminated
34mm tube
Zero stop
44 mil total elevation, 10 mils per rev
Waterproof to 20 meters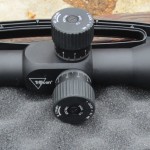 The following two tabs change content below.
ccoker
Founding staff member, avid shooter, hunter, reloader and all around gun geek with an obsession for perfection