Thermal hog hunt on video with the Silencer Shop and Lonestar boars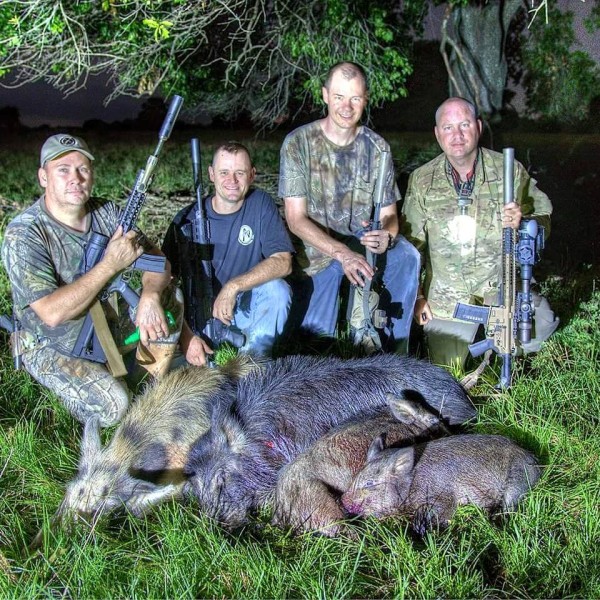 I recently met Todd Huey from LoneStarBoars.com due to our mutual love of hog hunting.  He has been making some awesome thermal hunt videos.   I hooked up with him and Dave from the SilencerShop for a hunt in central Texas.  We had a great time driving around at night with night vision and looking for pigs with thermal spotters.  Once we found a group we would sneak in with the wind in our face and get within 50 yards of them.  We would line up and do a countdown, 3, 2, 1 pew!
I will be the first to admit making good hits on pigs running at night is not the easiest thing in the world to do.  Even with suppressors they haul butt once the first shot happens and all hell breaks loose!  Todd's videos make it look easy, it's not, but damned it's fun!
Before watching the video I should point out that this is hog eradication on ranch and farmland. As such, perfect clean one shot kills are not going to get the job done.
Gear I used for this hunt:
Wilson Combat 6.8
FLIR PS64
CRUX Nemesis30 silencer
Hornady 100g GMX Boar Buster ammo
Video recording: Mini DVR from Ultimate Night Vision (link below)
Be sure and check out:
https://www.youtube.com/user/LoneStarBoars
http://www.ultimatenightvision.com/DVR-Recorder-for-Thermal-Scopes-p/unv-mdvr.htm