Tag Archives:
Nightforce

New 8 Power Series Kicks Off with a True 1x Capable Optic
Lavonia, GA, U.S. – (December 15, 2017) Nightforce® Optics, leading manufacturer and marketer of premium sport optics and related products including riflescopes, spotting scopes, and accessories, today introduced a completely new category of optics to their line of finely crafted and durable riflescopes. The state-of-the-art NX8™ series is built upon the legendary NXS™ family of riflescopes, well-known for their robustness and battle-proven design. Applying the latest technology and scientific advancements in optics, Nightforce designed the new NX8.
The first riflescope unveiled in the NX8 family is the new NX8 1-8×24 F1 optic. Specifically designed for short -to medium-range shooting, the compact NX8 1-8×24 F1 riflescope delivers trusted Nightforce performance to virtually any rifle platform, and boasts true 1x capability.
"Constructing such a small riflescope to surpass the performance of most larger scopes entails a solid commitment to innovation and optical technology," said Nightforce Director of Sales and Marketing, Gordon Myers.
"The compact NX8 1-8×24 F1 has true 1x magnification and a daylight visible reticle with multiple brightness settings, it is versatile enough to use at close ranges, plus, has extraordinary capability at far reaching distances" stated North America Sales Manager, Alan Stilwell. "The NX8 1-8×24 F1 conserves valuable real estate on your rifle at only 8.75 inches in length, and weighs just 17 ounces," Stilwell added. "Put it on your competition rifle for 3-gun, or use it for a variety of shooting disciplines; the NX8 1-8×24 F1 is also robust enough for professional use."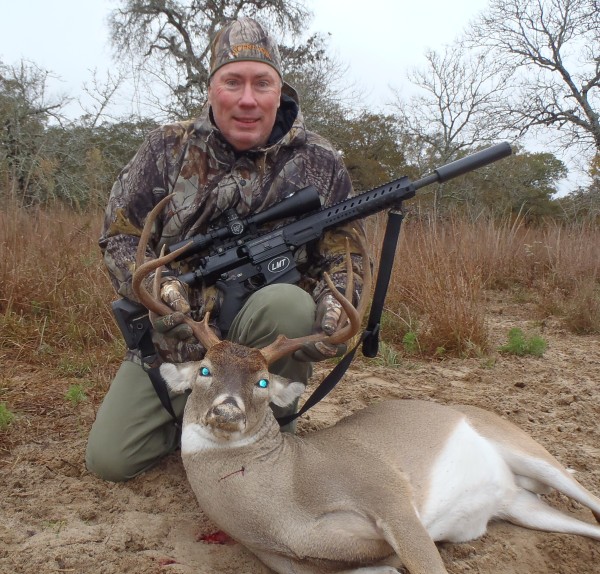 Lewis Machine & Tool Company (LMT) is recognized for producing high quality rifles in demand by law enforcement and military.  The British Army and New Zealand Army have selected LMT weapon systems.  The LM8MWS is built around a Monolithic Rail Platform and the Modular Weapon System that allows the operator to easily change barrels and calibers.  My particular rifle is fitted with the standard .308 caliber chrome-lined 16″ barrel 1:10″ twist.  I look forward to adding a 6.5 Creedmoor down the road.  So how well does the LMT .308 perform as a hunting rifle?