By staff writer: Charles Coker
Seekins recently released their new compensator and we got one in to test.  Glen Seekins is known for making ultra high end end parts such as Picatinny rails for bolt guns, DBM, rings, AR15 handguards, billet uppers and lowers and even rifles.  The SP ATC comp is reported to be ultra effective on keeping you on target for fast followup shots but without the excessive concussive effect of some of the other units out there.  How well does it compare?
We installed the comp on a Wilson Combat 5.56 recon with a 16″ Midlength stainless 1-7 barrel.  This rifle is a shooter and does 1″ 10 shot groups at 100 yards with XM193, consistently.   I recently replaced the stock Magpul CTR carbine length stock and tube with H buffer for the Vltor A5 system and it functioned flawlessly as well soften up the recoil a bit with both a 5.56 and 6.8 SPC upper.   I replaced the WC flash hider with the Seekins SP ATC.  One neat feature is the use of a collar that goes on first, and then the comp is screwed on until it touches it.  Once that is done you simply unscrew the comp until the top of it is flat and then unscrew the collar and snug it up with pair of pliers on the knurled surface.  Timing is done and there is no need for crush washers or peel washers.  Very well thought out, simple, elegant and well executed.
So, how does it shoot?
I did an initial function test and 50 yard zero confirmation, on target and only a slight tweak to get my 100 yard group to hit where I wanted it.  Even with just a 4 MOA Aimpoint T1 I was able to get still around a 1″ group by dimming down the dot so that it was small and allowed for a precise aim.  Immediately I noticed that it did indeed seem to have much less of the concussive blast of some comps and double taps at 25 and 50 yards the dot barely moved.   So far, so good and my first impression (which is almost always spot on) was that they might have a winner here..  This was at an indoor range and I will be going shooting outdoors and testing against some more comps and on different rifles as well.  It's hard to get an accurate and objective comp test as different rifles in different hands often yields different findings.  I personally don't like the big concussive effect of some of the top comps as I find it distracting to my shooting and thus my accuracy suffers , I liked the PRI/MSTN comp a lot for that reason.  One of the tests I plan to do is a low and no light shoot against some other comps as well as the Wilson Combat Accu Flash hider (which is similar to the Smith Vortex)
Stay tuned..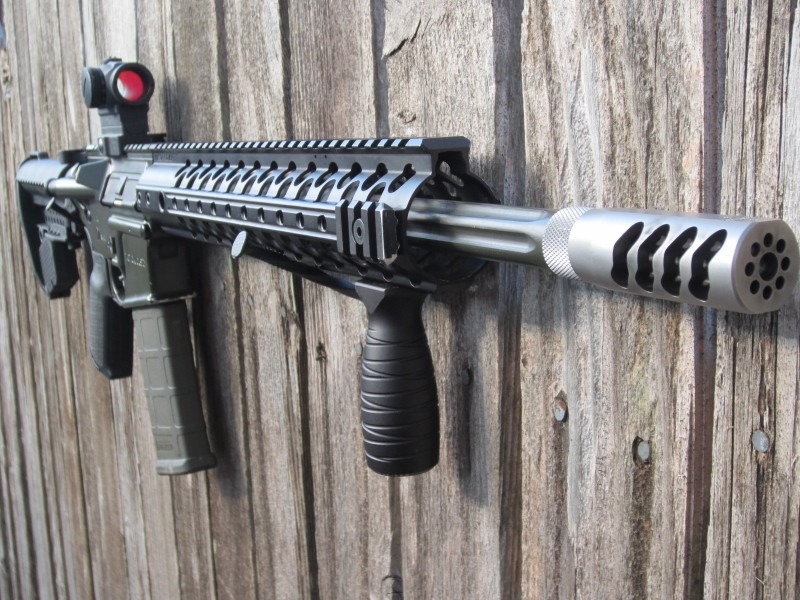 UPDATE:
I think I have found my competition brake.

From: http://www.seekinsprecision.com/muzzle-brake-151.html
The following two tabs change content below.
ccoker
Founding staff member, avid shooter, hunter, reloader and all around gun geek with an obsession for perfection