Kahles is the oldest scope manufacture in the world.  They are very popular in Europe along with Swarovksi, S&B and Zeiss.  Optically, they are right there with them but the US never caught on due to lack of marketing efforts and proper distribution.  That has changed last year when Ken Pratt, an experienced US military combat vet formed Khyabes, LLC and setup US distribution.  Kahles is back on US soil with a vengeance and their tactical scopes specifically are getting a lot of attention.
Background:
When the Kahles/Swarovksi  partnership for distribution in the US ceased bout 4-5 years ago there was some great deals to be had on their scopes and I was fortunate enough to purchase one and compared it directly against the aforementioned scopes and hunted hard with a CL 3-10×50 for several years.    They were then picked up by Gamo USA, I almost cried when I saw their high end scopes that I was so impressed with sitting next to cheap air guns.  Needless to say, that was not a good business decision and it lasted about a year.
I am not privy to what went on behind the scenes at Kahles and Ken Pratt to form a new US distributorship but I was quite pleased to see it materialize.  I met Ken at SHOT 2012 and checked out the scopes and was very impressed with some of the new offerings.  The K624i 6-24×56 scope has been very well received in the high end long range tactical scene.  Frank (Lowlight on Snipershide) apparently was so impressed with one he had in for testing and review that he bought it and it has replaced his S&B.  That is pretty compelling evidence that this is the real deal.  Kahles scopes aren't cheap but they are a good value.  With Ken Pratt and his wife running the new distribution I feel very confident they are here to stay.  You know when you talk with some people they just give you the "good guy" vibe?  Well, that is my impression with Ken and that has been echoed by numerous people that have dealt with him.  Having good people to back a product means a lot, especially in this industry.
Testing:
We recently received 2 Kahles scopes in for test.  I thought it would be neat to do to similar scopes but aimed at a different market.
We chose two models, both with 3-12 as the power range and both with a mildot reticle and front focal planes.  Below is the reticle subtension data.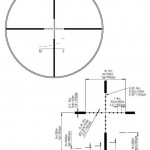 K312 II Tactical
Specs:
First Focal Plane
3-12 power range
50mm objective
.1 Mrad adjustment
elevation turret with 2 revolutions with 14 mils per, a pop up indicator for the 2nd revolution
elevation turret has zero stop
side parallax adjustment with 50 yard increments with detents
windage with 5,5 mil stops
Mil 2 reticle with basic ranging at the bottom of the scope
34mm tube
15.2″ in length
28 oz in weight
The scope has such a clean well executed feel to it.  The turrets are low profile and the zero setting is easy, simply loosen the two small set screws on the knob(s), pull up, rotate, push down and tighten the set screws.  That is all there is too it.  The elevation has .4 mils  of adjustment below your zero setting available.  This is a perfect scope for a 308 bolt action or AR10, 6.5  Creedmore, etc.. With the resolution of the glass shots to 1k on 18″ steel is no problem and keeping a lighter/more compact scope is more of an asset for tactical matches, especially if a lot of the shots are 800 or less.  We will be running this on a host of weapons including 308 bolt action, 6.5 Creedmore AR10 and 300 Win Mag bolt action.
Helia C Hunting
Specs:
First Focal Plane
3-12 power range
56mm objective
capped elevation and windage with finger turn adjustment in 1 centimeter (.1 mil) adjustments
Mil 2 reticle with basic ranging at the bottom of the scope
30mm tube
14″ in length
19 oz in weight
The Helia C is perfect on a long range hunting rifle such as the one I will be running it on in 280 Ackley.  The scope is surprisingly svelte looking and light for a 56mm objective scope.  It cleared the barrel with Talley medium rings and allows for a consistent cheek weld.  Dial or hold? I have ran both types on this rifle.  Running a 250 yard zero I am +1.6″ high at 100 and -3 at 300 yards.  That gives me a MPBR of around 325 to 350 yards.  As most shots for me are with in that, but wanting to be able to cleanly take game out to 500 yards I definitely need the ability to be able to deliver on target with a high degree of accuracy.  It is a give and take, I chose lighter weight, capped turrets and holding via the mildots.
Testing the scopes
Over the next month we will be testing the scopes in hunting, long range sessions and a tactical match and reporting back.  We plan on testing all of the Kahles scopes..
If there are any questions please ask!
Below are some pictures to enjoy…
The following two tabs change content below.
ccoker
Founding staff member, avid shooter, hunter, reloader and all around gun geek with an obsession for perfection