Kahles K312 II 3-12×50 Review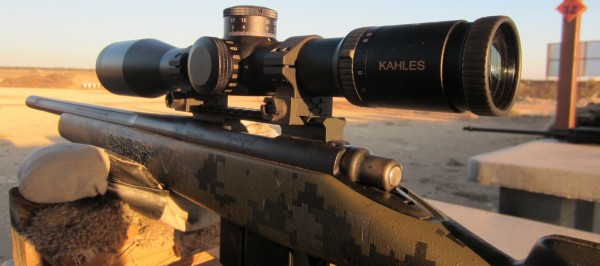 Kahles optics is a premier European scope manufacturer that builds scopes that are in the same class as Swarovski, Schmidt & Bender and Zeiss.  They have earned a reputation for having outstanding glass.  While not as familiar of a name to most American shooters due to a lack of proper marketing the guys that are into high end glass know.  We have been spending some time with the new Kahles offerings with the help of the new US Distributor Khaybes, LLC.  Ran by Ken Pratt an ex Army marksman who has been behind the scenes in the high end US optics industry.   Today, we cover the K312 3-12×50.
Specs:
3-12 magnification range
50mm objective
Gen 2 Mil dot Reticle
First Focal Plane
.1 Mil adjustments
14 mils of elevation adjustment) per revolution (2 total for 28 Mils total elevation adjustment)
Zero stop for elevation with .4 Mil of adjustment below the zero stop setting
3.54″ of constant eye relief through the entire range of magnification adjustments.
14 mils of windage (no zero stop)
14.5″ in length
28 ounces in weight
34mm tube
Parallax adjustment knob in 50 yard increments up to 600 yards and then 100 yard increments up to 1K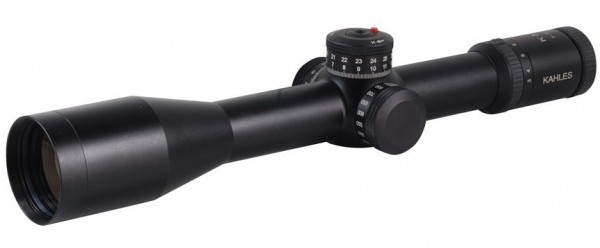 Initial impressions:
Right off the bat, I liked how compact the scope is and how clean the design looks.  I don't like giant turrets that get hung up but they also need to be of sufficient size to be able to easily use.  The turrets on the Kahles are to me perfect, about an inch in diameter and maybe .5″ high.  When you enter the 2nd revolution there is an indicator that pops up on top of the turret and retracts when you transition to the 1st rev.  Being that just about any 308 setup can get you to 1K in 12mils or less with a 100 yard zero I doubt most guys will run into the need for the additional elevation adjustment.
Once zeroed you simply loosen two small set screws on the turret and reset you zero and then tighten them.  As indicated in the specs there are .4 mils of elevation adjustment below the zero stop.
Glass quality is stunning and tested out in both low light and long range as good as my Schmidt & Bender or Zeiss FL and right there with top of the line Swarovski hunting scopes.
The turrets have a very precise feel to them with positive and audible clicks and passed my tracking tests.
The reticle in this scope is the Gen 2 Mil Dot.  There are 5 mil markings on each stradia outside the center crosshair intersection.
Additionally, there is a ranging function at the bottom for 1 meter at 200, 400, 600, 800 and 1,000 meters.
I feel they did a great job on this reticle in that it is fine enough to place precision shots out to 1k yet bold enough to be seen at lower power settings and in low light.
It's a touch job to do both in a FFP reticle design without relying on illumination.
When I first viewed the scope at 18″ plates at 1K I actually said out loud "oh wow"   The view took me by surprise a bit as they appeared larger than I was expecting.  I had been running my USO 3.2-17 and generally ran it about 15x for 1K shooting.  I expected the clarity and resolution to be better but was surprised that the plates were as big as they were.  I had expected them to appear a bit smaller due to lower magnification.  I took the USO and set it at 12x and viewed the same targets.  I short, I had to run it at15X to have them appear the same size.  I always end up running the eye focus piece out on any optic.  My standard practice is to look through the scope at a clear sky and quickly open and close my eyes while dialing the eye focus piece to get the reticle sharp.  I usually go all the way out then start coming back in and stop when the reticle appears sharp and in focus.
This has once again proved my point of view that glass quality trumps magnification.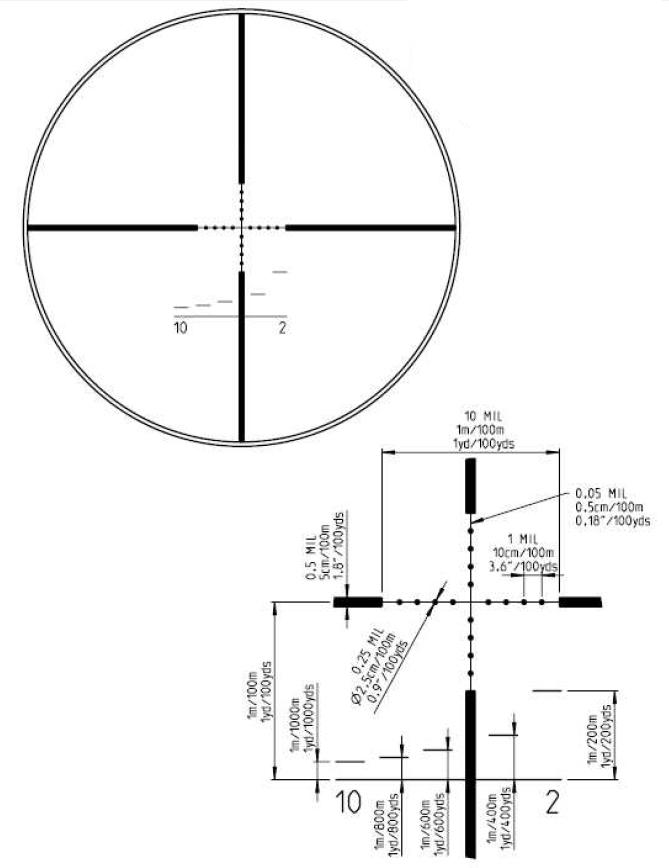 Below is a view of the range at Best of the West shooting range near Liberty Hill, Texas.
You can see the 1K berm at the tree line.
(click to enlarge)
Here is a view through the scope at 12x magnification at 1K:
(click to enlarge)
Here is a view through the scope at 3x magnification:
(click to enlarge)
Kahles K312 II on Remington 700 in Talley 34mm Tactical rings:
(click to enlarge)
 Conclusions:
If you are in the market for a new optic and are perhaps looking for a dual role optic, one that could be ran for long range or hunting this is certainly worth your consideration.
It is a well thought out and executed scope. While I did not abuse the scope I feel confident they did their homework on the design and construction.
It has outstanding glass, a great reticle, low profile turrets that have a good feel to them and are repeatable.
One thing to note in particular is how easy it is to get behind the scope.  It has a huge eye box and is very forgiving.  The image seems to go beyond the scope so to speak and the scope body disappears.  I also noted no tunneling at low power.
Staff Review by Charles Coker


The following two tabs change content below.
ccoker
Founding staff member, avid shooter, hunter, reloader and all around gun geek with an obsession for perfection