I just received my 6.5 Creedmoor from master builder, Greg Young at Southern Precision Rifles.  I commissioned this rifle with Greg for use in PRS club matches.  And of course, being from Texas, it will certainly see some hunting use!
First off, I must say it was an absolute pleasure working with Greg.  He fielded all of my questions, offered advise without being pushy and was very communicative.  Be sure and visit his website at the link provided at the bottom of this.  He is not just a builder, he stocks and sells high end products for competitive use such as McMillan stocks, Thunderbeast silencers, Badger bottom metal, etc..
Parts list:
Defiance Deviant action
Mueller Rifle Works cut rifle barrel, Sendero profile, 22″
Badger bottom metal
Cerakoted black graphite
Huber Concepts 2 stage trigger
McMillan A5A stock in Mcmillan camo
Steiner Military 5-25×56
Talley tactical rings
Crux brake and Nemesis30 silencer
Plano Tactical case
The attention to detail is self evident, the barrel is perfectly centered in the rifle channel of the stock with minimal gap.  A testimony to both Greg for bedding it properly and McMillan stocks.  The action is smooth as expected, trigger pull is right on the money.  The cerakote work is flawless.  In short, everything is fit tight and just says "perfect".  It's exactly what you expect to see from a high end professionally built precision rifle.
The rifle came shipped in the new Plano Tactical case which I am very impressed with as well.  It's a heavy duty case and locks up like a bank vault.
There were a few test targets sent with the rifle showing it's potential.
Standby for more on this rifle as I hit the range.
Huge thanks to those that helped make this dream rifle a possibility!
UPDATE:
Now that I have had this rifle for 6 months I have had plenty of time to put it through it's paces.
In short, it is flat out amazing.
It groups numerous 140/143g loads all to the same point of impact and the overal group is under an inch.
Hornady 143 ELDx is running 2656 FPS and cuts one hole groups.  Hits on 12″ plates are easy at 1K and it is devastating on pigs and deer.  The 140 ELD match is pretty much the same thing except I don't use match bullets on deer.  140 AMAX and Winchester 140 match also cut one ragged hole groups.
There is nothing I want to change on the gun and for me.. that says a lot.
I love the stock, the action, the trigger, the optics and of course the barrel.
Huber Concepts Trigger:
Any serious marksman knows that a great trigger is key to shooting well.  I have owned tuned 700 triggers, Sakos, Jewells, Timneys, etc..
I have always been a single stage guy but the Huber two stage definitely intrigued me.  It is hard for me to put in words how awesome this trigger is.  You take up the first stage and you know you are right on that wall, waiting for the shot to break.   I have no way of measuring lock time but it sure does seem like it is faster which means you are sending a round downrange the INSTANT it breaks.  What this really means is better precision shots, especially in less than perfect positions.  A 2 oz trigger is awesome on a perfectly solid bench, but not so great in varying positions in the field when you don't have absolute stability.  They have a lot of info on their site that goes into the technical reasons why this trigger works so well.  I am just here to say that they are definitely on to something.
Took a buddy out, first time shooting past 100 yards and had him making first round hits at 1K
That big grin! oh yeah, that's what a GREAT rifle does to a man.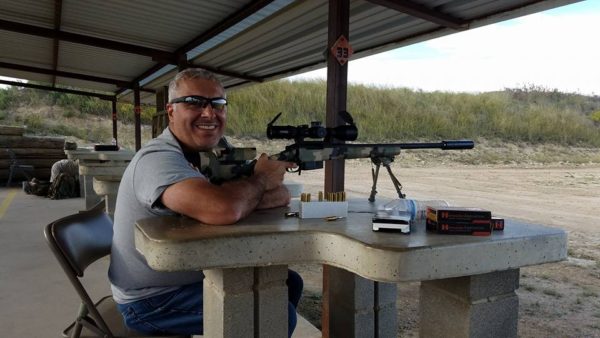 The following two tabs change content below.
ccoker
Founding staff member, avid shooter, hunter, reloader and all around gun geek with an obsession for perfection