For a poor shooter as myself, who night hunts pigs quite often (most the pigs are so pressured, they turned nocturnal around our feeders pretty quickly), I needed something cheaper than the Gen 1 Night vision my friend recently purchased.
Looking at lights for feeders I do not feel like going to a feeder, spreading my scent turning on the batteries, checking to make certain they\'re working, and setting back up in my stand 100 yards away, so I decided a long range night light would have to do the trick.
Since NV is green… I figured, that would work better. After looking over the websites of verious predator marketed gun mounted lights, I chose the Sniper Hawg Light. Simple reason? A Texas Predator Posse member and contributor of the Hog Hunter Magazine uses it… DuH!! Peer pressure is what I mean 😉
Anyway… mounting it to my Pig hunting AR15, and taking indoor photos, I begin to get excited. Uber excited actually! Clear and crisp display through my scope even powered up.
Taken out, distances of 150-200 yards are hard to see with the scope powered up all the way. But powering down to 4-8x these animals and targets are pretty clear. I decided it was ready for a night on the town.. or at least the ranch. So I used it to hunt in Utopia Texas at a ranch known by my friends in the SW Hill Country as hog heaven, I decide to take advantage of clear skies, low humidity, and lots of pigs. Well, no pigs at the feeders, so safari hunting style the light shined well! Comparing the destroyer to the \"spotlight\" that was used by our guide was interesting, as the incandescent of the spotlight washed out past 50-75 yards. However, the LED stayed well within the range of 100-150 yards before washing out, and to my advantage, was used to take the pig in the attached photo.
Pros:
Very bright.
Good price point.
Ease of switching out batteries if needed, along with the cost effective purchasing power of a couple of rechargeable NiMH batteries and the charger for discounted price.
Did I mention Bright? No filter over the LED means clear and unobstructed/unhindered light transmission.
Cons:
Heavy
Mount is not offset, however, it\'s meant for above the scope, so no complaints there for using on an AR15.
Aside from being out of stock on certain items on random checks of the website, the dealer/manufacturer is top notch and a definite repeat in terms of purchasing.
by: sneedb82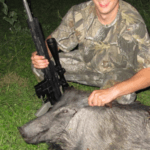 The following two tabs change content below.
Tactical Gun Review welcomes Guest Posts from Consumers, Media Members, Gun Writers, and Bloggers. You can add your review through the "Join In" link at the top of the page or through the Contact form. Share your passion today!!!
Latest posts by Guest Post (see all)