By Staff Writer: Kurt Gruber
A couple weeks ago at the NRA National Meetings Smith & Wesson introduced a new pistol that is designed specifically for concealed carry based upon its popular M&P Platform.  This new pistol, chambered in 9mm and .40 S&W, is a single stack design that takes the M&P and cuts the width of the sidearm down quite drastically.  The other unique thing about this product introduction is that Smith & Wesson had been manufacturing the gun prior to launch and instead of the old "check out this new product, it will be on the market in 3 to 6 months" the gun was in the hands of distributors on launch day.  I got to get the feel of the gun and dry fire it a bit at the NRA convention and came home feeling like I might have just met my new carry gun.
A week or so passed and a local dealer let me know that he had one of the 9mm in stock, so I headed over and for less than $450; I left with a new pistol, and have not put it down since.  My first thoughts when I got home with the gun, unpacked it, and broke it down for an initial cleaning was that the gun was very well made and seemed to be very solid.  Once I had cleaned it I went to my holster bin to see if I had anything that was a good fit.  As it turned out, the Safariland leather IWB holster that is designed for Glock 26/27 fit the gun very nicely.  If you do not have a holster already that works, have no fear because Smith & Wesson worked with many holster manufacturers pre-launch to make sure that holsters were available when the gun was launched (http://www.smith-wesson.com/wcsstore/SmWesson2/upload/other/M&P_Shield_Accessories.pdf).  There are a number of other accessories that were available at release such as laser units from Crimson Trace, LaserLyte, and LaserMax, and sights from Hi-Vis, Williams Gun Sight Company, and XS Sight Systems.
After some practice draws and dry firing of the pistol, I noticed a few things.  One of those things was that although there is a thumb safety on the left side of the frame it was very well designed to be used by people who want to use it and ignored by those who do not.  The safety rides extremely close to the frame of the gun, and unless in my testing unless you intentionally activate the safety, it does not enter the equation.   The next thing I noticed was that while the white dot in the sights is bright, it would be fairly useless in the dark.  Smith & Wesson instead of including night sights also thought this one through however and worked with many sight manufacturers to have sights ready at launch (see above link).  A very positive thing I noticed was that the trigger on the Shield is much nicer than the stock M&P trigger.  The draw is much cleaner and had a very crisp reset, something that the original M&P trigger lacked.
After my dry fire session I went ahead and headed to the range to put some ammo through the gun.  At the local indoor range, I ran 150 rounds of ball ammo and 50 rounds of my favorite hollow points through the gun with zero malfunctions.  The gun ran very smoothly and was very easy to shoot. The gun includes an 8 round magazine with a grip extension and a 7 round magazine that is flush with the bottom of the grip.  The gun was very comfortable to shoot with either magazine.  My hands are fairly big so only two of my grip fingers was on the grip with the flush magazine but the gun was still comfortable.  The gun shot pretty tight groups as it got broke in.
I have been carrying this gun as my primary CC pistol ever since that first night at the range.  I have since put about 200 more rounds through it.  I will be replacing the sights with the XS Sight System Big Dot combat sights.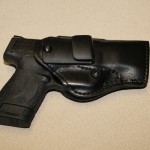 The following two tabs change content below.
Kurt is a semi-pro 3 gun shooter and a member of the Adams Arms 3 Gun Team. Kurt has been involved in competitive shooting for about 13 years and has competed in a number of disciplines from USPSA pistol, to 3 Gun, and most recently Precision Rifle.
Latest posts by Kurt Gruber (see all)