We get asked all the time for recommendations on which silencer to buy.  In general, we recommend to start with a good 30 cal can that has a flexible mounting system so it can be ran on several different rifles.  We are big fans of taper mounts as you can buy several, one for your 5.56 and with the included 30 cal (5/8×24) you are set for pretty much any centerfire above 22 cal.  From a 243, 6.5 Creedmoor, 7mm08, 308,  270, etc.. on up to 300 win mag (assuming your silencer is rated for it).  The taper mounts, like the one Griffin supplies are known for providing a solid mount that won't come loose an provide a consistent lockup which means your rounds impact the same every time when you remove and reinstall the silencer.  Not a big fan of mounts that have moving parts.
The Griffin Armament Ultralight 300 is a very nice unit.  It's lightweight due to the aluminum outer tube versus the much heavier steel and is significantly less expensive than titanium.  They just make sense for a hunting rifle or a precision gun.  You can run them on an AR of course, just not advised to be doing multiple mag dumps back to back.  Thumbs up.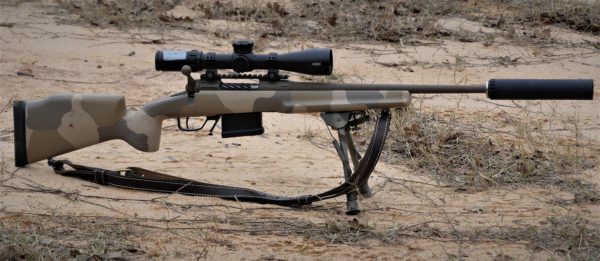 SPECIFICATION INFORMATION
| | |
| --- | --- |
| CALIBER RATING | .22 LR, .300 BLK, 6.8mm, 5.56mm (.223), 7.62mm (.30 Caliber – up to .300WM) |
| COLOR | Black |
| LENGTH | 7.9″ |
| DIAMETER | 1.5″ |
| WEIGHT | 11.3 oz |
| FULL-AUTO RATED | Not Full-Auto Rated |
| MANUFACTURER | Griffin Armament |
| MINIMUM BARREL LENGTH MAGNUM | 26″ .300 Ultra Mag |
| BUILD MATERIAL | 17-4 Stainless Steel, 7075 T6 Aluminum |
Where to buy:  https://www.silencershop.com/griffin-sportsman-ultra-light-300.html

The following two tabs change content below.
ccoker
Founding staff member, avid shooter, hunter, reloader and all around gun geek with an obsession for perfection