Today we take a look at the awesome AAC Ti Rant 45.  Normally, 45 silencer reviews are conducted with 230g ball ammo that is subsonic.  I thought it would be cool to do something different and run some hot ammo.  I had some 185 JHP from Double Tapp ammo that runs 1200 FPS.  It's definitely hotter and louder and not subsonic!  
AAC Ti Rant 45M specs
SPECIFICATION INFORMATION
CALIBER RATING
.22 LR, .40 S&W, .45 ACP, 9mm
COLOR
Black
LENGTH
8.74″
DIAMETER
1.38″
WEIGHT
13 oz
FINISH
High Temperature Cerakote™
FULL-AUTO RATED
Full-Auto Rated
MANUFACTURER
AAC
BUILD MATERIAL
17-4 Stainless Steel, 7075 T6 Aluminum, Titanium
SPECIFICATIONS
Full Length: 8.74″

Shortened: 6.75″
Where to buy:
https://www.silencershop.com/aac-ti-rant-45m.html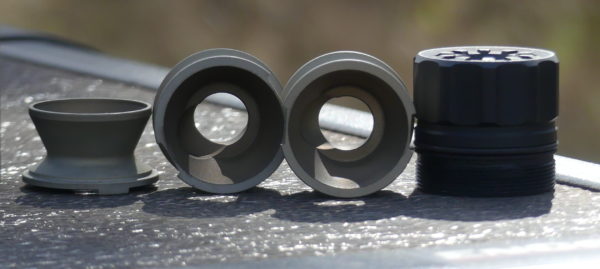 The following two tabs change content below.
ccoker
Founding staff member, avid shooter, hunter, reloader and all around gun geek with an obsession for perfection