If you are like me you own way too many of one thing.  My wife is constantly asking me, "Do we really need to keep all of these backpacks?"  My reply is usually something along the lines of absolutely because each pack has its own purpose.  She usually just rolls her eyes and leaves it at that.  When I decided it was time to purchase a new hunting pack I started perusing the internet trying to determine what direction I wanted to go.  Do I need a day hunting pack, a weekend hunting pack, a frame pack to haul meat out or much to my wife's dismay, maybe one of each!
That is when I stumbled upon a company named Eberlestock.  Packs galore!  Packs for hunting and packs for the tactical/LE/Military use.  There it was, the pack for someone like me.  Its name even addressed my issue of buying too many packs; it was called the Just One.  It was named this because of its design; it could be cinched down as a day pack (roughly 2300 cubic inches) or opened up (4600 cubic inches) for a weekend pack.  It even could be butterflied open and then have a duffle bag zipped onto the wings allowing it to be a huge (7500 cubic inches) pack. Now with duffle installed it was capable of getting you to your weeklong campsite where you could deposit the duffle addition allowing you to easily cinch down to a day pack for each daily expedition.  I hit the Check Out button and waited the typical 8-10 days for my pack to arrive.
Initial inspection upon delivery
Once it arrived I had to open it all up and inspect it.  It appeared to be very well built with good seems and comfortable straps, much of the packs material was made from a silent material while the rest of the material being a tough nylon.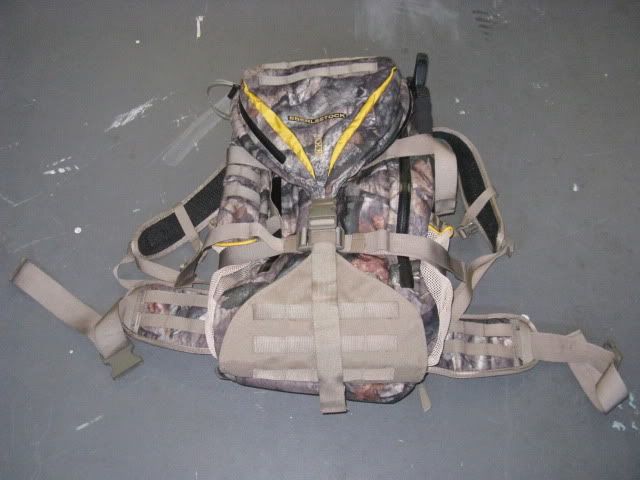 However with my history of backpack abuse we would see how it holds up when I get it in the field.  It was very easy to adjust to my shorter framed body as the shoulder straps can be adjusted up or down on a ladder type webbing system.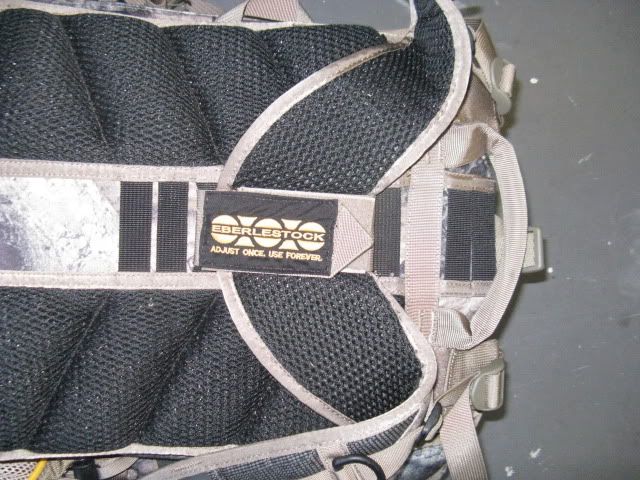 So once my shoulder straps where the right height in relation to the waist strap I was then on to adjusting the internal frame.  The internal frame has ribs that slide right out through the top of the pack so they can be adjust (through simple bending) to the shape of your back.  Once I was satisfied with this it was on to adjusting how much pressure was on my shoulders versus my hips by adjusting straps that ran from the top of the shoulder straps to the frame itself.  Adjustment overall took about 20 minutes allowing for a very comfortable tailored to me feel.
Just One's design and layout
The design of the pack is somewhat simple.  The pack has an internal frame that rides along the back leaving enough room for breathability.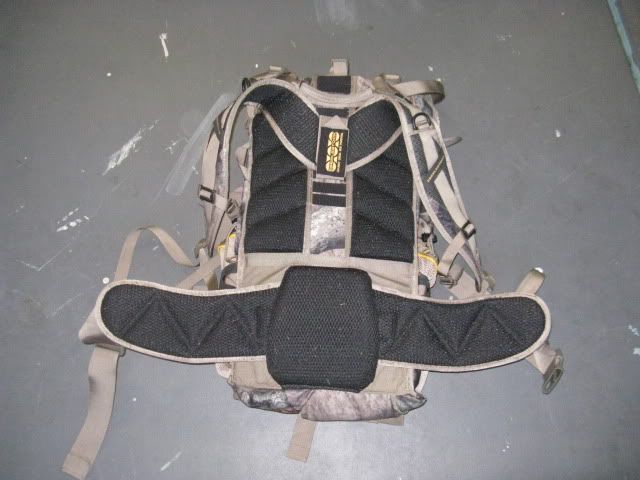 Directly behind the frame sits a rifle scabbard to one side and water bladder to the other.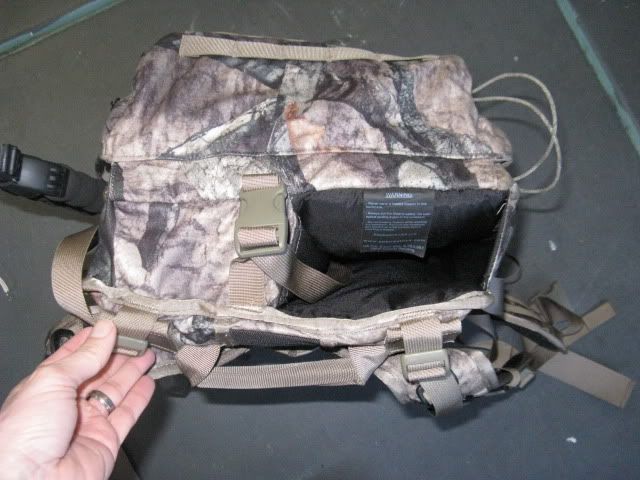 The bottom of the rifle scabbard can be folded up inside the pack so it's not obtrusive to the hunter while it's not in use.
Behind this section of the pack is a large top loading area that has a zipper running down the middle. This is the main body of the pack.  Once unzipped two large wings open up allowing the large top loader section to become even larger, the material between the wings is a heavy mesh so that top loading compartment can be used to carry out meat.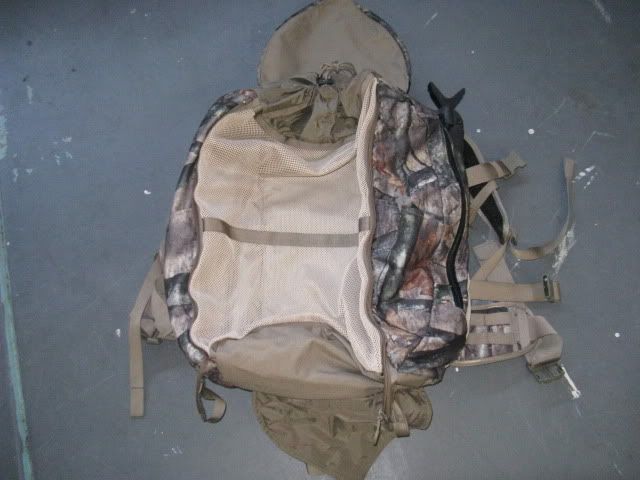 The purpose of the mesh is to allow the meat to breath.  There are two horizontal straps that wrap around this area of the pack to limit it to whatever size you prefer making the pack very stable.  The top and bottom of the pack have a large flap each that wrap around the top loading area and can also be cinched down giving the top loader support now from all sides.  The top flap has two diagonal pockets built in that are separated but do overlap each other.  One of these pockets has a built in clip to stow your car keys.
There are two large pockets that run top to bottom along each wing in a tubular shape that are perfect for shooting sticks, tripod, binos etc…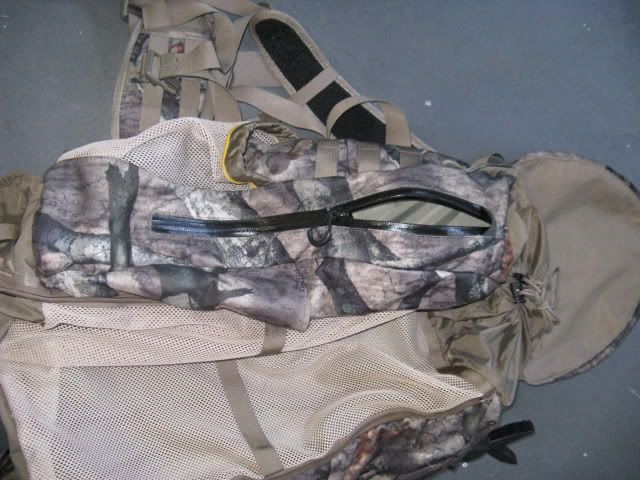 Along the right side of the pack there is a zipper to allow access to the hydration bladder (which isn't included).
The pocket is very large and I was able to stuff a CamelBak brand 2 liter bladder in the pocket without problem.  Below that is a small pocket that I use for two extra 10 round magazines.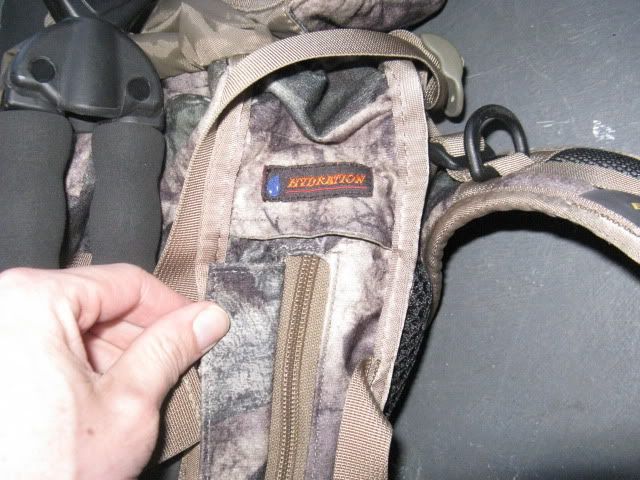 Accessories
Eberlestock wasn't kidding when they said this pack was the last pack you'd ever need.  They offer many accessories to tailor the pack to your needs.  They offer two different size duffle bags that are designed to zip to the zipper on the pack once the top loading pouch is opened up.  The smaller of the two duffle's is actually designed to slide into the top loader so you have a little more control over your gear instead of just dumping it into the top loader.  The idea behind this is pack your duffle or even both duffle's (slide one in and zip the other on) and carry them to base camp.  Dump those parts off and your pack zips or cinches closed and you're ready for a day trek out of base camp leaving the base camp gear behind quickly.  Another accessory is a heavy panel that will zip in once the top loader pouch is unzipped to protect the open mesh face, making it weather resistant.  This panel is reversible from camouflage to blaze orange.  Eberlestock also offers a rain jacket for the pack as well as a top to the sheath to allow concealment of the rifle butt from the elements.  They really did think of everything with this pack.
One issue I found
Glen Eberle touts his built in rifle scabbard as being designed to allow the hunter to easily sheath and unsheathe their rifle without having to take the pack off.  This was the one issue with the pack that I found. Mr. Eberle assumes that all hunters are using low profile hunting rifles of the non detachable magazine fed type. We know that more and more hunters are moving to gas gun designs that are detachable magazine fed, rifles such as my trusty AR15 chambered in ARP's (AR15Performance.com) 6.8×43 and uses a 5 or 10 round magazine (depending what is legal in the state I am currently in).  My rifle easily slides in and out of the scabbard without a magazine in place and even with a magazine in it will slide in and out if the pack is off easy enough. It just takes a little coaxing, so don't let that curb your enthusiasm to this pack.  With that being said in the defense of Eberlestock they offer a full line of tactical packs that have larger scabbards designed for the AR15 even with a 30 round magazine installed. They just lack the idea of a mesh bag built in as a game bag.
Overall thoughts
If the Just One by Eberlestock doesn't fit your needs then you may just be entirely too picky as to what you want, however that isn't to say that Eberlestock doesn't offer a pack that is for you. They have a huge selection of packs tailored to individual needs that I am sure you could make use of.  The Just One came in right around $300 and in my opinion is worth every penny of it. After all of the abuse I have put it through in the last year I can honestly say it looks no worse for wear and Eberlestock has earned my stamp of approval as well as my repeat business when the time comes to purchase more products.
By: Brett Cifaldi
The following two tabs change content below.
Tactical Gun Review welcomes Guest Posts from Consumers, Media Members, Gun Writers, and Bloggers. You can add your review through the "Join In" link at the top of the page or through the Contact form. Share your passion today!!!
Latest posts by Guest Post (see all)