Recently I built a 300 Blackout pistol with the goal of using the best parts available. As such, I decided to try the Primary Weapon Systems pistol buffer tube. What separates it from the rest?

It is anodized aluminum like all the rest of them.  So, nothing there really other than good machine work..
It threads into the lower receiver, so.. ok
It holds the buffer and recoil spring, uh, hmm
So what makes the Primary Weapon Systems pistol buffer tube unique?  Engineering improvements and execution.
The way it threads in to the receiver.. It threads right in and doesn't need a castle nut (that needs to be staked properly to avoid it coming loose.  There is an allen head set screw that threads into the supplied backing plate which prevents it from moving.  It is a clever way to do it and just "makes sense" from an engineering perspective.
The lip threads into the receiver to help prevent carrier tilt thereby which will reduce wear on the carrier and buffer tube (just how big of an issue is this really can be debated)
Built in QD sockets on each side of the unit close to the receiver.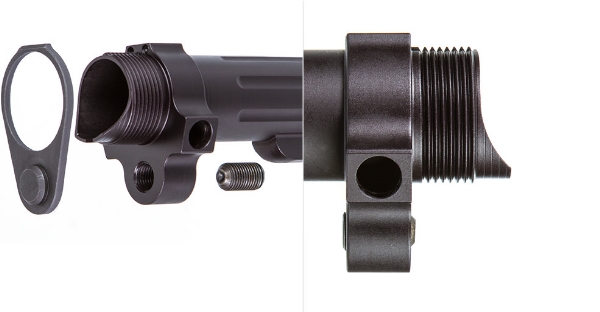 It comes with an H2 or H3 buffer that is Nickel Teflon coated
Installation was easy enough though a bit more care is needed when dealing with the rear take down spring.
I have ran this unit on my 300 Blackout and it works great and looks good.
Frankly, sometimes there is just not a whole lot to write about, it either works or it doesn't.  This is one of those times.  It does and it is a well made unit with some well thought out and executed original ideas.
I would definitely recommend the Primary Weapon Systems buffer tube.

For more info on the 300 blackout pistol build click here
There are also other options available click here
The following two tabs change content below.
ccoker
Founding staff member, avid shooter, hunter, reloader and all around gun geek with an obsession for perfection