Well, except maybe some cool gun gear..
I surprised my wife with some nice Comp-Tac gear for her M&P compact 9mm
My wife has started to want to shoot more with her gun, a M&P 9C I got her several years ago.  I installed a set of Crimson Trace laser grips on it for fast low light use.
Decided she needed a good gun belt, holster and magpouch so I contact Randi Rogers with Comp-Tac and ordered a belt, holster and double  mag pouch.
Needless to say she was quite surprised this morning to see the flowers and the gear!
I got her the tapered belt.  My brother and I love this belt, having it tapered down from 1.5 to 1.25″ in the front makes them much more comfortable.  They also feature a kydex reinforcement insert that really helps them support a gun and loaded mags.  Mike and I have a lot of gun belts but this is the one we wear most often by far.  I also got her a kydex belt loop holster and dual mag pouch.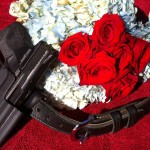 The following two tabs change content below.
ccoker
Founding staff member, avid shooter, hunter, reloader and all around gun geek with an obsession for perfection