My 3 Gun Rig

By staff writer:  Charles Coker
This is an article that covers my 3gun competition rig, the gear I use and some thoughts behind the gear chosen and used.  While we all know this is a game and it is for fun and is NOT tactical training it is still imperative the gear runs right.  You will learn to work your gear in a more stressful environment than shooting by yourself or with a few buddies at the range. The clock starts and it's on!  I will be the first to admit I am not great at it, but I am very competitive and have OCD issues, so, I will get there!  It's summer time in Texas, no hunting, so, time to get out there and compete!Here is my 3 gun rig with the Safariland 3 Gun case to haul it all around in

Rifle specs:
Hand lapped Douglas match barrel,  1 in 8 twist, 5.56 chamber,  SPR profile stainless match barrel, rifle length gas system
PRI/MSTN Quiet Comp
PRI carbon handguard Duracoated FDE
PRI  adjustable gasblock
PRI  Gas Buster charging handle
Vltor EMOD A5 stock
Scorpion forged lower
Magpul MIAD Grip
Timney 3lb singlestage trigger
Upper and lower Krylon OD Green
Leupold VX-6 Multigun 1-6 scope
Leupold Mount
I really like this gun, it's very, very accurate with a wide variety of ammo.  The medium profile Douglas SPR profile barrel doesn't suffer from heat buildup and will hold sub MOA through a fast mag dump.  Rifle length gas systems have a smoother recoil impulse than midlength. The PRI/MSTN comp is very effective but doesn't have the big concussive effect of some of the others out there and for me personally, I shoot better and faster as as result.  The PRI handguard doesn't heat up and is comfortable to shoot.  Being able to tune the gas system via the PRI adjustable gas block is nice.  I like the Timney trigger, feels like the Wilson Combat TTU I have, no creep, clean break, no overtravel and postive and instant reset, in short, perfect.  The VLTOR EMOD A5 stock works very well with the adjustability, good cheek weld and I rifle length extension tube to me feels a little smoother than a carbine length due to the slightly longer spring and rate of compression.  I also really, really like the new Leupiold VX-6 Multigun 1-6 scope.
Handgun specs:
Wilson Combat Spec Ops 9
Polymer framed 1911 in 9mm
16 round mag capacity
Double stack
Black U rear combat sight
Fiber Optic front sight
4.25″ barrel
I have been running this gun for a few years now and have thousands of rounds through it.  I has ran flawlessly and gobbles up whatever I put into it.  The gun clears a holster fast and is very quick on target, it transitions between targets fast and is just a blast to shoot.   Fantastic 1911 trigger.  It is a great gun that I feel 100% confident in competing with or carrying to protect myself and my family.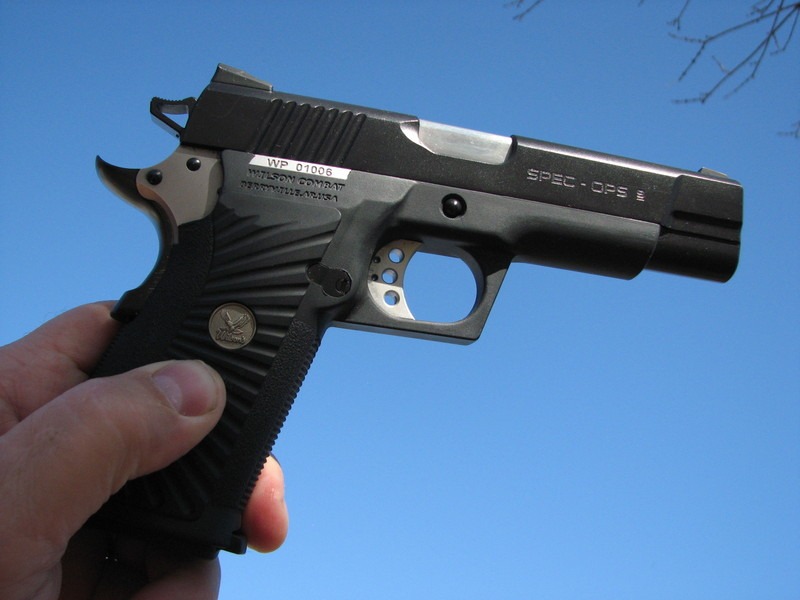 Shotgun specs:
Benelli M2 with Comfortech Stock
24″ barrel
Nordic Components +8 extension tube
Nordic Components barrel clamp
Nordic Components Teflon coated follower
Nordic Components Big Bolt release
CRUM welded follower
Loading port opened up and beveled by me
HiViz competition fiber optic front sight
I have been running this shotgun for hunting for over 5 years with not a single malfunction irregardless of load, light, buckshot, slug.  All run 100%.  Slugs shoot to point of aim (Federal 2 3/4 blue box).  I finally broke down and got a shorter barrel for it for 3 gun and decided on a 24″.  I installed the Nordic parts myself as well as did the loading port work with a dremel tool, I studied some pictures and went after it!.  I got the CRUM follower from Kyle at Gunsplus in Georgetown, TX and he was nice enough to install it while I waited about 15 minutes.  (good people there, highly recommended)  The gun still runs flawlessly and thankfully, my slugs still shoot to point of aim with the new barrel.  I love this gun!  So does my 15 year old son, he thinks it is the most fun gun we own!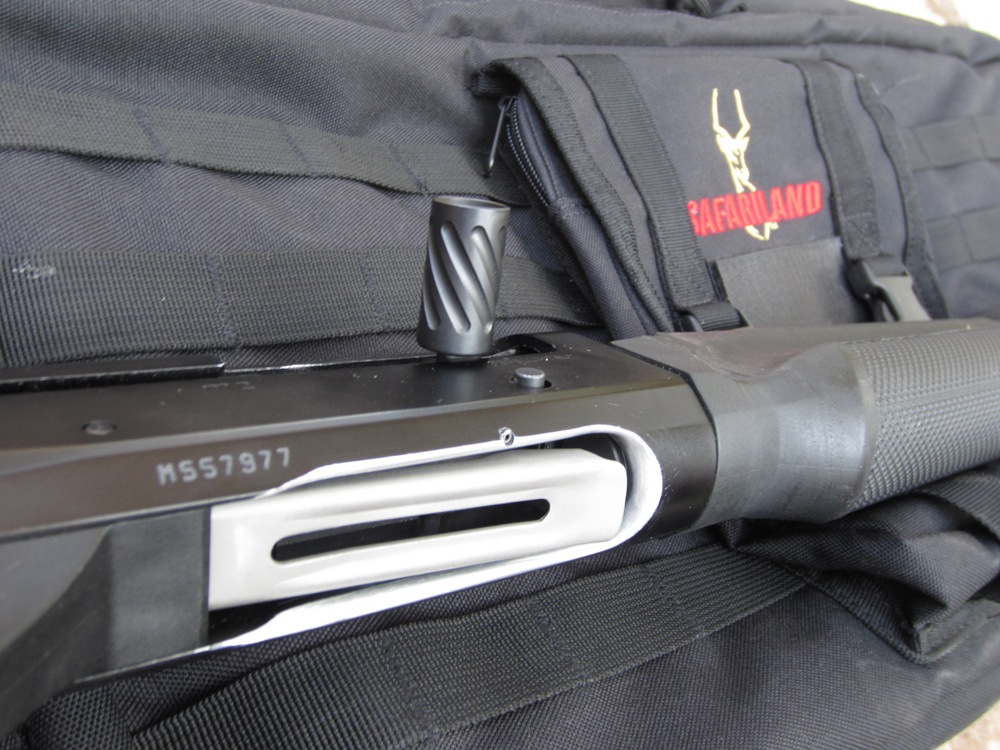 I haul this gear around in a Safariland 3 Gun bag.  All 3 guns, mags, ammo, etc.. fit in the bag and there is a place for each.
It has external loops that the ELS equipped items like shot shell caddys or mag holders will slip into.  Very nice to be able to rig up or down for a given course of fire.
I also run the ELS belt rig.
It consists of an inner belt with velcro lining on the outside.  The outer belt has velcro on the inside and it locks into place over the inner belt.  You can mount the ElS receiving clips via screws onto the belt as needed.   It's very slick, being able to adjust per stage quickly is a godsend.  No shotgun at this stage? fine, just un-clip and remove the shell caddy in a matter of seconds and clip on the 3 gun bag.  Very well thought out and executed setup.  Highly recommended gear from Safarland.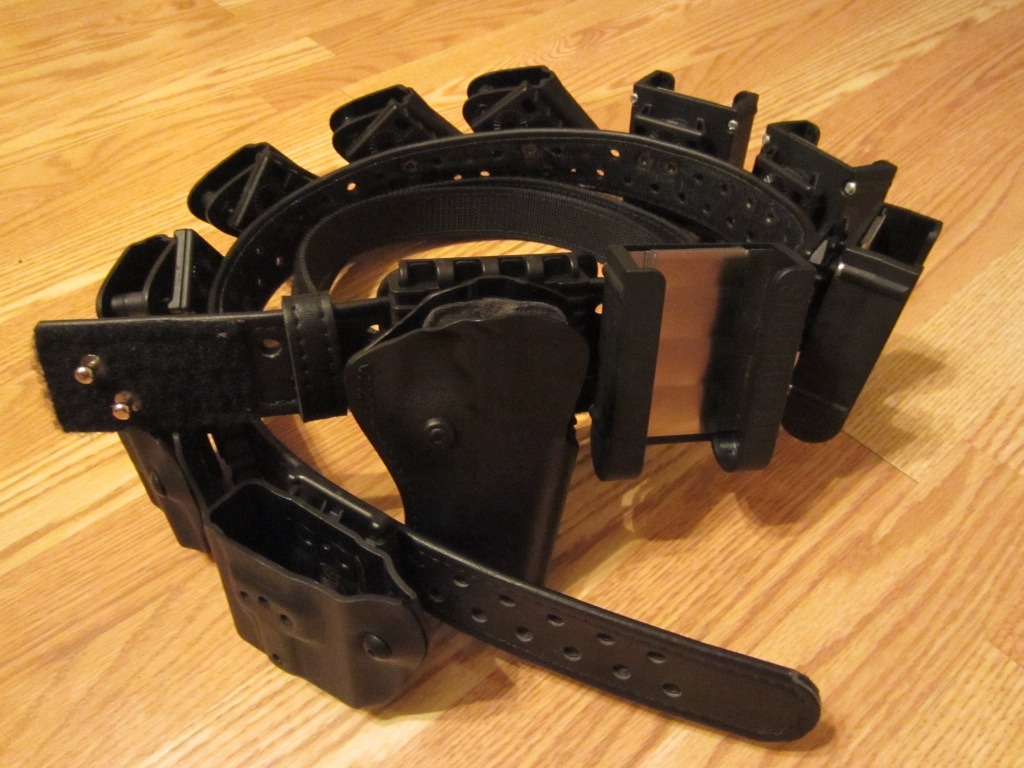 Thanks for reading!
The following two tabs change content below.
ccoker
Founding staff member, avid shooter, hunter, reloader and all around gun geek with an obsession for perfection