LMT introduced the DMR stpcl  (Designated Marksman Rifle) last year and I have been running one for about 6 months.
What do I think about it?
First off, it's adjustable for both length of pull and cheek height.  You also have positions for LOP on the buffer tube.
The nice thing about the 556 version is that it will run on any standard carbine buffer tube.  The 308 version runs on a 308 buffer tube.  I have ran it on both 556 rifles and my Wilson Combat 18″ 308 which uses a carbine buffer tube.  The flexibility to run the same stock on different rifles or perhaps, more beneficial is the same stock on two different rifles.  Say a 556 for 3 gun and a 308 for more serious work and longer ranges.  Consistency is king for accuracy.
I like that the stock locks up tight and there is ZERO play in it much like a fixed stock but with a little more fine tuning for fit available.
It features 2 QD  sling swivel sockets and a the ability to mount a mono pod on the bottom.
Another feature I like is the curved area on the forward/bottom area of the stock.  This allows me to use my support hand to engage that area for a very solid shooting platform.
You can buy the LMT DMR stock by itself or as a complete kit with buffer tube, buffer and spring if you are building a new rifle.
It's of course heavier than your typical carbine stock but offers a much better, more solid interface for precision rifle work.
It's a keeper on my 308 for sure.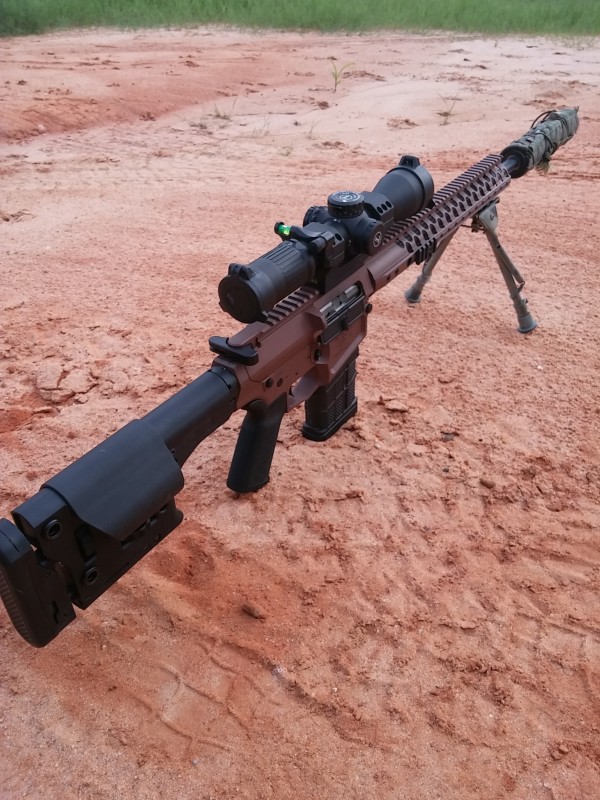 The following two tabs change content below.
ccoker
Founding staff member, avid shooter, hunter, reloader and all around gun geek with an obsession for perfection