Just wanted to let you guys know about a cool little custom shop in Round Rock, TX
Hayes Custom Guns
Ran by brothers Aaron and Hayes…
They earned their stripes working at their uncle's shop Clark Custom in Louisiana.
Not to mention they have a rather world  famous shooter in the family who is also a master smith..
Super nice guys, great shooters, great gunsmiths.
Check them out..
Here's a 2011 they just built
.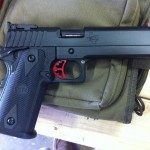 The following two tabs change content below.
ccoker
Founding staff member, avid shooter, hunter, reloader and all around gun geek with an obsession for perfection