Comp-Tac recently introduced their new "Flatline" holster that will allow the user to swap out the mounting clips to go between IWB and OWB configurations.

I ordered a 5″ 1911 model and have been using this for several months and am very impressed with the Comp-Tac Flatline holster. I have used it IWB with a Wilson Combat Spec-Ops 9 and OWB with a Dan Wesson Valor. Most of the time I have ran it OWB with the Valor. I have found that it holds the gun itself securely as with all Comp-Tac holsters there is a retention tension adjustment screw. What I really like is there is some curvature to the holster and it hugs your body and combined with the stellar Comp-Tac kydex reinforced belt provides a very stable holster system, even when loaded with steel full sized 1911. I run this all the time on our hunting property so I am getting in and out of a truck, climbing stands, even running through the woods chasing pigs. It does not bounce around and make me nervous the gun is going to fall out. Yet, it is very quick to draw.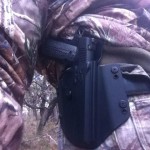 Wearing IWB it feels comfortable as well and you can adjust the ride height to your liking.
You can order in several cants to suit your personal preference and of course Comp-Tac stands behind their work.
Made in the the US, not farmed out overseas.
Made right here in Texas, so, that is a definite extra flaming hot chili bonus point for us TGR staff guys!
Please check out the Comp-Tac Flatline and be sure and tell them TGR sent you!
http://www.comp-tac.com/product_info.php?products_id=302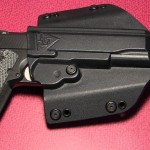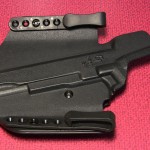 The following two tabs change content below.
ccoker
Founding staff member, avid shooter, hunter, reloader and all around gun geek with an obsession for perfection